What You Must Know About Moving Your Pet To London
Published on: April 15, 2022 | Author: Starwood Pet Travel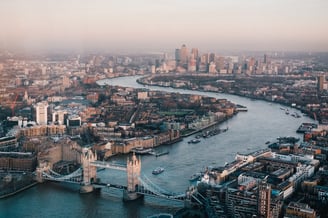 So you're moving to London. Jolly good. Naturally, you'll want to take the whole family, including the 4-legged members. How do you ensure your pets will make the trip safely and with as little stress as possible?
Advanced planning is crucial. Here's what has to be done in order to move a pet to London:
Research & plan ahead – you need to know the pet import requirements for cats and dogs traveling to Great Britain as well as what customs forms may be needed. The link above also has information regarding banned breeds.
Create a calendar – you'll want to plot a timeline for all the requirements and documentation needed and other tasks that must be accomplished, as it can get complicated and certain things have to be done in a certain order.
Visit your veterinarian – make sure your pet has a readable 15-digit microchip, a current rabies vaccination and is up to date with all other routine vaccines. Your cat or dog will also need to be examined by a USDA Accredited vet for their final exam and health certificate. If you have a dog, they will need a tapeworm treatment administered by a USDA Accredited vet between 1-5 days prior to their arrival to London.

Purchase an IATA-approved

travel kennel – your cat or dog will need an IATA-approved travel kennel that is the appropriate size for them. It's best to get them acclimated to the travel carrier as early as possible.
Hire a professional pet shipper for flight arrangements – airlines each have their own rules for pet transport. That can include limits on the number of pets you can take with you at one time as well as overall limits on the number of pets on the plane. Rules can differ according to your pet's size or breed as well as weather conditions. Additionally, pets traveling to the UK must arrive on an approved route on an approved carrier.
Apply for the Transfer of Residence (ToR) - depending on your reason for moving to London, you may need to complete a Transfer of Residence application so you don't have to pay import taxes for your pet.
What are the health requirements for moving a pet to London?
If you're starting in the US or another "approved country," your pet will need:
An ISO-compatible microchip implanted before the rabies vaccination
A rabies vaccination that is administered at least 21 days prior to travel, but less than 1 year prior to travel. **Rabies vaccinations administered prior to the microchip will not be valid.
International health certificate for Great Britain, signed by a USDA-accredited veterinarian AND endorsed by the USDA. There are different versions of this health certificate which can be found on the USDA website.
Tapeworm treatment (dogs only) – Dogs must receive a tapeworm (

Echinococcus

) treatment between 1-5 days before your dog's arrival to the United Kingdom. This treatment must be administered in office by a USDA-accredited veterinarian - it cannot be done at home. It also must be reported on the international health certificate.
These things have to be done in this order, to meet verification and timing requirements. Happily, there are no US pet export requirements. And there is no quarantine when your pets have the proper paperwork. However, if your pet is not compliant with the UK's pet import requirements, then they may be quarantined or sent back to the origin at the owner's expense.
Heathrow Animal Reception Centre (HARC) Space is limited.
Pets flying into London Heathrow (LHR) will enter the Heathrow Animal Reception Centre while customs is cleared. Due to the number of pets flying into London, space is now limited and requires advance reservation. It is imperative that you plan ahead for your pet's travels or the HARC may not have space on the date you wish your pet to arrive to London.
Professional assistance is required.
Unless you plan to move a pet to London from the Republic of Ireland, you are required to use an approved transport company (like Starwood) as well as an approved route. You will come to appreciate this requirement.
After relocating from Wisconsin to the UK, one pet owner put it this way: "I have never been so happy to get to the other side of the process. You were great to work with, very calming, professional and always available. I would not have wanted to attempt this without you."
Starwood Animal Transport has rebranded to Starwood Pet Travel. We are still the same great company with the best team, just now with a slightly different name.
Subscribe to the Blog
Enjoy our content? Get them sent to your inbox!
Subscribe Now!
Related Posts
Moving Overseas in the New Year? How To Have a Safe Move with Your Pet
We heard you're moving to a new country in the new year. How exciting! But there's so much to do and think about before you ...
Read More