What You Need to Know About Moving Your Pet to Perth
Published on: May 28, 2015 | Author: Starwood Pet Travel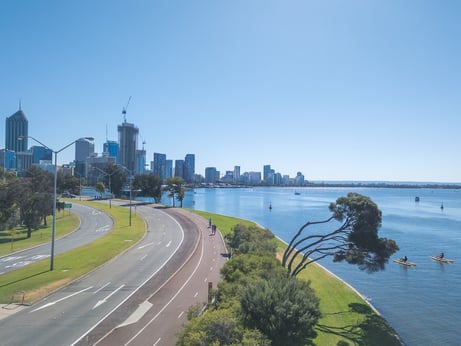 If you're going to be relocating to Perth or another city in Australia and your family includes four-legged members, it's important to learn what is required and get the process started as early as possible. Doing things right will give you critical peace of mind, and it will ensure your pets have a smooth travel experience.
Australia has some of the world's most stringent regulations when it comes to importing pets. Johnny Depp found that out in a most spectacular and expensive way. Maybe you read about it.
Follow the rules.
You don't want to risk the threat of your pet being sent back to their home country or possibly euthanized - so don't skirt around the rules when moving to Australia.
While the Aussies are plenty jolly about any number of things, they have no sense of humor when it comes to their animal import rules, for good reason. The country doesn't have rabies or several other diseases and parasites that affect pets and wild animals elsewhere around the world, and they want to keep things that way.
It doesn't matter if you think you know better, or you "know a guy" - there is no way to avoid complying with all the requirements for moving a pet to Australia, including the 10-day quarantine period.
Prepare well in advance.
Moving your pet to Perth is not something you can accomplish in two weeks. You will need to plan well in advance and follow all of the time sensitive rules and regulations for importing pets to Australia.
There is only one post-entry quarantine facility for pets in Australia, so your pet will need to fly into Melbourne first. They will undergo all import checks and customs clearance, complete their mandatory 10-day quarantine and then they will be able to travel onward to Perth.
The specific requirements and paperwork involved will depend on where your pet is coming from. If your pet is coming from the USA the general requirements are as follows. You can review the rules in more detail on Australia's Department of Agriculture, Water and the Environment website.
Cannot be a banned breed
Microchip
Rabies vaccination
Rabies titer blood test - pets cannot travel to Australia until 180 days after the blood sample arrives at the lab
RNATT Declaration endorsed by the USDA
General vaccinations (FVRCP for cats & DHPP, Leptospirosis, CIV & Bordetella for dogs)
Import permit
Quarantine reservation
Internal & external parasite treatments
Additional blood tests for dogs only for Ehrlichia canis, Brucella canis, Leishmania infantum & Leptospira canicola (only if not vaccinated for Lepto)
Final exam & international health certificate with USDA endorsement
USDA endorsement of paperwork
IATA approved travel kennel
Quarantine has a limited number of spaces, so you are not guaranteed the arrival date that you want for your pet. It takes months of planning and a great deal of attention to detail to ensure your pet's travels to Australia go smoothly.
It's important to note that when moving from the USA, all of the health requirements must be completed by a USDA-Accredited veterinarian in their office. You cannot complete any of them at home yourself.
Hire a professional.
At the very least, a pet transport company can handle the toughest parts of your pets' move – guiding you through all the health and paperwork requirements and making flight and quarantine arrangements for you. But with so many other things on your mind as you organize your relocation, it's more sensible to let professionals handle every detail.
They know which airlines are the best for pets, to minimize the stress of a long-distance air travel experience. Once your pets begin their journey, they will keep you updated on progress, so you can see your fur babies are doing well. If any questions arise along the way, they'll be there to answer each and every one of them. They're your best ally during this emotionally difficult time, because they are pet lovers as well as international travel experts for dogs and cats.
Starwood Animal Transport has rebranded to Starwood Pet Travel. We are still the same great company with the best team, just now with a slightly different name.
Subscribe to the Blog
Enjoy our content? Get them sent to your inbox!
Subscribe Now!
Related Posts
How to Get an International Health Certificate for Your Pet
If you're moving with your family, you wouldn't consider leaving your four-legged family members behind. However, they do add ...
Read More