Johnny Depp Learns The Hard Way About Pet Shipping
Published on: May 26, 2015 | Author: Starwood Pet Travel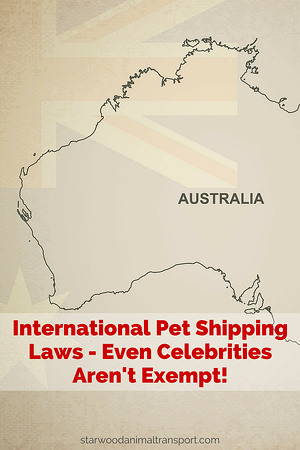 What could be more horrifying for a pet parent than to be told your beloved furred ones are about to be deported? Or, heaven forbid, euthanized?
That's exactly what happened to Johnny Depp, when it was discovered he and his wife had brought their two little dogs to Australia from the US without any of the paperwork required to import pets. They arrived via private jet. Was Johnny Depp trying to skirt the system because it's inconvenient? Maybe he truly had no idea about Australia's stringent pet import rules. But he stands as the new "poster boy" for a simple warning: Don't Be This Guy!
Australia is adamant, for good reason.
Australia may be an enormous country, but it is acknowledged worldwide as rabies-free. They want to keep it that way – and keep out any other contagious or transmittable diseases or parasites that could harm pets, wildlife or people. The only way countries can defend themselves from these potentially catastrophic threats is with rigorous import regulations and 100% enforcement.
You can't always tell by looking whether pets are entirely healthy, so countries require proof, in the form of vaccinations, blood tests or other treatments such as deworming prior to travel. Failure to comply can bring dire consequences, as Johnny Depp now knows.
"We're going to have to destroy them," said Australian Agriculture minister Barnaby Joyce about Depp's dogs. "That's the deal. And if people think that's a bit harsh, well I'll tell you what harsh is. Harsh is if we let down our guard and ultimately rabies gets into the country." He went on to note, "There is a process if you want to bring animals: you get the permits, they go into quarantine and then you can have them." Learn more about shipping your pet to Australia.
For Australia, importing pets is a lengthy process which takes over seven months to complete. These are just some of the things your pet will need to enter Australia. The complete requirements can be found here.
Microchip
Rabies vaccination
General vaccinations
Rabies Titer Test
RNATT Declaration
Import Permit
External and internal parasite treatments
Additional blood tests for dogs
Advance quarantine reservation (required stay is 10 days)
International health certificate issued by an accredited veterinarian
Official endorsement of all required documents
Unless you're like Johnny Depp and plan to charter your own private transportation, your pets will have to travel on a commercial airline as cargo. You will have to purchase a special airline-approved kennel for cargo transport. These carriers are built to be extra tough and sturdy yet provide maximum safety and comfort for each animal. There are specific rules about kennel size and configuration.
Not every country has rules as strict as Australia's.
But they all have some type of regulations you must follow to the letter. As the Aussie example proves, it can be quite complicated and time-consuming, especially since there are very specific timeframes associated with some of the requirements. Not every country has a quarantine requirement, and some that do will waive or reduce the time if all your pet's paperwork is in order. That's pretty motivating.
The Australian Government Department of Agriculture, Water and the Environment says that any animal entering the country which doesn't meet their import conditions is immediately put into quarantine and either exported or euthanized. Even if you're a celebrity or even if you think you "know someone."
"People shouldn't be getting special treatment," said Barnaby Joyce. "If we start letting movie stars [get away with it], then why don't we just break the laws for everybody?" Arrival by private carrier doesn't eliminate the need to meet the same biosecurity requirements animals traveling on commercial aircraft must meet. He said it was time for Depp's pooches to "bugger off back to the United States."
Update
During a hearing held on 5/25/15, the Australian governmental officials were informed that Johnny Depp could be jailed for up to 10 years or fined around $263,000 U.S dollars for illegally bringing his two dogs into the country.
Why put your pets at risk?
Rather than set yourself up for untold frustration or dangerous mistakes, all you have to do is call a top-rated international animal transport company. Some airlines and countries require you to use a professional third party for this anyway, and even if you could do it yourself, you'll get priceless peace of mind knowing every detail is being handled exactly right.
Starwood Animal Transport has rebranded to Starwood Pet Travel. We are still the same great company with the best team, just now with a slightly different name.
Subscribe to the Blog
Enjoy our content? Get them sent to your inbox!
Subscribe Now!
Related Posts
How Can Pets Be Shipped?
Zoos and other organizations ship all manner of living creatures around the world on a regular basis. For families, though, ...
Read More