Finding Toys and Treats Your Pet Will Love in Paris
Published on: January 3, 2019 | Author: Starwood Pet Travel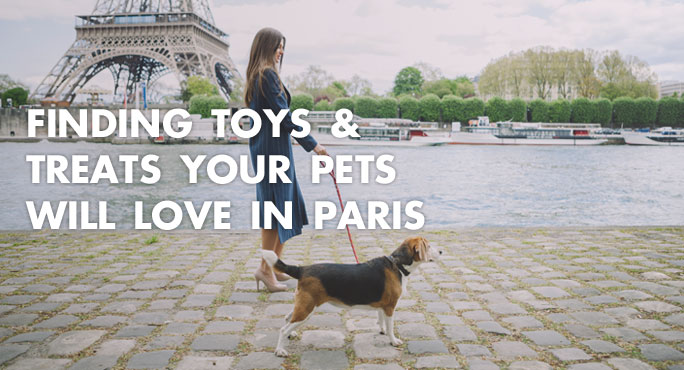 Wow, Paris! Does your pet know how lucky she is to now live in one of the world's most famous cities? When it comes to style, Paris is the height of haute couture. For pets as well as people. And that means you'll have no trouble finding must-have toys, treats, and other necessities as well as stylish apparel for your cat or dog.
What else do you need when you're new? Information! This website, Secrets of Paris, is a great place to start for pet parents. And this site has information for pet owners traveling elsewhere in France as well as around Paris. Not fluent enough in French, yet? Just click the "translate" button.
So, where can you find those highly desirable toys and treats?
26 rue du Petit Musc
High-reviewed grooming services plus "tres chic" accessories.
83 Rue Croix Nivert
30 rue Faidherbe
Meow Wow, has two shops in Paris. As one reviewer says, the name is perfect. "When I got my cat, I was looking for a store near me that was cheap and fun, where I could find toys and other accessories for him. Here is the sanctuary of cats: an infinite choice of toys, especially mice. We no longer know what to choose!"
101 rue de Prony
Don't let the name fool you, this stop has a full line-up of goodies for cats as well as dogs. For pooches, you'll find everything from the most prosaic needs (poop bags and flea/tick medications) to true treats such as adorable toys, festive cookies, and salon-quality paw balm – just the thing after a long day of shopping the famous rues of Paris. Oh, and – bien sûr – tote bags befitting a pup about town. (Paw balm is soothing after the fact, but sometimes one would rather ride regally instead.)
For you? A bottle of "Chienpagne." And maybe some of that paw balm.
For cats, a silver laser mouse (suitable for pup play as well). Super-cute and colorful toy pillows, catnip things, fun food bowls, and – bien sûr, again – fish snacks. And let's not overlook the stylish apparel (after all, this is Paris), or the ultra-stylish cat houses. Your kitty might like the multi-story Victorian model, or perhaps the jungle-themed, multi-sided diamond teepee.
98 rue du faubourg
In a neighborhood this chic, why bother with a website? Click the link, though, to see photos of the stunning Gladys creations for discerning cats and dogs. The ultimate in creature comfort, these cushy beds for all size pets and totes (smaller pets, only) will have you rushing to the shop, credit card in hand. Oh, and they do have a wall of amusing and chew-worthy toys.
Treats You Won't Find in a Store
One treat your pet is sure to love (your dog, anyway), is a fun play date with a new friend. Even if you're new to town, it's not hard to meet up with other dog-lovers and their canines. Sadly, Paris does not have official dog parks, and most city parks do now allow dogs. However, there are some where your pooch and her friend can visit, in certain areas. Those include the famous Tuileries and Luxembourg Gardens. Your dog is fully welcome (on leash) in the Parc Montsouris and the Buttes Chaumont Park.
Pack Your Bags
Parisians used to be quite cavalier about scooping poop, but it is no longer consider chic to ignore your dog's droppings. In fact, the city used to provide free doggie poop bags, but no longer. So, please bring your own, and use them.
As much as there is to see and do with your dog in Paris, one of these days you may want to treat yourselves to an out-of-city outing. The French countryside is oh, so, beautiful, and there are many places you can take your pooch for an invigorating, scenic hike.
But shopping comes first. A treat from here, a toy from there, and a well-earned glass of wine for you, relaxing in the company of your Paris-perfect pet.
Starwood Animal Transport has rebranded to Starwood Pet Travel. We are still the same great company with the best team, just now with a slightly different name.
Subscribe to the Blog
Enjoy our content? Get them sent to your inbox!
Subscribe Now!
Related Posts
How to Take Travel Photos of Your Pet
What do we photograph most often? Our pets, of course! Every cute thing they do must be recorded and shared. And why not? Even ...
Read More