7 Questions to Ask About Moving Your Pets During the Summer
Published on: July 3, 2018 | Author: Starwood Pet Travel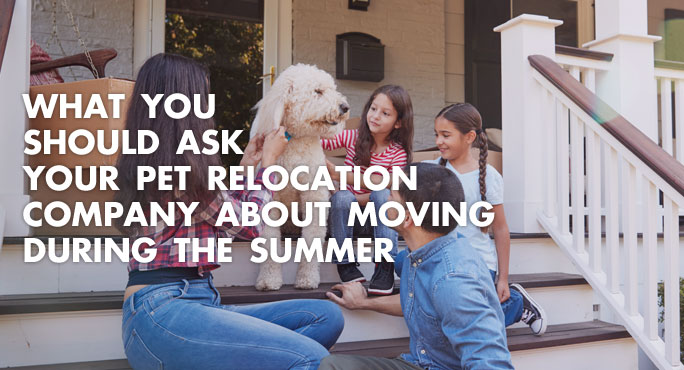 Ah, summer. The busiest travel season by far. Under any circumstances, it takes time to plan an international move for pets. Weeks. Or even months. In summer, the process can take longer, and there are additional hurdles you may face. The sooner you get started, the less stressful it will be.
You could try to research and handle all the details on your own. At first glance, it doesn't seem that difficult. Unfortunately, orchestrating an overseas move for family pets is rarely easy. The process can be surprisingly complicated, and if you miss a detail or make a mistake, your poor pet's travel plans could derail.
Why worry about all that?
For your own peace of mind and your precious companion's safety and comfort, it makes more sense to hire a professional animal transport company. Sure, that's easy for us to say. But we know the full extent of what's involved, and we know you're already up to your elbows in challenges, if you're planning a relocation during the summer. Why not let a pet-loving expert lift some of that burden?
You want what's best for your dear Max. The itinerary that is shortest, safest, and most comfortable for him may not be the flight plan you would choose for yourself. The airline you like may not be the pet-friendliest, most accommodating from Max's perspective. And the amount of documentation Max will need makes obtaining your own passport a piece of cake. He'll need an airline-approved kennel, too.
In summer, hot weather can wreak havoc with a pet's travel plans. Airlines won't allow animals to fly when it's too warm, and that's virtually guaranteed in certain cities in the US and other countries. That can make planning tricky. With a pro on the job, you can rest assured Max has a "friend in the business" looking out for his best interests. Besides, some countries such as Australia require incoming pets to travel under the auspices of a commercial pet transport company.
Who should you call?
Naturally, you expect your dog or cat to travel safely and be treated with premium care. So what should you look for in a professional pet transport company? There are both practical and emotional factors that affect your pet's well-being and your peace of mind. So ask questions such as:
Are you pet owners yourselves?

Are you an all-purpose or pets-only moving company? (Moving live animals is a far cry from moving your sofa.)

How much experience have you had moving my kind of pet, to my destination?

Are you a member of the International Pet and Animal Transportation Association? IPATA members worldwide adhere to the highest standards of pet safety and care.

Exactly what will happen, door to door, while Max is in your care?

Where can I read reviews about your company? And can I contact past clients for references?

How much will it cost? (Getting a detailed estimate will enable you to compare quotes accurately and completely.)
Any top-notch pet transport company will be more than happy to answer as many questions as you have.
Flying may not be the best option
We may recommend ground transportation for all or part of Max's journey. This can be a better alternative for several reasons:
Summer weather restrictions force you to use a different departure destination

You don't live near a major hub airport, so Max needs a ride to that destination

You're moving cross-country and you'd rather not put Max on a plane

Max is a "brachy" – one of numerous brachycephalic dog and cat breeds with a shortened snout or snub-nose, which can increase risk for pets in flight
You can rely on our Starwood team to handle all those details with tail-wagging expertise, too. And that's something else to consider. If Max will need both ground and air transport, choose a company that provides both services as an integrated effort. That way, you won't have to worry about hiring two separate companies or the confusion and miscommunication that might result.
Relocating your pet during the summer can be a trying experience, but it does not have to be. Is this the first time for your pet to fly? Or maybe not...either way, our comprehensive guide will help you understand the process so you can plan for a smooth, low-stress experience.
Starwood Animal Transport has rebranded to Starwood Pet Travel. We are still the same great company with the best team, just now with a slightly different name.
Subscribe to the Blog
Enjoy our content? Get them sent to your inbox!
Subscribe Now!
Related Posts
American Airlines Pet Policy
American Airlines has been transporting animals for more than 50 years, so even if your pet is flying for the first time, they ...
Read More