Things to Do in Dublin with Your Dog
Published on: April 21, 2022 | Author: Starwood Pet Travel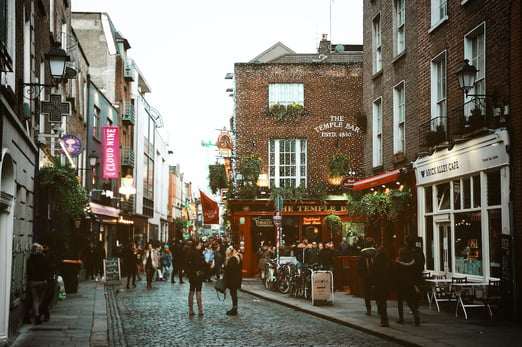 Moving to a foreign country can be the adventure of a lifetime, but it's also a lot of work, with a lot of concerns - especially if your family includes pets. Using a professional pet transport company lightens the load when it comes to your to-do list, but even more importantly it relieves the stress and worry that pet parents naturally experience regarding their four-legged loved ones' overseas travel.
If you're moving to Dublin, Ireland, give Starwood a call. Our team can take on your pet's move while you handle the rest of the details. Then all you have to do is get settled once you arrive, so you and your pet can get busy becoming Dubliners. There are lots of things you can do to help your dog adjust, but finding places to play tops the list.
Take your dog for a scenic run (or walk)
Lovin Dublin (a website you'll want to check out as a new local) notes that "what's lucky for us Dubliners is that a brilliant, beautiful and even historical dog walk is never more than 30 minutes away." They list 11 places you might want to visit, including:
Burrow Beach, Sutton
Lovin Dublin says this place is locally known as "Hole-In-The-Wall beach" – a must-visit for you and your dog, but perhaps not in the heat of summer, when the beach is crowded with families with children.
Corkagh Park Dog Park, Clondalkin
Well-secured off-leash area, and a water station to keep dehydration at bay. (Don't forget to take a portable dish).
Killiney Hill
Beautiful for walks, off-leash area for dogs to run and a beach where your pooch can dip their toes in the (cold) water.
Marlay Park, Rathfarnham
Multiple off-leash areas inside a double fence, complete with a river for a refreshing doggie swim. Once your pup has gotten the zoomies out of their system, you can stroll the food stalls at the Marley Farmers Market.
Memorial Gardens, Kilmainham
Just across from Phoenix Park, this place features rose gardens and lots of other flowers to see and sniff, plus it's off-leash-friendly. And, with all those stairs, you can get in a good workout yourself, too.
Stop for a bite to eat or drink
After hours of play, you will have worked up a powerful hunger, and probably a thirst as well. While dogs are not allowed on public transportation or inside Dublin's restaurants and shops, you can still grab a tasty bite and a refreshing pint of Guinness (or whatever your favorite beverage may be) at an outdoor, dog-friendly spot. These are a few places that will welcome both of you:
The Dog House & Blues Tearoom, Howth
Howth is a little fishing village just to the north of Dublin. Their famous warm brownies with ice cream may be off-limits for your dog, but you might consider slipping him a piece of your wood-fired pizza.
Happy Out Cafe, Bull Island & Donnybrook
The Happy Out Cafe offers coffee, "not coffee", sandwiches, breakfast, pastries & more. Check out their Instagram for their furry visitors and pictures of their mouth-watering food.
If you're looking for other pet-friendly things to do, places to visit or shop or pet products in Dublin, check out Pet Friendly Dublin.
Starwood Animal Transport has rebranded to Starwood Pet Travel. We are still the same great company with the best team, just now with a slightly different name.
Subscribe to the Blog
Enjoy our content? Get them sent to your inbox!
Subscribe Now!
Related Posts
What's Good Petiquette in Dubai?
Many Americans and British subjects are moving to the United Arab Emirates – especially Dubai– for work or the adventure of ...
Read More