10 Ways To Help Pets Adjust After A Move
Published on: April 20, 2022 | Author: Starwood Pet Travel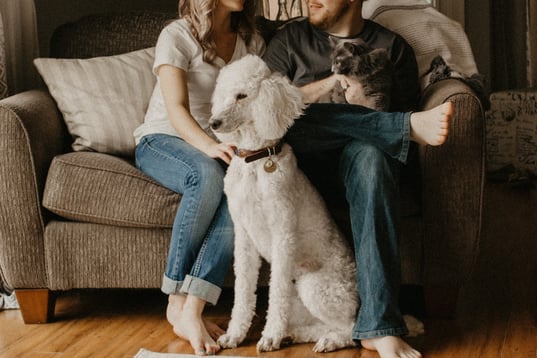 A long distance move can be tough on everybody, especially pets. They can easily tell big change is happening, but what does that mean? Will they be abandoned? The less stressed they are before and during the move, the easier it will be for them to acclimate to new surroundings. So helping your pets adjust after a move actually starts beforehand.If you're relocating internationally, it's even more important to do everything you can to help your pets adjust, because your new home may be distinctly different from what they're used to, in terms of weather, more confined living space and so on.
Cats and dogs approach life differently
Cats don't like change. Recognizing that will help you keep them calm and help avoid "pay back" behaviors for uprooting them – hiding, escape attempts, loud meowing or deliberate "accidents" in the house or aggression toward you.
The good news about dogs is that their greatest joy is being with their humans. So they may sense change, as long as they know you're in it together, they'll be OK. That doesn't mean they won't be anxious, but you're the alpha dog in the pack - your pup looks to you for guidance, and that includes a positive attitude toward your move.
You love your pets unconditionally and want only the best for them. So how can you help them adjust to a big move? Here are 10 tips from pet training experts:
1. Consider their needs as you choose your new living situation. Be sure dogs and/or cats are allowed and check on any breed or size restrictions. Is there enough room for your big dog, and someplace they can exercise?
2. Help them get acclimated to their travel kennel, so it becomes their personal safe space. This may be the only continuity factor as they transition from your current home to their new one. Make it comfortable with a bed, blanket and toys or treats.
3. Bring a few of their toys with you, rather than packing everything, so your pets will have more recognizable possessions even if your household belongings don't arrive right away. Bring a supply of their favorite food, in case you can't find the same brand locally.
4. If you have a cat, don't just let them loose to explore your new home on their own. Start them off in a single room that contains all their essentials – bed, food, toys, litter box – for a couple of days, then gradually introduce them to additional rooms. Make sure your home is comfortable and safe but be sure to "cat-proof" so they can't escape or get stuck somewhere they shouldn't be.
5. For dogs, be the leader of the pack. If you can, walk them around the neighborhood first, for a bit of personal time and leg-stretching after their long journey and to let them get in some general sniffing. Then, lead the way into your new home and walk them from room to room – literally lead them, be in charge. Show them where their bed, crate, toys, food and water are and give them treats to show them this is a new safe space for them.
6. Make sure windows and doors are secure (or don't leave them open far enough to allow your pets to escape). Make sure there aren't any pest control devices or poisons anywhere. Make sure there are no spaces where your cat or dog can squeeze into and get stuck or injured.
7. Find a new veterinarian and pet supply store as soon as possible. If your pets have medical issues or eat prescription food, try to research possible veterinarians before you leave. Once you arrive, make an appointment to introduce your pets and ask about any pet-related local information you need.
8. Locate dog parks or other exercise options.
9. Take care of any dog or cat licensing/local registration right away, and learn local pet ownership responsibilities so you can get off on the right foot as a good neighbor.
10. Establish a normal routine as soon as possible, so both cats and dogs can settle in and relax.
Be sure to spend plenty of one-on-one time with your pets, playing with them, petting them, just being near them. When you're upbeat and calm, your pets will be too. Even though your haughty feline would never admit it, they will appreciate your efforts to help minimize change by making sure their personal effects are readily available right away in their new home. And your dog? All he or she really needs to adjust is you by his or her side.
Starwood Animal Transport has rebranded to Starwood Pet Travel. We are still the same great company with the best team, just now with a slightly different name.
Subscribe to the Blog
Enjoy our content? Get them sent to your inbox!
Subscribe Now!
Related Posts
Do's and Don'ts of Choosing Pet Safe Decorations
The holiday season is a time of joy and celebration, but it's important to remember that the decorations we use can pose real ...
Read More