What You Need To Know About Moving A Pet to Dubai
Published on: May 19, 2022 | Author: Starwood Pet Travel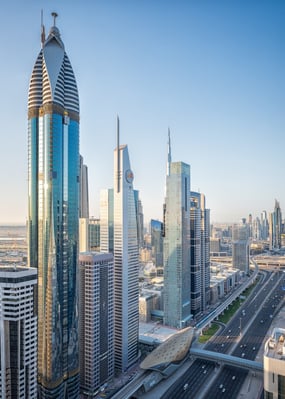 It looks like you will be moving to Dubai. That's a big change, whether you're moving from the US or most any other country. But there is a growing population of expats in the United Arab Emirates – Dubai and Abu Dhabi, especially – so your relocation isn't that unusual. If your family includes dogs and/or cats, however, their part of your move will be anything but "business as usual."
You wouldn't dream of going without your furry companions. They are an integral part of your family, and you can't imagine life without them. Nonetheless there are some things to consider when moving a pet to the United Arab Emirates:
It can get extremely hot during certain times of the year. If your dog has a heavy coat, they may not do well. If you have a dog or cat with a snub nose, will the heat put undue strain on their ability to breathe comfortably? Talk to your vet about this.
Dogs are not as welcome in public as they are in most western countries, because they are considered unclean, although with more foreigners arriving with their pets, that is changing to some degree. Dog parks are few, and dogs aren't allowed in parks or on beaches. That means exercising your dog will take some creativity.
Housing that accepts pets is limited, and accommodations can be smaller than what you're used to. How big is your dog?
It is prohibited to import any of the following breeds into the UAE:

Staffordshire Bull Terrier, American Pit Bull Terrier, American Staffordshire Terrier, American Bully, Brazilian Mastiff,

Fila Brasiliero, Argentinian Mastiff, Dogo Argentino, Tibetan Mastiff, Neapolitan Mastiff, French Mastiff, Dogue de Bordeaux, Boerboel, Bullmastiff, Cane Corso, Italian Mastiff, Bully Kutta, Alangu Mastiff, Indian Mastiff, Perro De Presa Canario, Canary Mastiff, Japanese tosa, Presa Canario.


All is not doom and gloom, though. Many expats have moved to Dubai with their pets and the whole family has adapted just fine. The key is to know what you're dealing with so your pets can travel safely and thrive once they arrive.
The UAE has strict pet import regulations
You may import two pets per person, and they must be shipped as manifest cargo, regardless of size. Each animal will need a travel kennel that meets IATA specifications and be appropriately sized to your pet so they can comfortably stand, sit, spin around & lie down. And as with any international move, there is a lot of paperwork required, some of which has associated fees. Your cat or dog will need:
UAE import permit
International health certificate, endorsed by the USDA
A microchip that meets international standards
A rabies titer blood test
Cats must be vaccinated against Rabies and FVRCP (Feline Viral Rhinotracheitis, Calicivirus, Panleukopenia)
Dogs must be vaccinated against Rabies, DHPP (Distemper, Hepatitis, Parainfluenza, Parvovirus) and Leptospirosis
Vaccinations must be a minimum of 21 days old but less than 1 year old at the time of travel
There is no quarantine, as long as you meet all your documentation is in order
Don't try to do all this yourself
Trying to organize all the details of your pet's move to Dubai can be a world-class juggling act. The rules can change at any time, and you may not be aware. One expat reported the import fee changed while his dog was en route. For your own sanity – and to save countless hours of phone calls and running around – it makes far more sense to hire experts who move pets for a living.
Having a professional pet shipper handle the arrangements and oversee your pet's travel plans ensures you won't be tripped-up by mistakes. Whether it's dealing with bureaucracy or knowing which airline(s) will take the best care of your pets, you can rely on an experienced international animal shipper that is familiar with moving pets to Dubai to get everything right. Choose a company that is accredited by the International Pet and Animal Transportation Association (IPATA).
Yes, it will cost more. But you can't put a price on your pet's comfort and safety, or your own peace of mind. And if you're relocating for your job, moving expenses are generally tax-deductible, including your pet moving expenses. Talk to your tax advisor.
Pet relocation companies can take on every detail, with door-to-door service, or if you're comfortable acquiring your own IATA-approved kennel for each pet and getting your four-legged gang to and from the airport, you can do those things and let the experts handle the trickiest parts – flight arrangements and documentation.
When you plan ahead to cover all the bases, moving your pets to Dubai will go smoothly.
Starwood Animal Transport has rebranded to Starwood Pet Travel. We are still the same great company with the best team, just now with a slightly different name.
Subscribe to the Blog
Enjoy our content? Get them sent to your inbox!
Subscribe Now!
Related Posts
Should I Feed My Dog Before Flying? What Else Should I Know?
It seems like a simple question – should you feed your dog prior to their flight? You don't want them to go hungry, but you ...
Read More