Moving Overseas in the New Year? How To Have a Safe Move with Your Pet
Published on: December 14, 2017 | Author: Starwood Pet Travel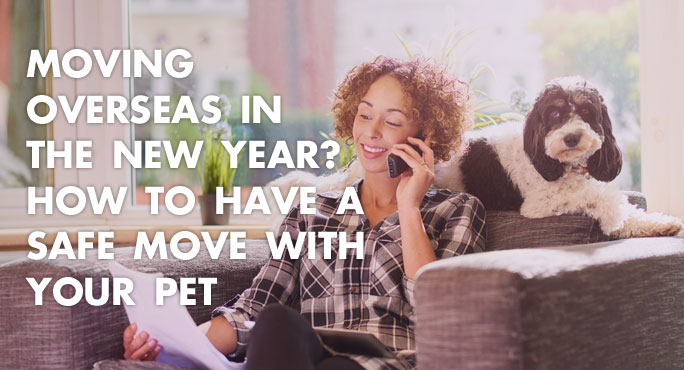 We heard you're moving to a new country in the new year. How exciting! But there's so much to do and think about before you leave – not the least of which is how you're going to organize your pet's move. Where should you even start?
Whether this is your first move with pets or not, we know your number one concern is always your furbaby's safety. When you're moving overseas with a dog or cat (or some other type of family pet, for that matter), making the proper arrangements can be daunting. Everything has to be just right, and every detail contributes to a safe move. Depending on your place of departure and your destination, it can be downright mind-boggling. It's not easy to know what's best for your pet.
You can look to us here at Starwood Animal Transport for advice and help. After more than 30 years of transporting family pets to every corner of the globe, we know what it takes to ensure your pet's safety, no matter where in the world you're headed. To help you, we've put together a free resource aptly called the "Complete Guide to Flying with Dogs." Read it, even if your furry family member is a feline.
Stay cool
Stressing out simply makes your travel planning more difficult, and pets pick up on your moods. If you are upbeat and calm as you prepare, you can help reduce your four-legged friend's anxiety. And a more relaxed pet travels safer. What a Good FurMom you are! (Or Fur Dad, of course.)
These tips and our handy checklist will keep you on track as you move through the countdown to your pet's departure.
We can handle every detail, if you want
Health documentation is a critical pet safety issue for an overseas move. You have to prove to local import officials that your dog or cat is healthy enough to be allowed entry at your destination. But you also need to be sure your pet is fully immunized against potential pest or disease threats in your new country. Knowing what you need and obtaining everything within specified time constraints is surprisingly time-consuming, confusing, and frustrating.
Your pet will require an airline-approved, properly sized travel kennel, too.
And you'll need to plan the fastest, safest itinerary. The goal is to get your guy from his current home to his new home as quickly and comfortably as possible. So his flight arrangements may be different than yours, especially if you're moving a very long distance.
We can help with these key tasks, or literally provide door-to-door service. We know which airlines are most pet-friendly and which routes are most efficient. We know what documentation your guy will need and how to make obtain that paperwork in time, with least hassle.
We have your back
There is one detail pet parents often overlook while planning a move overseas. What will happen if there's a snafu with your pet's travel and you are already en route yourself, or otherwise not available? A weather delay or embargo, or some other last-minute problem, can throw a real monkey wrench into things. Working with us gives you peace of mind, knowing someone from our Starwood family is assigned to your family pet's journey. Monitoring his progress. There for them if we're needed.
We also strongly recommend that you consider purchasing pet travel insurance. You can't control everything, no matter how well you plan your move. What if you have a family emergency back home and have to change your flights? What if your pet becomes ill during his trip? Chances are slim you'll face a serious problem, but insurance gives you added peace of mind at a very stressful time.
Drug-free pets, please
One of the most serious safety misconceptions that we hear from pet parents is the belief that their dog or cat should be sedated for their trip. In fact, tranquilizers effectively disable your pet – his sense of balance fails him, and his woozy brain is more worried than ever. For this reason, airlines and pet transport professionals such as Starwood will not accept sedated pets.
Resolve not to stress out about your upcoming move
Call us now. The sooner you get the ball rolling on your pet's move, the calmer you'll be. You can take heart in the fact that you've already checked off the most important part of your moving to-dos – ensuring your pet's safe travel. We'll honor that by treating your guy as lovingly as you do. Well, almost.
You can focus on the human side of your move and the excitement of exploring your new home with your pet, once you arrive.
Starwood Animal Transport has rebranded to Starwood Pet Travel. We are still the same great company with the best team, just now with a slightly different name.
Subscribe to the Blog
Enjoy our content? Get them sent to your inbox!
Subscribe Now!
Related Posts
How To Keep Your Pet Happy During A Move
Dog or cat, a relaxed pet is a happy pet. Unfortunately, if you're planning a move, you can all look forward to maximum stress ...
Read More