The Top 10 Holiday Destinations for You and Your Pet
Published on: December 8, 2017 | Author: Starwood Pet Travel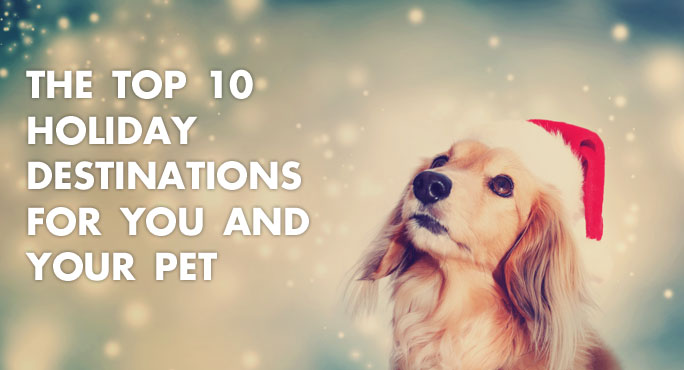 As homey as holiday traditions are, sometimes it's fun to go somewhere else to celebrate. And, of course, no celebration is complete without our pets. You can still make last-minute travel plans, if you get busy. Whether you want to go far away or stick closer to home this year, here are 10 great holiday destinations for you and your pet to consider.
Among highly-recommended dog-friendly winter getaways, you'll find the Big Apple, of course. Soho and Tribeca Grand Hotels – sisters in luxury accommodation – are pooch-friendly as only New York can be.
Or how 'bout St. Moritz? Jet-setting pets love foreign holiday destinations. And did you know St. Moritz is the town that originally put winter tourism on the map? At the Carlton Hotel, your pooch can join you in one of 60 lake-view rooms, not to mention the ground-floor restaurant and bar.
It's hard to beat the gorgeous scenery in the Cotswolds, especially in winter, and there are plenty of accommodations waiting with open arms to welcome your pet as well as the humans in your family for a glorious holiday break.
Where do holiday travelers head if they want to avoid a snowy winter wonderland? Parts of Arizona such as Tucson come to mind, but note that it does snow in some regions of the state.
The beachy sands of San Diego are another warm choice. The weather is perfect for hanging out with your pet at an outdoor café or enjoying an ice cream cone and a stroll through Old Town. Your dog can lick his own dish of Frosty Paws, a pup-friendly ice cream available at the Lighthouse Ice Cream Shop.
Or head to wine country, anywhere – from Napa to Oregon's Willamette Valley, France or Italy. Dogs and wineries are a generations-old tradition, so you can be pretty sure your pooch will be welcome to visit with you (minus the actual wine tasting, of course). In fact these days many wineries overtly promote their dog-friendliness. The aptly-named Mutt Lynch Winery in famed Sonoma County, donates money from every bottle sale to local pet rescue groups.
Even if you don't celebrate Christmas, you'll want to memorialize this holiday season with the must-have Photo with Santa – especially if the fee is a donation to your local shelter or rescue group! If your own pet is a rescue herself, you know how grateful she is for her warm and loving life with you. She'll be happier sitting for her photo, knowing she's helping some other dog or cat in need.
Does your town host a holiday pet parade? Join in! What devoted pet parent doesn't like to show off their Beautiful Beloved for one and all to see! Parades are even more fun if you have kids, but when it comes to our pets, we're all kids at heart.
Destination: Home. While your pooch might be up for just about any holiday adventure, no matter how wacky, your dear feline probably has different priorities. Most cats dislike change, and you've already disrupted her life by rearranging "her" furniture and bringing in holiday decorations she's not even allowed to play with.
What she really wants this holiday season is not a new holiday experience but the reliable comforts of home. Home with you, that is. More quiet time with just the two of you. More petting and cuddles. Needless to say, gifts will be well-received, too, especially if they involve catnip and scratchables.
What else makes home such a great destination? Baking! Gather your pet and head to the kitchen to bake up some dog- and cat-appropriate cookies.
Whatever destination you choose, don't let your holiday fun get sidetracked by an ill pet. This recent article provides useful tips on keeping your pup or kitty in prime condition despite the cold weather.
Starwood Animal Transport has rebranded to Starwood Pet Travel. We are still the same great company with the best team, just now with a slightly different name.
Subscribe to the Blog
Enjoy our content? Get them sent to your inbox!
Subscribe Now!
Related Posts
Tips for a Fun (and Safe) Time at the Beach with Your Dog
Whether you're taking the holiday of a lifetime to tour European beaches with your dog, or you're enjoying the sand and surf ...
Read More