Finding a Vet in France
Published on: July 1, 2019 | Author: Starwood Pet Travel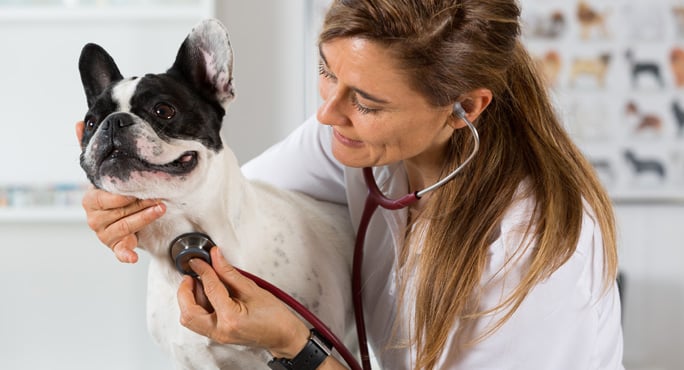 Vive la France! Here you are, about to move to the land of wine, cheese, and croissants. And your dear four-legged companion in almost all things is going with you. But, of course! Moving to France is a major undertaking, as is any overseas move, but you will love the result – living in France.
You can learn as you go about many things – how to ride the Métro around Paris and France's magnificent trains to every corner of the country, for example. (By the way, your pet will be welcome to join you on most public transportation.) But one of the things you will want to do first is find a vet for your pet in France.
Choosing a vet right away is especially important if they have a chronic health condition of some kind that requires regular medical treatment. But you just never know when something unexpected might happen. Knowing whom to call is the key to peace of mind, especially when it comes to our beloved dogs and cats.
Besides, France is home to some pests and diseases that are likely new to you, such as leishmaniasis, a disease spread by biting sandflies common to southern France. You'll want to find out about preventive measures as soon as possible.
Expect the Best When it Comes to Care
Many pet parents worry about whether their kitty or pup will get the same quality veterinary care overseas as they receive now. Not to worry, the French are serious about their pets and excellent medical care is available throughout the country.
In fact, France is where formal veterinary medical education got its start. And the Ministry of Agriculture (Direction Générale de l'Enseignement et de la Recherche) has regulated the veterinary profession since 1881. Vets must be registered with the Ordre des Vétérinaires (College of Veterinarians) in order to practice. Both French and European Veterinary Specialists are professionally recognized.
One big difference you'll find – although many vets practice at the kind of clinic you are used to visiting, there are many others who treat their four-legged patients from home. So you may find a vet that lives and practices right next door.
You Can Start Your Vet Search Now
Yes, your moving to-do list is long, for the humans in your family as well as to get pets ready to travel. But you can do some preliminary research about vets even before you leave if you have a few spare minutes. Here are some great resources, for now, and after you've moved:
In general, though, you should know that most French vets do not speak English, except for possibly some very basic conversation. That's because France offers such high-quality, comprehensive veterinary medical education, students don't have to travel to the US or UK to get a degree. Therefore, they don't have to learn English.
In some towns, you may find a list of local vets at the Mairie (city hall).
And, of course, you can always chat with co-workers, friends, and neighbors to get referrals.
There's More to Life Than Visiting the Vet
Most dogs and cats are less than thrilled to visit the vet, even for the most mundane reasons. Your dear pet is probably among them. However, their attitude will improve instantly, if your next stop is a shop that sells toys or treats. Here's where to find great pet shops in Paris.
Starwood Animal Transport has rebranded to Starwood Pet Travel. We are still the same great company with the best team, just now with a slightly different name.
Subscribe to the Blog
Enjoy our content? Get them sent to your inbox!
Subscribe Now!
Related Posts
Finding a Vet in Ireland
Lots of American expats are living in Ireland these days. Most are there for business, but it's a lovely country to visit on ...
Read More