Finding Dog Walkers in Madrid
Published on: June 6, 2019 | Author: Starwood Pet Travel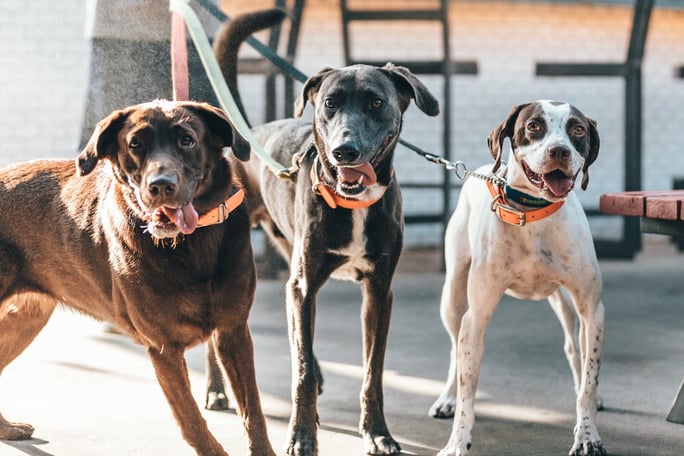 Walking your dog is just one of those things you do as a pet parent. It's good exercise for both of you, and it's a wonderful bonding experience, especially if you practice training commands as you do your walk. But your family recently moved to Madrid and you're overwhelmed with getting organized. A new place to live – in a new city, maybe with a new language – and probably a new job as well. Where is all the time going?
You need to find a dog walker! And soon, or you and your pup are both going to go stir-crazy. But where can you find a dog walker in a strange city? (Or even a familiar community, for that matter.) You actually have more options than you think.
Resources to help you find dog walkers
Fortunately, Spain is a pet-friendly country, home to more than 5 million dogs (and millions of cats as well). So dog-friendly services are commonly available. One of the easiest places to start when you're looking for any service in a new community is with people you already know. For example, if your relocation to Spain was a business transfer, chat with co-workers to get recommendations and referrals. Surely some of them are dog owners as well.
Other good sources are your veterinarian, the store where you purchase pet supplies, and the salon you take your dog for grooming.
Rover lists several dog sitters in Madrid, many of whom offer walking services. In fact, if you can hook up with a sitter you and your pup really like, you'll have someone who can help if you ever need to be away from home without your dog – either for a full day or overnight. Parking your pooch with a sitter (or having them come to stay at your place) is usually far preferable to taking your dog to a traditional boarding kennel where it's noisy and chaotic.
Petbacker is another website that has your back if you're a dog owner in need of assistance. As they say, "You cannot always predict a crazy day at work, but you can anticipate the needs of your dog. Instead of running home at lunchtime, book a dog walker to give your dog a 30-minute walk." Their walkers will tend to your dog as often as you want, any day of the week.
You also might want to join the Pets in Spain Facebook community. They're centered on the costa Blanca, but the broad discussion about dogs on their page could help you find a dog walker in Madrid. And speaking of communities, look for online expat forums. These groups can be excellent sources of insider information on all sorts of subjects in addition to pet-specific questions.
Alternatives to finding a dog walker or sitter
Can't find a dog walker? Here are some other ways to give your pup the exercise they need no matter where you are, indoors or outside. Even better, make an effort to seek out like-minded pet parents in Madrid. Social dog-walking groups, for example, enable you to talk about your own dog in the company of others. You can make new friends at the same time, and get to know more about your new home.
The more people you get out and meet (dog at your side, of course), the more opportunities you will have to ask about dog walkers – especially as you meet fellow dog owners.
Not just any dog walker will do
Your dog is part of your family – your four-legged beloved baby as well as your companion. You don't want to entrust them to just anyone. You want someone who is responsible, trustworthy, loving, and willing to play fetch until their arm falls off if that's what will make your dog happy. So it's all about finding a compatible relationship. (With you as well as your dog.)
Here are some tips to help you choose the right pet walker/sitter when you find yourself in new surroundings.
As you get settled into your new home in Madrid you will learn your way around and meet more people. That will make it easier to find services such as a dog walker, but we suspect you'll want to spend that time with your dog yourself, whenever possible.
Starwood Animal Transport has rebranded to Starwood Pet Travel. We are still the same great company with the best team, just now with a slightly different name.
Subscribe to the Blog
Enjoy our content? Get them sent to your inbox!
Subscribe Now!
Related Posts
Moving Overseas in the New Year? How To Have a Safe Move with Your Pet
We heard you're moving to a new country in the new year. How exciting! But there's so much to do and think about before you ...
Read More