Favorite Dog Beaches in South Africa
Published on: March 25, 2019 | Author: Starwood Pet Travel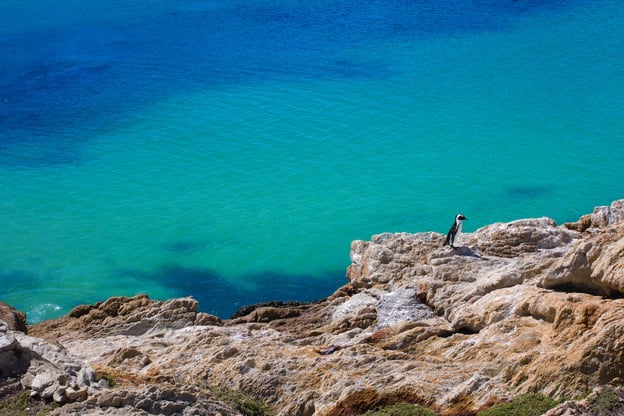 Back by popular demand – summer! And what fun-loving dog and his owner aren't looking forward to a romp on the beach?! If you're living in South Africa, you're in dog beach heaven, because this country is crazy about canines and has miles and miles of widely varied, beautiful, and welcoming beaches.
If you are about to relocate to South Africa from, say, the US or the UK, remember that the seasons are opposite in the southern hemisphere. So, as summer is on the horizon in one locale, it is about to end in the other. Fortunately, all you have to do is wait a few months and summer comes around again. So even if you can't hit the beach with your dog right now, you can start planning your upcoming sand and surf adventures.
But where to go, to find all the best beaches?
Petlife SA has a lengthy list of dog-friendly South African beaches here, for the Cape Town, KwaZulu-Natal, and Port Elizabeth areas.
Cape Town beaches are divided into three categories: those that allow dogs off-leash, those that require leashes, and those that have seasonal time-of-day restrictions. These kick in during peak periods when there are lots of families who flock to the beach and may not be excited to share with your pooch.
Port Elizabeth, on the other hand, is well-known for its strict on-leash requirement in all public places, including beaches. However, there are a few beaches that do allow dogs as long as you obey the rules.
Other coastal areas offer prime territories for dogs and their families to walk and run on the beach and play in the surf. Here are just a few places you'll want to investigate:
Garden Route
Knysna – Brenton-On-Sea and Buffelsbaai (on-leash only, with holiday restrictions during December-January)
Wilderness Beach, within the Garden Route National Park
Plettenberg Bay – the Poortjies Lagoon Area and Lookout Beach
Southern Cape Coast
Denys Hessom Trail in Betty's Bay runs from Jock's Bay to Stony Point and includes a nice beach for swimming
Hermanus' Grotto Beach and Kleinmond's coastal walk allow dogs, as far as the mouth of the Palmiet River
West Coast
Elands Bay
Langebaan, between Pearly's Restaurant and Club Mykanos
Yzerfontein, which offers 16 miles of beach (only the designated swimming area requires your pup to remain on-leash)
Wild Coast
Bonza Bay – on your way to the beach, you'll follow a walkway built just for dogs that leads through the coastal forest
Haven Beach, from Coffee Bay to Mazeppa Bay
Second Beach in Port St Johns
Preparation Ensures Safety and Fun
Before heading to the beach, it's a good idea to make sure your dog's vaccinations are all up to date. Talk with your vet, because some immunizations that South Africa categorizes as optional might be recommended for maximum, beach-worthy protection. (The same holds true if you and your intrepid canine are planning inland adventures that include wildlands.)
Also, remember that hydration and shady rest periods are essential when you're playing in the sun. Dogs get hot just like people, and they are also prone to sunburn and heat stroke just like people. As the pack leader, it's up to you to tell your pup when it's time for a cooling break. And, speaking of breaks, be sure to pack a supply of poop bags, too. Good pet etiquette is always the #1 rule of the road, you're your consideration for other beach-goers will be especially well-received.
No matter what South African beach you choose to visit, with sunscreen, plenty of water, some clean-up bags, and a towel to dry off, you'll be ready for action, interspersed with a bit of snoozing on the sand.
Starwood Animal Transport has rebranded to Starwood Pet Travel. We are still the same great company with the best team, just now with a slightly different name.
Subscribe to the Blog
Enjoy our content? Get them sent to your inbox!
Subscribe Now!
Related Posts
Tips for a Fun (and Safe) Time at the Beach with Your Dog
Whether you're taking the holiday of a lifetime to tour European beaches with your dog, or you're enjoying the sand and surf ...
Read More