Best Dog Beaches In Europe
Published on: February 3, 2017 | Author: Starwood Pet Travel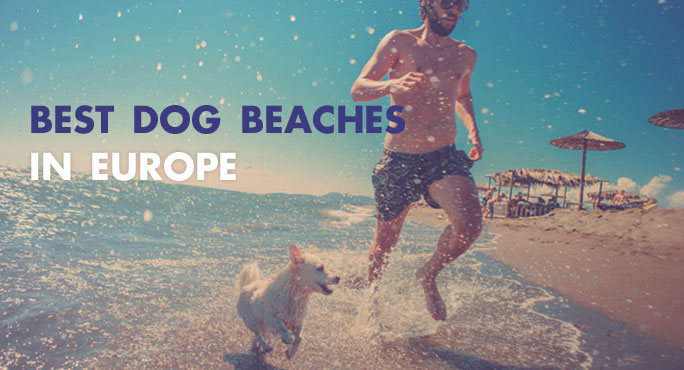 Pet lovers around the world are traveling more often with pets in tow, especially their dog. And why not? Your best friend is always up for a new adventure, and he could probably use a change of pace or scenery as much as you. With summer just around the corner, it's time to consider a visit to the beach. But where can you go, if you're in Europe?
European beaches may be more formal than you're used to
In some countries, the dog-friendly beach concept is quite new. But thanks to ardent pet lovers, an increasing number of beachy spaces are welcoming pups of all sizes. (On the other hand, there are beaches that restrict the size of welcome dogs.)
Some spaces are wide open – available for your enjoyment in whatever way appeals to you. But many European beaches are officially-designated spaces with umbrellas, lounges, a variety of dog-forward amenities and plenty of rules you'll need to follow. Many have admission fees, and the popular ones all strongly urge advance reservations to ensure you and your pooch can partake of the beach on the day of your choice.
Britain's Mirror says "a million mutts have taken the Eurotunnel since 2012." Of course, they didn't all go to the beach. However, the Mirror specifically mentions the dog-friendly town of Varenna on the shores of Lake Como in Italy, where the beach beckons both dogs and their humans to dip their toes in the water. Should either of you become peckish, the paper says the local restaurants are "remarkably tolerant," even of dogs inclined to work the room for pizza handouts.
Where else might you and your pup find beachside bliss?
We've pulled together some suggestions from all around Europe. BringFido.com readers rate these two beaches "5 bones":
Pineta Beach, Porto Recanati, Italy
Umbrellas, sun beds and free poop bags for you, plus dog showers and food bowls. Everyone is free to swim.
Howth Secret Beach, Dublin, Ireland
A "nice hidden place" in the little fishing village of Howth, at the northern edge of Dublin.
Or you might want to visit these dog-friendly beaches:
Dog Beach, Ayia Napa, Cypress
Billed as "the Mediterranean's first official canine beach." The locals hope you and your pup will join them.
La Prora Beach Village 41, Pescara, Italy
This beach is located in the center of town and welcomes small to medium size dogs. And it's a hearty welcome, with umbrellas and chairs plus dog bowls, water, snacks obedience classes, an agility course and a dog-friendly pizzeria.
Kontogianni, Karlovasi, Greece
This beach is just over a mile down the road from the town of Potami, which means "river" in Greek. You can relax on the pebbly beach or swim in the deep, still water.
Rimini Dog No Problem Dog Beach, Rimini, Italy
This very large fully-enclosed beach area allows humans ONLY if they are accompanying their dog! Yep, dogs are required. Surfside umbrellas, an agility area, showers, dog mats, bowls...and coming this summer, double the space, including a separate area for small dogs.
Saunton Beach, North Devon, England
Three miles of beach to romp on, including England's largest collection of sand dunes. This beach is located between Braunton and Croyde.
Skateholm Beach, Skateholm, Sweden
Dogs are allowed any time of the day at this pretty beach in the southern part of Sweden.
Lido di Fido, Grado Gorizia, Italy
The name says it all – chairs and umbrellas, leash holders and water bowls, swimming for pooches and people alike, and a place to wash your dog afterward.
Noordwijk Beach, Noordwijk, Netherlands
Your dog may not care, but if you go at the right time, you can enjoy the tulips as well as the beach. Part of the beach is open to pups year-round, and one section is dog-friendly only from September to May.
What is your dog's favorite beach in Europe?
In the end, "best" depends on what you and your pup like to do at the beach. Which could be body surfing, chasing waves (or birds or resident crustaceans), digging holes, or flopping out in the shade.
The beaches we've listed here – and undoubtedly many more -- are all known to welcome dogs. Some of them obviously go out of their way to offer tail-wagging canine amenities. But few dog-friendly beaches in Europe have been reviewed by their visitors. How are you and your pooch to know what's really what?
Why not make it your mission to visit European dog beaches with your four-legged critic in tow, with a goal of spreading the word – whether you had the time of your life or it wasn't worth a woof? Just think of all the other dog lovers out there who could benefit from your insights as well as your canine's perspective.
Feel free to contact us for you traveling needs to or from Europe. We are experts in safe and worry- free pet travel.
Starwood Animal Transport has rebranded to Starwood Pet Travel. We are still the same great company with the best team, just now with a slightly different name.
Subscribe to the Blog
Enjoy our content? Get them sent to your inbox!
Subscribe Now!
Related Posts
2018 Update on Vaccinations For Europe
You are your pet's first line of defense against injury and disease. But you're not the only one. If you plan to travel with ...
Read More