Tips for a Fun (and Safe) Time at the Beach with Your Dog
Published on: August 18, 2022 | Author: Starwood Pet Travel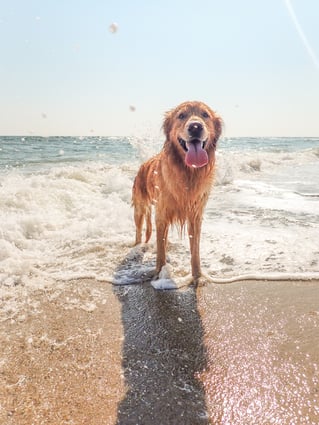 Whether you're taking the holiday of a lifetime to tour European beaches with your dog, or you're enjoying the sand and surf close to home, you want nothing but good times. No doggie disasters, large or small. These tips will help you both have a fun – and safe – time at the beach this summer.
Not all dogs are natural swimmers
That's right. The dog paddle isn't necessarily part of your pooch's DNA. Pugs and corgis are good examples. It's harder for snub-nosed and barrel-chested breeds to stay afloat, and hard for dogs with short legs to get any paddling traction.
And some dogs who can swim simply don't want to. It doesn't really matter – there are plenty of fun things to do with your dog at the beach besides swimming. But if this is your pup's first water adventure, it is critical that you find out where your dog stands with swimming. Dogs can drown, just like people.
Play it safe
If you're going to play in the surf, pick a location away from surfers, boats, jet skis, etc., that could pose extra dangers for your dog. Check for underwater hazards such as coral and rocks. Shallower water is safer, especially if your dog is very young or elderly. Shallow water is usually warmer, too. If your dog suffers from joint problems or arthritis, cold water can hurt.
Even the most water-loving dog will get tired, whether they want to admit it or not. Battling currents and waves and running through the sand is hard work. It's up to you to make sure they stay safe.
Experts recommend that dogs wear a life jacket – the kind with a handle on the back. Having their own personal flotation device (PFD) makes your dog more buoyant in the water, so they won't have to work as hard to swim and they can play longer. And for any dog that gets tired, gets into a strong current, or runs into some other problem, the PFD will keep them afloat until you can get to them.
The sun is tiring, too
Take a break in the shade. Bring a portable canopy or tent, if there isn't likely to be any natural shade.
Sunscreen is also a must. All dogs are vulnerable to sunburn on their noses and ear tips, and breeds with very short or white hair or pink skin can be sunburned anywhere. Look for a sunscreen made specifically for dogs, and apply it a half-hour before you head out into the sun. Try to keep them from licking it off before it can be absorbed into their skin. You can also consider using some sun protective clothing for your dog.
If your dog is like most canines, they'll probably try to lap up ocean water. That's not the best idea because microorganisms in the water can make them sick. And a dog's body doesn't process salt well, so it can build up in its system. So pack a portable water dish and plenty of fresh water, to keep your dog hydrated (take enough for you, too).
There are also other things at the beach that can "get" your dogs, such as sand fleas, sea lice, and biting flies. Take along your pet first aid kit so you can quickly remedy any bites or stings.
Remember your manners
Before you go, make sure the beach you have in mind is, in fact, dog friendly. Keep your dog leashed except when you're actively playing. They may have been the star of their canine obedience class, but not everyone wants to meet your dog, especially when they're having a nice read or snooze on the beach. And never, ever, allow your dog to go into the water without your supervision.
One last watery essential
Thoroughly rinse your dog (before heading home, if possible) to remove salt and sand from their coat and skin. Don't forget to take an extra beach towel to dry them off. Pay special attention to their ears, because trapped moisture can cause an ear infection.
You don't have to go to the seashore to enjoy water play with your dog. These tips will ensure a fun and safe experience around lakes and rivers, too. The key is to be prepared and to know your dog's limitations.
Starwood Animal Transport has rebranded to Starwood Pet Travel. We are still the same great company with the best team, just now with a slightly different name.
Subscribe to the Blog
Enjoy our content? Get them sent to your inbox!
Subscribe Now!
Related Posts
Moving With Pets - Tips For A Smooth Relocation
Moving with pets is a very different experience than moving people and "stuff." While the process of organizing your family ...
Read More