Road Tripping With Your Dog
Published on: May 18, 2022 | Author: Starwood Pet Travel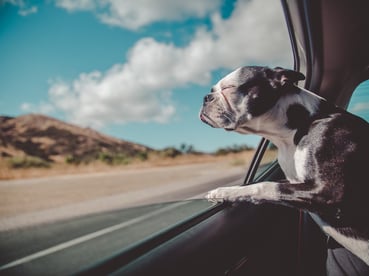 If you're headed out on a road-trip vacation, of course you want to take your dog. They like to have fun, too, and most dogs are usually up for any new adventure. However, there's more to road-tripping with your dog than just loading up the family and supplies and driving away. With a little advance planning, you can make sure everyone enjoys the trip and that you and your dog are still enjoying one another's company by the time you get home.
First of all, are you sure taking your dog is a good idea? How long will you be gone? A few days of camping or hiking might work out nicely. But if you're planning two weeks on the road, as much as you love your dog and their companionship, they would probably be happier at a top-quality boarding facility that will cater to their every need.
Nonetheless, if your dog is in your car travel plans, here are some ways to ensure things go well:
Safety
You would be beside yourself if your dog was lost. You should ensure your dog has a microchip as well as collar and tags with complete identification and contact information. Carry a current photo of them, just in case. In the car, they should ride in a dog safety harness (not in the front seat), crate or behind a dog barrier. Never let them stick their head out the window (it can cause eye damage), and don't leave them unattended if it's hot or cold. It's a good idea to research emergency vet clinics near where you'll be staying, again just in case.
Dog stuff
Your dog will be more confident and comfortable with their own bedding, food and a favorite toy or two. Don't forget medications, if they take them. They'll ride more quietly in the car if you keep them busy with a Kong or long-lasting chew. Be sure to take a portable water dish and bottled water, to keep them hydrated.
Frequent stops
You and your dog will have to stop for relief breaks along the way. Not only does it allow everyone in a vehicle a potty break - but it's also good for everyone to get out and stretch their legs. Did you know you can teach your dog to eliminate on command? If you do that ahead of time, then at least your stops will be shorter.
Sleep time
A long walk or active play before bed will help your dog relax so they won't be reactive to unfamiliar sounds and surroundings. Give them the Kong again, or another dog chew, because licking and chewing are soothing to dogs.
Are you road-tripping because you're moving long distance?
Moving half-way (or all the way) across the country is no vacation. Once your dog figures out you're relocating (and they'll pick up on that the minute they detect changes in your daily routine), your dog's anxiety will start to build. By the time you're ready to get on the road to finalize your move, your dog will be hoping to get it over with as quickly as possible.
You will, too, especially if you'll be driving with your entire human family including kids. Sitting for hours is tough on everyone, and the more crowded it is in your vehicle, the sooner you'll start to wear on one another. A dog in your lap, underfoot or fighting for the window seats can make your trip unpleasant. And if your dog is prone to barking, whining, drooling or vomiting in the car, it's going to be the road trip from you-know-where.
Fortunately, there is an easier way: professional pet transport. You can entrust your four-legged family member to experts experienced in providing a dog-pleasing road trip – people who will be as kind and loving to them as you are. This plan is actually safer for both your dog and the rest of your family, because in-car distractions caused by your dog could cause an accident as well as frayed nerves.
Professional door-to-door pet transport is safe, reliable and efficient. Your dog's trip will be planned entirely around their needs and comfort. They'll appreciate that as much as you do.
With your dog traveling on their own and in entirely capable hands, you can relax and enjoy your own road trip. You can take more time, see the sights on the way to your new home and spread out more in the car. You'll be able to stop when you want to, not every couple of hours so your dog can go potty. You'll even have more flexibility with the hotel or location you wish to spend the night – maybe someplace with a cool, refreshing pool.
Doesn't that sound much better?
You'll arrive at your destination eager to begin life in your new home instead of frazzled. And your dog chauffeur will deliver them right to your door, refreshed and tail-wagging happy to be reunited with her family. Woof! Now that's a road trip made in heaven.
Starwood Animal Transport has rebranded to Starwood Pet Travel. We are still the same great company with the best team, just now with a slightly different name.
Subscribe to the Blog
Enjoy our content? Get them sent to your inbox!
Subscribe Now!
Related Posts
Should I Feed My Dog Before Flying? What Else Should I Know?
It seems like a simple question – should you feed your dog prior to their flight? You don't want them to go hungry, but you ...
Read More