5 Tips for Picking a Crate to Ship Your Dog
Published on: July 20, 2022 | Author: Starwood Pet Travel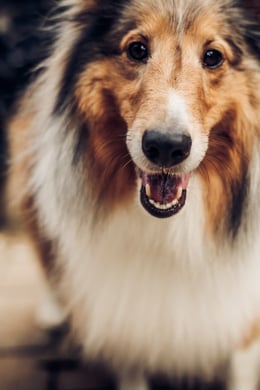 There are a number of pet crates on the market and it can be difficult to choose one. If you're looking for one for home, you can choose anything you like that might meet your aesthetic appeal. However, if your dog or cat will be flying, they will need a special travel crate that is IATA-compliant.
Here are five tips for picking a crate to ship your dog.
1. Confirm how your dog can travel.
The kind of dog shipping crate you will need depends on whether your dog will be flying with you in-cabin or traveling as accompanied baggage or cargo. Just because your pet might fit under the seat in front of you does not mean they are welcome to ride there. Each airline sets its own policies, including if and how many pets can travel in-cabin. Your destination country may have rules about this, too. If your dog will not be able to fly in-cabin, they may be able to fly as accompanied baggage or cargo. The cargo hold is pressurized, oxygenated, and temperature-controlled - so it is conducive and safe for pet travel.
2. Learn the requirements.
Be aware that under-seat dimensions vary among airlines and also from one type of aircraft to another. If your dog is flying in-cabin with you, they will need either a soft-sided carrier or a hard plastic kennel that fits under the seat in front of you. Be sure to check with the airline for their specifications on in-cabin pet kennels. Soft carriers can be more comfortable and easier to conform to the under-seat shape. Some in-cabin carriers have shoulder straps, pockets, and/or wheels for added convenience.
No matter where your four-legged companion rides, their dog shipping crate must meet the specifications of the International Air Transport Association (IATA). These specs assure your pup's safety. For cargo or accompanied baggage travel, IATA has a PDF that explains every structural requirement. Petmate Sky Kennels are highly recommended for this type of travel.
The most important part about your dog shipping crate is proper sizing. Your pet must be able to stand up, sit down, lie down and spin around comfortably inside the kennel. The airline can reject a too-small or too-large kennel, so you must measure your dog accurately as follows:
A = Length from tip of nose to base of tail (not including the length of the tail)
B = Leg height from floor to elbow joint
C = Width of shoulders (or other widest point)
D = Height when standing, from floor to top of head (or tip of ears - whichever is higher)
The minimum required internal dimensions of the kennel can be calculated with the formula below:
Length = A + 1/2 B
Width = C x 2
Height = D + Bedding (add approximately 2-3 inches)
**Snub-nosed or brachycephalic breeds require one size larger kennel than normal.
3. Source and purchase your dog shipping crate.
Once you know the size you need, you can shop at your local pet store or online to find an appropriate carrier. You might want to try online with Petmate, Amazon or Chewy to start.
If you have an extremely large dog that is too big for the standard plastic kennel, then you will need a custom-built wooden kennel. If you're a skilled carpenter, you can follow IATA's specs and build your own. Or you can source a local crate builder to make one for you.
If you're working with a professional pet shipper like Starwood, we can ship a plastic kennel to you in advance or arrange a custom wooden kennel for you. It's just one of the ways we try to simplify air travel planning for FurParents.
4. Get your dog's travel kennel as soon as possible.
Your pooch will be less anxious about their flying experience if they are in a kennel that feels and smells like home. So get that carrier as soon as you know you'll be traveling so they have ample time to get used to it. Set it out with the door open (or even the top half removed, initially), and encourage them to spend time in it. Bribe them with toys or treats, if necessary so that they have a positive association with it.
5. Get the proper accessories.
Your dog will also need the following items for safe air travel:
Food and water dishes that latch onto the inside of the kennel door. There are plastic or metal options, depending on if your dog is a chewer.
Metal crate hardware (nuts & bolts). Most kennels already come with these but some have plastic fasteners instead.
Zip-ties to secure the top + bottom as well as the door. The airline can assist with attaching these or if you're using a professional pet shipper, then they will take care of this for you.
A crate pad that is no more than 3 inches thick.
Pee-pee pads (just a couple)
Thin blanket, t-shirt or towel that smells like home. This comfort item can help ease anxiety during your pet's travels.
Zip lock baggie with 2-3 servings of food. This can be attached to the top of the kennel in case of flight delays or a layover.
Keep in mind that the airline will not allow toys, bones, clothing, luggage or other personal belongings to travel with your pet, so you'll need to ship these to your new home separately. Make sure you don't send any really valuable items in case they are misplaced while your dog is in transit.
Your dog's crate will also need several forms of identification including the required health paperwork for your destination plus a series of transport-specific stickers. You can reach out to the airline or a professional pet transport company to assist with these items.
Starwood Animal Transport has rebranded to Starwood Pet Travel. We are still the same great company with the best team, just now with a slightly different name.
Subscribe to the Blog
Enjoy our content? Get them sent to your inbox!
Subscribe Now!
Related Posts
5 Tips to Acclimating Your Pet to their Travel Kennel
Veterinarians and pet travel experts agree: the single-most important thing you can do to help relieve your pet's anxiety when ...
Read More