Dog Play Dates in Barcelona
Published on: June 10, 2019 | Author: Starwood Pet Travel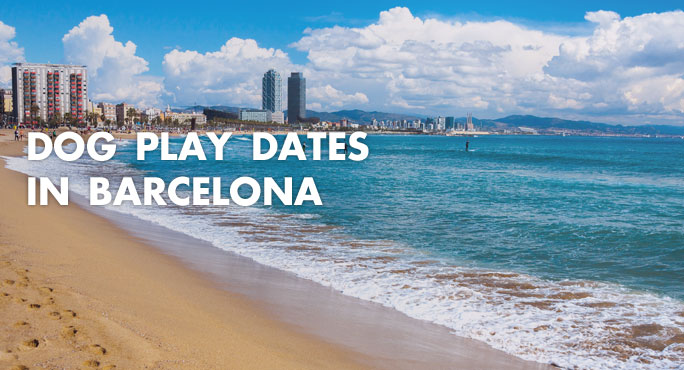 Your dog adores you, we know. And he loves to do anything, and everything, with you. It's all play to him. But, sometimes, he would really rather play with other dogs. Now that you're living in Barcelona, where can your dear dog find suitable playmates?
Every time you meet someone new – make a friend who is also a fellow dog owner – you are also helping your pup make new acquaintances. Of course, not all dogs are good play matches for each other, but in order to find the right ones, you have to get out there and sniff around! With that in mind, here are some suggestions about things to do and places to go to meet dogs and their owners in Barcelona.
Getting around Barcelona
To facilitate exploring Barcelona with your dog by your side, you'll be happy to know that he is welcome on public transportation. Only the local metro, though, and not during busy periods. And he must wear a muzzle unless he is small and inside a carrier. If he is carrier-size, he will also be allowed to accompany you on longer-distance trains to explore outside the city.
Barcelona is just like everywhere else when it comes to poop petiquette – you're expected to pick it up. Get caught not fulfilling your dog-parental responsibilities, and you could face a hefty fine. Barcelona has lots of dog-friendly parks to visit – superb places to meet potential play date companions – so pack some bags and you'll be ready to go.
Must-visit parks
In Barcelona, you'll be surrounded by splendid examples of Antoni Gaudí's architectural talent. He also designed Park Güell, equally famous though never finished. Your pooch can run, then the two of you can grab a snack and a sit-down at an outdoor table to take in the view. There is a small entry fee for this iconic park.
Check out Parc de la Barceloneta, too. There is a fenced area for off-leash zoomies as well as play with other dogs, and there are doggie water fountains to refresh them. This park is just across the street from Barceloneta beach, so you can head over there for a good romp in the sand or surf.
And speaking of beaches . . .
The city has several other sandy, surfy spots you can enjoy with your dog. However, be aware that during the summer dogs are restricted to early mornings and after-sunset visits, because people flock to the sand during the day. For a beach that's dog-friendly all the time, head out of the city to Sant Pol de Mar or Port Ginesta.)
Does your dog love shopping and public places? You'll want to check out:
Rambla Catalunya, a pedestrian-only shopping paradise that's near Barcelona's famed Las Ramblas but not so crowded. Your pup will be particularly interested in the pet stores found here.

The Gothic Quarter, Barcelona's walled ancient Roman city. The Romans laid it out as a maze to confound their enemies, so it's ideal for meandering with your dog. You can explore, shop, linger at an outdoor café. The Gothic Quarter is also home to other historic sites that are popular with locals and tourists.
Dogs and owners gotta eat
And Barcelona offers several dog-friendly restaurants, with outdoor seating for both of you. You will especially want to try Taller de Tapas. After all, what could be more authentically Spanish than tapas? You might even find a menu item you can share (surreptitiously) with your favorite canine.
Another tasty option is Merbeyé, which offers spectacular views of the city, thanks to its perch on the side of Tibidabo Mountain. Pets are welcome, and getting there is easy if you take the blue tramline.
Connecting with people as well as dogs
Social dog walking groups are popular in cities and towns around the world now. You can easily find a group of like-minded, dog-loving folks in Barcelona. For example:
The Dog Experiences by Happygossos group is all about training. Walking events include instruction for improving your four-legged friend's obedience and composure in public.

Cani cross and outdoor sports with dogs is just what the name implies, a chance for your pup to gain skills and confidence through cross country running with other dogs as well as other doggie sports. You can join in. This group meets in the fall because weather is cooler.
Whatever activities appeal most to you and your pooch – walking, hiking, shopping, or sports – there is no shortage of things to see and do in Barcelona. And everywhere you go, you can meet potential companions for your dog's next play date.
Starwood Animal Transport has rebranded to Starwood Pet Travel. We are still the same great company with the best team, just now with a slightly different name.
Subscribe to the Blog
Enjoy our content? Get them sent to your inbox!
Subscribe Now!
Related Posts
Things to Do in Dublin with Your Dog
Moving to a foreign country can be the adventure of a lifetime, but it's also a lot of work, with a lot of concerns - ...
Read More