The Top 5 Pet Travel Crates
Published on: July 13, 2023 | Author: Starwood Pet Travel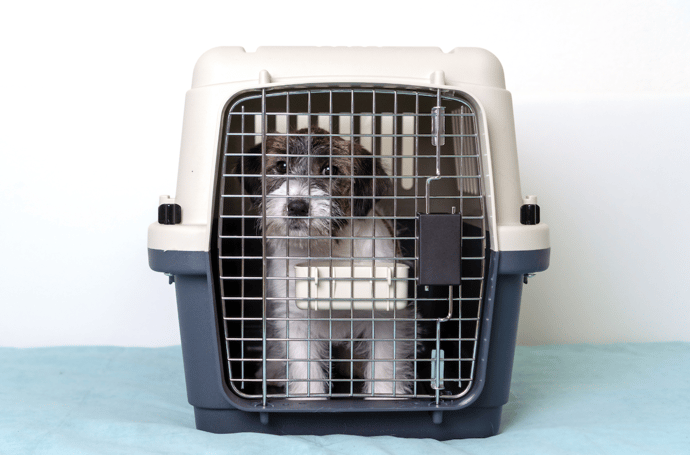 When it comes to relocating with your furry companion, choosing the right travel crate for your pet is of utmost importance. Especially if it's their first airplane trip, you'll need special accessories, including an airline-approved carrier. However, finding a crate that meets these standards can be a challenge since most products fall short. That's why we've listed five options below that not only meet the official specifications but also receive high praise from travel-savvy pet parents.
Can your pet ride in-cabin?
While some airlines allow passengers to bring their cats or small dogs on board, it's important to note that simply carrying them in a tote bag won't suffice. The kennel must meet specific safety requirements, particularly in terms of ventilation. Additionally, it should fit under the seat in front of you and accommodate your pet comfortably.
Although this may sound straightforward, the dimensions of the space under the seat can vary depending on the airline and aircraft model, just as small pets come in different sizes and weights. Furthermore, pet travel kennel manufacturers do not adhere to a standardized sizing system, so what one company considers "small" may differ significantly from another brand's definition.
When it comes to in-cabin carriers, they must meet the basic airline requirements, but beyond that, you have plenty of options. You'll find numerous functional choices, and you can even add a touch of style by selecting a color that complements your overall look. While your pet wants comfort options, you'll appreciate the details that make the kennel easy to handle.
Here are a few helpful tips to consider:
Soft-sided carriers are easier to fit under the seat compared to rigid ones.
Carriers with wheels or shoulder straps provide more comfort, especially when you have to carry your pet through busy airport terminals. *Be mindful that some airlines won't allow wheels, so check with your airline first.
Remember that your pet's carrier replaces your carry-on, so choosing one with pockets or additional storage options allows you to keep essential items like your pet's leash, a toy, and your personal belongings handy.
Top-rated choices:
Sherpa Original Deluxe Pet Carrier
Included in their exclusive Guaranteed On-Board™ program, the medium and small carriers offer peace of mind when traveling with your furry companion. With an adjustable shoulder strap and available in three sizes for pets up to 22 lbs., these carriers are designed with your pet's comfort in mind. They also conveniently fold flat for easy storage and come in a variety of colors to suit your style. Rest assured that these carriers are of top quality and will ensure a comfortable journey for your pet.
Mr. Peanut's Gold Series Pet Carrier
This brand offers a high-quality duffle-style carrier with convenient features such as self-locking zippers, a roll-away privacy cover, a mesh storage pocket, a name tag holder, and a leash tether. It provides easy access and comes in a variety of five attractive colors. Additionally, this brand offers other carriers in different sizes to suit your specific needs.
Hard Plastic Travel Kennels
If your furry companion is embarking on an international relocation, they will likely be traveling as cargo, regardless of their species. Cargo pet crates are specifically designed with maximum sturdiness and safety in mind, leaving no room for frills. Every detail of these kennels is carefully crafted to ensure your pet's well-being:
The surfaces are smooth and free from protrusions or rough spots that pets could chew on.
Windows, doors, and ventilation holes are strategically placed to allow pets to see and breathe easily while preventing any possibility of them poking their toes or noses through.
These crates are made from extremely sturdy materials, providing the utmost durability.
The door locks are designed to outsmart even the most cunning pets, ensuring their safety throughout the journey.
When it comes to choosing a crate for international travel, size is of utmost importance. Your pet should have enough space to comfortably turn around, lie down, and stand erect without their ears touching the ceiling. It is essential to measure your pet accurately to ensure the perfect fit!
Remember, your pet's well-being during transit is crucial. Their travel kennel serves as their home away from home, protecting them from potential dangers and providing a safe space for them to feel secure. Selecting the right crate now will give your furry friend ample time to become familiar with it, ensuring their safety and comfort on their journey.
Top-rated choices:
Petmate Sky Kennel
Featuring a single-unit door with advanced 4-point security, this travel crate provides optimal safety for your furry friend. With ventilation on all four sides, it meets the essential requirements for international travel. The crate also includes necessary food and water dishes, as well as "live animals" stickers for added convenience. Available in various sizes, it easily disassembles for efficient storage. Keep in mind that some airlines may require you to replace the plastic bolts with metal ones specifically for airplane travel.
With the Pet-Express Pet Crate, you can expect the same excellent features as the Sky Kennel, but with the added bonus of metal bolts for extra security. These crates are available in various sizes that differ from Petmate, so be sure to measure your pet accurately before making a purchase.
These specialized crates are specifically designed for certain breeds that airlines or countries classify as "fighting or dangerous dogs." Constructed from durable aluminum, these metal crates meet the IATA CR-82 requirements for flying these particular breeds internationally. Keep in mind that these crates are not necessary for everyday use and are only necessary for specific circumstances.
Want to know more?
While it can be helpful to read online reviews and hear about the experiences of other pet parents, the simplest and most reliable way to ensure you get a high-quality, IATA-approved, and properly-sized carrier is to let our Starwood team handle it for you. If your pet won't be traveling in the cabin with you, their relocation kennel becomes even more crucial. It becomes their home away from home during transit, protecting them from external dangers and providing a safe space. Whichever crate you choose, make sure to purchase it now so your furry friend has plenty of time to become familiar with it. This will not only keep them safe and comfortable but also help them feel more relaxed on their journey.
Starwood Animal Transport has rebranded to Starwood Pet Travel. We are still the same great company with the best team, just now with a slightly different name.
Subscribe to the Blog
Enjoy our content? Get them sent to your inbox!
Subscribe Now!
Related Posts
Things to Consider When Buying or Adopting a Pet for Your Kids
Adding a pet to your family is a life-changing decision. It can be the start of a long and amazing relationship, unlike any ...
Read More