Will My Pet Be Safe On An Airplane?
Published on: March 11, 2022 | Author: Starwood Pet Travel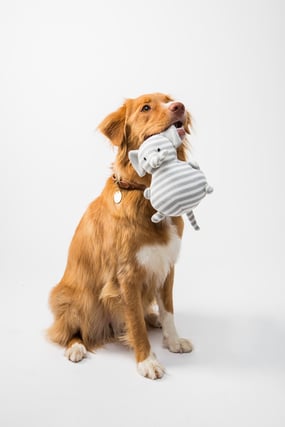 You may be wondering if your pet will be safe flying on an airplane. The short answer is: Yes. Thousands of animals are transported all around the world each year. Show dogs and cats travel to competitions, horses travel to participate in races or other events, zoos acquire new residents and everyday or military families travel with pets. Whether you're moving from Boston to Los Angeles or from Houston to Hong Kong, pet airplane safety is undoubtedly one of your most pressing concerns.
Pets are part of your family so it's only natural to wonder what will happen to them during airplane travel. You won't have to worry, once you understand what you can do to keep your pet safe and comfortable as they travel. And with that peace of mind, you can relax and enjoy your airplane ride, too.
Make sure you have the right kennel.
The crate your pet travels in is not just a "pen" or "cage," it's their protection. Not every kennel on the market is designed for airline travel. Look for kennels that say they are airline or IATA approved. IATA (or the International Air Transport Association) determines the regulations for safe travel kennels for pets who are flying on a plane. Each airline must ensure that they are following these requirements in order to accept a pet for travel.
To meet airline requirements, the kennel must:
Be made of rigid plastic, metal or wood.
Be large enough for your pet to stand up without touching the top, turn around and sit or lay down comfortably.
Have ventilation on all four sides for international travel.
Have a door that is designed so that it cannot accidentally open.
Include attachable dishes for food and water.
The complete travel container requirements can be found on the IATA website.
Most airlines allow only one animal per kennel, though they may make exceptions for puppies or kittens. Some airlines restrict the number of pets or kennels you can ship at one time.
Some airlines allow you to take small pets on board with you, as long as their carrier fits under the seat in front of you. However, there are restrictions depending on the airline and which country you are moving to.
Consider the weather and time of year.
Some pet-friendly airlines use temperature-controlled vehicles to transport animals to and from the plane, to protect them from extreme temperatures. Additionally, the cargo hold on the plane is temperature-controlled, pressurized and oxygenated. Nonetheless, weather may affect your pet's travel plans. For instance, some airlines will not allow animals to travel when it's very hot or cold outside. Other airlines may place a complete pet travel embargo on certain airports during certain months when temperatures are known to be extreme. This can affect what day or time of year your pet can travel.
Because weather can be unpredictable, airlines have the right to make these decisions the day of travel. In some cases, a flight may be canceled due to weather, in which case your pet will be put on the next available flight.
Acclimate your pet to their travel kennel.
Even dogs who are crate-trained may not immediately take to an airline-approved kennel, so don't spring it on them at the last minute. Give them plenty of time to get used to sitting and sleeping in it. Taking them for a car ride in the carrier and exposing them to lots of movement and unusual noises can help reinforce that the kennel is a safe place for them.
Pets can travel with a thin blanket, t-shirt or towel to add the comfort of a familiar smell. This can help ease their anxiety during travel and feel more comfortable. Keep in mind that you cannot send your pet with extra luggage, beds, toys, bones, litter boxes or other personal belongings on the plane.
Keep their breed in mind.
If your dog or cat is short or snub-nosed (also known as a brachycephalic breed - such as a pug or Persian cat), they are more at risk when traveling in the heat or cold. Additionally, some airlines have restrictions in place to keep snub-nosed pets safe and will not accept them for travel if it is too hot or cold or during certain times of the year. Ensuring pet airplane safety is a little more involved if you have a snub-nosed dog or cat, so talk to your vet about other precautions you can take to ensure your pet's safety and comfort.
Do not sedate or tranquilize your pet.
Pet owners often think they can help their pets by tranquilizing or sedating them, but this is actually not a good idea. Airlines, APHIS and the American Veterinary Medical Association all strongly discourage the use of sedatives or tranquilizers when pets are traveling via airplane.
Drugs that tranquilize animals reduce their ability to control and coordinate their movements. Without their proper sense of balance, they can't brace themselves, so they are more vulnerable to injury. Sedatives can also negatively impact breathing and respiration when up in the air at high altitudes.
Airlines can refuse your pet for travel if they appear to be sedated or tranquilized and you don't want to risk delaying your pet's travels when everything has already been planned.
Hire a professional.
The best way to ensure your pet travels safely is to hire a reputable pet shipper or pet transport company. Animal transport companies have a wide array of local contacts and relationships with the best airlines for pet travel. They will also know the most efficient and safest routes available for your pet.
Starwood Animal Transport has rebranded to Starwood Pet Travel. We are still the same great company with the best team, just now with a slightly different name.
Subscribe to the Blog
Enjoy our content? Get them sent to your inbox!
Subscribe Now!
Related Posts
Can My Dog Fly With Their Favorite Toy?
Just as Linus, the famous Peanuts comic strip character, loves his blanket, many dogs have a favorite toy. It brings them both ...
Read More