The Best Travel Kennels for Cats and Dogs
Published on: November 22, 2023 | Author: Starwood Pet Travel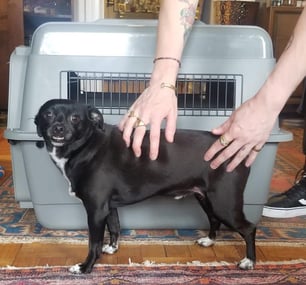 If you're in the process of planning a long-distance move, it's highly probable that you'll need to transport your beloved pets by air. As you delve into the research on how this process works, one of the primary questions you'll undoubtedly ask yourself is "what is the best travel kennel for my furry friend?" It is very important to ensure that your pet's travel crate adheres to the standards set by the International Air Transport Association (IATA).
When it comes to pet kennels, there are options designed to keep cats and dogs safe and secure at home or during car rides. These convenient crates are lightweight and often collapsible for easy storage. However, it's important to note that these types of crates are not suitable for air travel. They may not provide the necessary sturdiness and space for your pet during a flight.
When it comes to flying with your pets, it's crucial to choose a crate that offers maximum protection while ensuring your furry friend's comfort. With that in mind, let's explore the best kennels based on the different ways your pet can travel by plane.
In-Cabin Pet Travel
If you have a small dog or are traveling with a cat, there is a possibility that they can accompany you in the cabin of the airplane, fitting comfortably under the seat in front of you. However, it's important to note that not all airlines allow this, as certain foreign countries require pets to be transported as manifested cargo. It is advisable to check with your chosen airline beforehand.
Assuming that in-cabin travel is permitted, the key factor to consider is the dimensions of the under-seat space. You can choose to carry your pet in either a hard-sided or soft-sided carrier, but it is crucial to double-check the measurements as they can vary between airlines and specific plane models.
Additionally, it is necessary for your pet to wear a collar and leash. Attaching the leash to the carrier will prevent any accidental escapes in case the carrier opens. It is also recommended to carry a bottle of water and a snack for your pet, especially if your journey will be lengthy.
Excess Baggage or Manifest Cargo
If your pet will be traveling as excess baggage or manifest cargo, it is essential that they are transported in a crate that meets the specifications outlined by the International Air Transport Association (IATA). While these IATA-compliant kennels can be made from various materials such as fiberglass, solid wood, or plywood, the majority are crafted from heavy-duty rigid plastic and welded metal mesh. These kennels are designed in two sections, a top and a bottom, which securely attach using metal nuts and bolts.
The IATA requirements for these carriers are as follows:
The kennel should provide ample space for your furry friend to stand, sit, turn around, and lie down comfortably. To ensure the proper size carrier, it's important to measure your dog. If you have a snub-nosed breed like a Pug or Bulldog, they will require the next size larger carrier to ensure sufficient ventilation.
Certain breeds, such as Pit Bulls, may have specific requirements for travel kennels depending on the airline.
Very large breeds like Great Danes usually require custom-made travel kennels larger than standard sizes. If needed, Starwood can supply custom wood kennels.
It is crucial that the kennel does not have any missing or defective hardware.
Plastic kennels should be secured with metal nuts and bolts rather than twist locks or clips.
The sidewalls of the kennel must be solid, except for ventilation, which is typically provided by heavy welded metal mesh windows. It is important that all mesh or ventilation holes are small enough to prevent any part of your pet's nose or paws from protruding, ensuring the safety of both pets and handlers.
While the roof can have ventilation holes, they should not compromise the integrity of the roof itself.
The floor of the kennel must be solid and leak-proof.
The door should cover the entire end of the crate and is typically made of welded metal mesh. It should have a secure latching mechanism that cannot accidentally open. For plastic kennels, the doors should be further secured with cable ties at the four corners.
Total ventilation should account for at least 16% of the carrier and should be provided on all four sides of the kennel. Ventilation holes on the side and back should be located on the upper 2/3 of the kennel, and the door should be ventilated from top to bottom.
The interior surface of the crate should be smooth for your pet's protection, but you can add a non-slip crate pad, small blanket, or pee pad on the floor for added comfort and stability.
Very small carriers should have a handle on top, while larger sizes should have handles on both sides. Crates weighing 132 pounds or more with your dog inside should have forklift spacers on the underside.
Wheels are not permitted and must be removed or made inoperable.
The kennel should be properly labeled with "Live Animal" and "This Way Up" stickers, which will be taken care of by your pet relocation company.
The kennel should have food and water containers attached to the inside of the door, with the ability to be filled from the outside. In case of a flight delay, you may provide some food in a ziplock baggie attached to the top of the kennel.
Where can I find a crate to ship my dog or cat?
You can purchase IATA-compliant kennels from:
It's important to keep in mind that not all kennels are created equal. While many stores offer a variety of hard-sided carrier options and advertise them as "airline-approved", not all of them meet the requirements set by IATA. So, it's crucial to pay attention to the details and not simply choose the first crate you come across.
To ensure your pet's comfort and safety during travel, it's recommended to get the crate as soon as you know they will be traveling. This way, they have plenty of time to become familiar and comfortable with their travel kennel.
Starwood Animal Transport has rebranded to Starwood Pet Travel. We are still the same great company with the best team, just now with a slightly different name.
Subscribe to the Blog
Enjoy our content? Get them sent to your inbox!
Subscribe Now!