Why a Pet Transport Company Is Vital for Your International Move
Published on: August 8, 2016 | Author: Starwood Pet Travel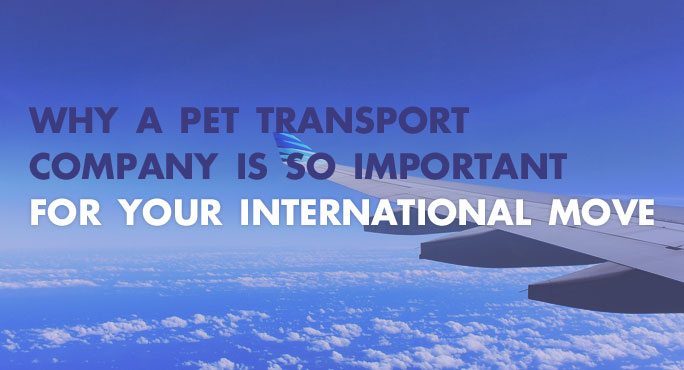 If you are planning an international move and you have one or more pets, it's important to work with a pet transport company. Shipping your belongings overseas is complicated enough, and those are just things. When it comes to your pet, you have an entirely different standard for safety and comfort. A professional pet transport company can smooth the way, for you and your pet.

It's an easy choice, especially once you understand all the details involved. Not to mention what might go wrong if you aren't properly prepared. In some cases, you will not have a choice. Certain countries (and certain airlines) require you to use a commercial pet transport service to move your pet. They do that for health and safety reasons, and to ensure your pet will be traveling under the auspices of a trusted expert. Isn't that exactly what you want, too?

An international pet move starts with paperwork
Lots of it, potentially. Every country has its own set of rules about importing pets. Sometimes the requirements are minimal, but in other cases the documentation can be onerous. And confusing. Because the rules can vary so much, you can't expect your local veterinarian to be an expert on pet travel to every country. They may not even know what forms to use.

That's where pet travel pros like Starwood Animal Transport come in. Recently, we heard from a pet owner frustrated by trying to arrange their pet's international move. "We are having problems helping our vet understand what is needed of them," they wrote, "and getting our vet to act with the urgency and tempo we all need. Can you help us? They said they're more used to working directly with the pet transport companies than with the owners."

Of course we could help. And we did. Family and three kitties are now happily in residence in their new country. We can help you, too, and it will lift a huge burden off your shoulders as you prepare for the human side of your international move.

Pet documents require tests and vaccinations
At the very least, your pet will need a USDA health certificate, proof of current rabies vaccination and a microchip. More likely, she will also need additional immunizations and/or treatments against internal and external parasites. She may have to undergo a rabies titer test – a blood test that confirms her rabies vaccine is actually working – which takes several months to incubate in the lab. She may need additional permits, or formal USDA endorsement of her vet's signed paperwork.

Why pull your hair out trying to find the information you need? Or worry that the information you found might not be accurate – or complete? Organizing pet transport is a big undertaking, whether you're moving from the US or the UK or somewhere else. And the stakes are high. You certainly don't want your kitty or pup stopped at the border due to inadequate paperwork. Or stuck in unnecessarily long quarantine.

And there's the flight itself
As a human, you have the run of the airport. You can choose any airline that serves your destination, any route and any seat on the plane. Not so for your pet. Whether your Furred One is small enough to ride in the cabin or a big dog, your options will probably be limited. Airlines have differing policies about where pets can travel within the plane, and on which flights. More importantly for you as a pet owner (and your precious four-legged companion), not all airlines are equally pet-friendly. A professional pet transport company will recommend the very best carrier for your pet. That kind of peace of mind is priceless.

Everyone here at Starwood Animal Transport is passionate about the care and welfare of the pets we move, so we do everything in our power to make this experience as stress-free as possible for you and your cherished four-legged family member(s). We are your pet's travel agent and advocate – exactly what every pet owner wants, and the overriding reason a pet transport company is so important for your pet's international move.
Starwood Animal Transport has rebranded to Starwood Pet Travel. We are still the same great company with the best team, just now with a slightly different name.
Subscribe to the Blog
Enjoy our content? Get them sent to your inbox!
Subscribe Now!
Related Posts
Protecting Your Dog From Respiratory Illness
Protecting your furry friend from the latest canine respiratory illness is of utmost importance for every dog owner. As a ...
Read More