2018 Update on Vaccinations: South America
Published on: April 16, 2018 | Author: Starwood Pet Travel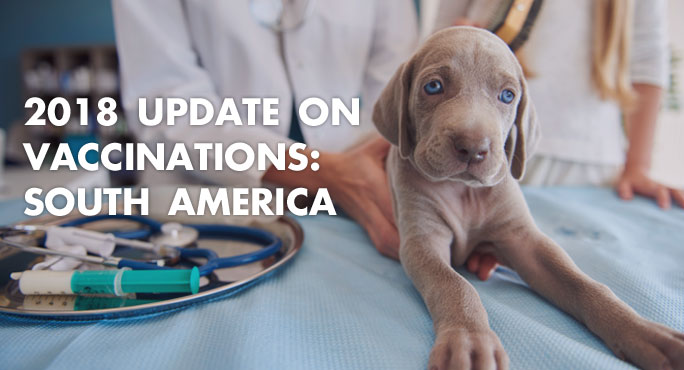 South America has long been a destination for North Americans and Europeans looking for an intriguing holiday or a longer-term expat adventure. If you're headed to South America with your pet, you'll need to know what vaccinations are required for dogs or cats before you go. It's important to remember that this continent is home to many different countries, and each one has its own set of pet import rules.
Many of them are quite similar, but there are distinct differences, particularly when it comes to required vaccinations. It's also important to note that things change. So having the latest information about vaccinations is crucial.
Here's a roundup of what your dog or cat will need for a few popular South American Countries – Argentina, Brazil, Ecuador, Chile, and Colombia. Happily, none of these countries has a mandatory quarantine requirement. But you will have problems if your pet does not have all the proper documentation when you arrive.
Pet ID
Surprisingly, none of these countries requires incoming dogs or cats to have a microchip. This is a standard requirement in other parts of the world, because a microchip gives your pet a permanent, unique identifier. Collars and tags can come off; a microchip cannot get lost. So even though your new country doesn't require this, if your pet does not already have one, we strongly recommend you get him microchipped.
And register your pet with Global Pet Register, the only microchip database that functions worldwide.
Rabies – everyone's primary pet health concern
Argentina does not recognize the 3-year rabies vaccine. Your pet must have been immunized between 30 days and 12 months preceding departure. You will not need a rabies titer test – good news, because it takes six months to get results from this blood test.
Brazil does not require a rabies certificate for your pet, if you're coming from a rabies-free location such as Hawaii or Australia. Otherwise, Brazil does accept the 3-year rabies vaccine, though they still recommend getting your pet immunized within a year (but not less than three weeks) of travel. No titer test is needed.
Ecuador requires rabies vaccination within 21 days to 12 months of arrival. If you're moving from the United States, you pet won't need a blood titer test. However, if you're coming from a European Union country, the test is required and you'll need results in hand.
Chile requires proof of rabies vaccination. They recognize the 3-year vaccine, but if your dog or cat was immunized more than 1 year before arrival, they will have to undergo the blood titer test.
Colombia accepts the 3-year rabies vaccine; your pet must have been immunized at least 30 days before entering the country. No titer test is required.
Vaccinations other than rabies
Argentina does not require any additional immunizations.
Brazil requires dogs and cats to be treated for internal and external parasites (ticks, fleas, tapeworms, etc.) within 15 days of arrival.
Ecuador requires dogs to be immunized against Distemper, Parvovirus, Parainfluenza, Canine Hepatitis, and Leptospirosis. Cats need vaccinations for Panleukopenia, Calicivirus, and Rhinotracheitis. Both dogs and cats must be treated for pests and parasites within 21 days of arrival.
Chile requires tick and tapeworm treatment for cats and dogs, administered within 30 days of arrival.
Colombia requires dogs to receive vaccines for Distemper, Parvovirus, Hepatitis, and Leptospirosis. Cats must be immunized against Panleukopenia. Both must be on a flea and tick prevention regime prior to arrival.
Look it up here
Pets traveling internationally need a lot more than vaccinations. Again, the rules differ for each country.
No matter where in the world you're headed, if you're starting from the United States, you can check this page on the USDA's website to learn about pet import requirements for your destination country. Just click and go to get the list.
A reminder though – you'll still have to accomplish all the tasks on that list. If you're feeling short on time, or you'd rather let professionals handle the details, just give us a call at Starwood.
You'll want to give us a call anyway, to organize and oversee the itinerary for your dear dog or cat as they travel. So one more reminder – start now. The summer rush is almost upon us, and international travel for pets is complex at any time of year.
New country, new vet
Along with orchestrating all your pet's necessary health visits, tests, vaccinations, and paperwork, you should look into identifying a new vet as soon as possible. That way, you'll be ready to respond once you arrive in-country, to arrange your pet's next checkup or handle an emergency. Here are some tips for finding a vet in Argentina, which will give you a head start even if you're moving to a different destination in South America.
Starwood Animal Transport has rebranded to Starwood Pet Travel. We are still the same great company with the best team, just now with a slightly different name.
Subscribe to the Blog
Enjoy our content? Get them sent to your inbox!
Subscribe Now!
Related Posts
Pet Cafes in Tokyo
Pet cafés have sprung up in cities all around the world in recent years. It's yet another sign of how attracted we humans are ...
Read More