Layovers and Transfers for Dogs and Cats at Heathrow Airport
Published on: April 1, 2019 | Author: Starwood Pet Travel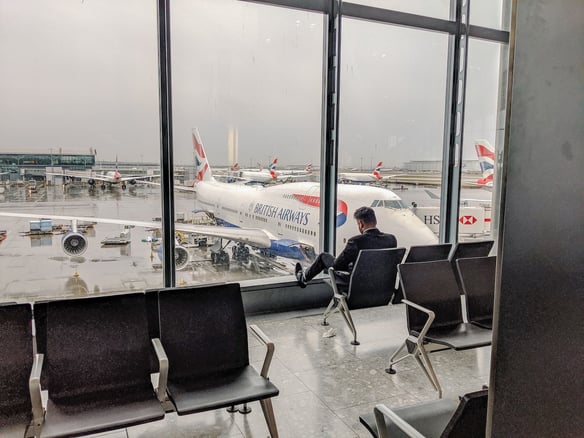 One of the most difficult aspects of planning an international journey for your pet is making appropriate flight reservations. A short hop is one thing, but long distances generally require layovers, plane transfers, and even carrier changes, depending on your departure and destination cities.
So, how does that work?
If you could carry your tiny dog or cat on board with you, layovers would be easy. You could simply deplane and spend the time with your pet shopping the concourses or visiting the airport's pet relief area. Transferring from one gate to another would be simple. But if you're traveling to – or through – the UK, your pet cannot ride in the passenger cabin. This is typical of international flights, often due to local customs regulations.
You can spend your layover exploring Heathrow or even London itself if you'll have enough time. Your dear dog or cat, however, will spend time at HARC – the Heathrow Animal Reception Center.
The HARC is quite the facility
Pet travel is increasing every year, and pet parents have higher expectations about their pet's care in transit. So some large airports now have hotel-like accommodations that serve animals who are transiting or arriving at their final destination. London Heathrow is one example. The HARC is located offsite but near the airport, along the Southern Perimeter Road.
The facility serves all types of animals, not just pets. In a typical year, their guests include 16,000 cats and dogs, 400 horses, 2,000 birds, 200,000 reptiles, and 28 million fish (think aquariums, not dinner). Your pet will be in good hands. The facility has two main responsibilities:
To check out arriving animals and ensure all their paperwork is in order per UK animal import regulations.
To provide a comfortable space for pets to relieve themselves, play, eat, and snooze.
The HARC staff will collect animals after their plane touches down at Heathrow and bring them to the Animal Reception Centre. Veterinary staff will review the health and travel documentation, even though they are not formally entering the UK. Then animals can chill out until it's time for the next leg of their journey. Pets are allowed to spend up to 48 hours at HARC, where they will have their own personal kennel.
It's best to hire a pet transport professional
If you were to handle all of your pet's travel arrangements on your own, you would be responsible for them during layovers or transfers. Your pet has to go through customs as they transit, just as you do, but they aren't with you. So you'd have to allow hours of extra time to get them squared away and ensure you make the right connections as well. You'd have to retrieve your pet at the HARC and get them back over to the airport itself – the cargo terminal, not the passenger gate – to continue on their journey.
The complexity of that is head-spinning. But it's all good because you teamed up with our Starwood experts instead of driving yourself mad with frustration and worry about your pet's travel experience. We have a team poised to personally attend to your pet's layover or transfer details. The peace of mind is indescribable, knowing your dear dog or cat is in the best of care while you wrestle with your own transiting details.
In fact, our team monitors every moment of your pet's journey. That starts with choosing the most efficient itinerary. A long day of travel is annoying for you, and it's something we try to avoid with pets. Their accommodations in cargo are comfortable enough, but there's no food cart or tiny bathroom down the way. We know the routing options that will give your furry friend the shortest trip. Nonetheless, sometimes layovers or transfers cannot be avoided.
For obvious reasons, the HARC is open around the clock, every day of the year. They're ready to accommodate your pet comfortably and safely whenever they arrive. But this is just a waypoint on their relocation journey. With a pro on your team, the entire travel experience, including layovers or transfers, will be as safe, smooth, and comfortable as possible.
Starwood Animal Transport has rebranded to Starwood Pet Travel. We are still the same great company with the best team, just now with a slightly different name.
Subscribe to the Blog
Enjoy our content? Get them sent to your inbox!
Subscribe Now!
Related Posts
Finding Toys and Treats Your Pet Will Love in London
Who wouldn't love a chance to go shopping in London? Even the locals know how lucky they are, with plenty to see and buy in ...
Read More