Pet Cafes in London
Published on: July 10, 2017 | Author: Starwood Pet Travel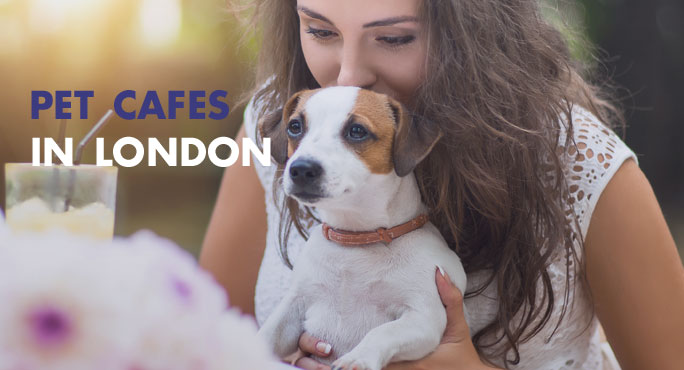 Are you a cat person or a dog person? Either way, you can get your fill of four-legged pet time at any number of popular pet cafes in and around London. That's great news for pet-deprived residents. In fact, the purpose of these cafes is to provide furry interaction for those who don't have their very own doggie or moggie at home. And perhaps to give a lift to travelers who miss their left-behind pets.
The pet café craze has swept the globe, so it's no surprise that Londoners have gotten in on this action. In addition to providing therapeutic amusement for café visitors, these shops often also serve as adoption centers. You can watch available kitties to see if one looks like a good mate for you. Typically, there is a cover charge at pet cafes, all or part of which benefits pet adoption or other services. The fee can range upward from around £5, depending on what you get and how long you stay.
If you're planning a visit, it's important to note that all pet cafes have rules about interacting with animals. Kindness and consideration are expected. (Many of the establishments have animal "nannies" or behaviorists on staff, to make sure patrons pet but don't pester the cats.) Some cafes allow you to pet and play with resident felines but not lift them into your arms for a cuddle, whereas others encourage the whole experience.
So where can you go for a cuppa with a pet?
Lady Dinah's Cat Emporium
This extremely popular Bethnal Green cat café was London's first, and by all accounts it's still London's foremost. Sessions with tea and petting last an hour and a half, with cream tea and other goodies available a la carte. Lady Dinah's does high tea as well.
Located in Rivington Street, this somewhat newer establishment is also quite popular with cat lovers. Sessions in the forest-themed environment last an hour. Ask about Wednesday Movie Nights.
Pet Cafes aren't restricted to London
It isn't only Londoners who'll pay for the chance to pet a cat. You can find tea, scones, and plenty of pet time at these locations – and maybe a mog of your own to take away.
Kitty Café, Friar Lane, Nottingham
Mog on the Tyne, Pudding Chare, Newcastle
Maison de Moggy, West Port, Edinburgh
Whatever pet café you choose, be aware that you'll probably have to make an advance booking. Perhaps well in advance.
Pop-up pet cafes are popping up, too
You had to know pet cafes would become part of the retail store pop-up craze. The first was a pug pup-up at a café in Surrey on May 21, organized by the local pug owners club, of course. It was standing room only. After all, who wouldn't want to take their adorable dog for a play date and a "puppuaccino"?
Oh, grrrrr! Did you miss it? You'll have more chances to catch the pugs – and bring your own pooch – but be sure to book ahead:
July 22 at Café Plenty Brighton in Brighton
September 2 at Outsider Tart in London
What if you and your own dog are looking for a cuppa? Or a pint?
Dog lovers and their canine companions love to dine out together these days. If you live in London or visit often, you know the city is replete with dog-friendly restaurants – of the outdoor café variety, mostly. And if you're planning to relocate to London, you can look forward to visiting these establishments with your dog.
Among the highest-rated on Foursquare, here are some enticing options for your consideration:
Fingers Crossed, 247 Amhurst Rd.
The Bull & Last, 168 Highgate Rd.
Bell & Crown, 11 Thames Rd (at Strand on the Green)
The Duke, 79 Nightingale Ln. Wanstead
Harris + Hoole, Imperial Wharf, Fulham
You get the idea…London and pets have long been mates, so you should have no trouble finding pet cafes to suit.
Starwood Animal Transport has rebranded to Starwood Pet Travel. We are still the same great company with the best team, just now with a slightly different name.
Subscribe to the Blog
Enjoy our content? Get them sent to your inbox!
Subscribe Now!
Related Posts
Keeping Your Dog Safe Around Water
Summer is quickly approaching – if you live in the Northern Hemisphere, at least. It's the season when we most love to get ...
Read More