What You Need To Know About Moving A Pet To The UK
Published on: May 19, 2022 | Author: Starwood Pet Travel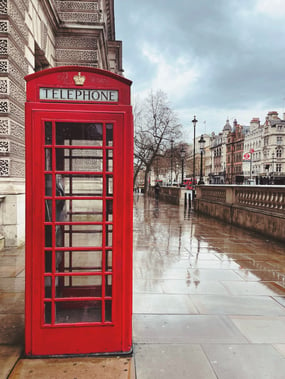 If you are planning a move to the UK, the requirements can vary slightly depending on where you are moving from. If you're moving from the US, there are somewhat less stringent regulations than if you were coming from an unlisted country. Nonetheless, you will need plenty of paperwork.
Your pet(s) will require the following for travel to the UK:
An ISO Compatible Microchip – must be implanted prior to the rabies vaccination. If your pet was microchipped after receiving their vaccination, they will need a booster in order to meet this requirement.
A Rabies Vaccination - greater than 21 days old and less than 1 year old at the time of travel.
General Vaccinations - Dogs should also be vaccinated for DHPP (Distemper, Hepatitis, Parainfluenza, Parvovirus), Leptospirosis and Bordetella (Kennel Cough). Cats should be vaccinated for FVRCP (Feline Viral Rhinotracheitis, Calicivirus, Panleukopenia).
Clinical Exam & International Health Certificate – filled out by a USDA-accredited veterinarian and must also be officially endorsed by the USDA.
Dogs will also require a tapeworm treatment completed between 1-5 days prior to their arrival to the UK.
Owner passport copy & e-ticket
Additional customs forms
There are more rules and regulations.
The UK does not allow the importation or ownership of the following dog breeds: Pit Bull Terrier, Japanese Tosa, Dogo Argentino or Fila Brasileiro. Do note that this is dependent on what your dog looks like, not necessarily the breed or name that is on their paperwork.
Additionally, all pets traveling to the UK must arrive via an approved route (unless you are traveling from Ireland to Great Britain).
Depending on your reason for moving, you will likely need to pay an import tax or VAT for importing your pet to the UK. If you qualify for Transfer of Residence (ToR) relief, you will need to fill out this application so you do not have to pay this import tax.
Smart pet parents get professional help.
These requirements have specific timeframes associated with them and the details on each document must be perfect in order to avoid issues. This can all get quite confusing, and you can't afford to make a mistake because your pet's ability to enter the UK is at stake. If you do not have all the correct documents or your pet is not compliant with the UK pet import regulations, then your pet may be quarantined or sent back to the country they traveled from. All will go smoothest if the first call you make is to an accredited international pet transport company. Here's why:
They are the pros who do this kind of thing every day. They know what needs to be done and how to accomplish it as efficiently as possible.
They are pet people. They understand that your pets are cherished members of your family and should be treated accordingly, with a focus on safety and comfort to minimize stress.
You won't have to drive yourself crazy worrying about whether you're getting the right paperwork, tests, exams, etc.
You won't have to wonder if you've made appropriate flight arrangements for your pets.
You won't have to personally usher your animals through customs when you finally arrive in the UK, with your fingers crossed behind your back hoping all goes well.
If you let the pros handle all the details, you can concentrate on keeping your pets calm and confident during the flurry of moving preparations around your house. You can help them get acquainted with their IATA-approved travel kennel so it feels like "home" on their journey. Wouldn't you rather be doing that?
Less stress is good, for you and for your pets. Moving to the UK will be a wonderful adventure, and it will be tail-wagging purrfect if your four-legged family arrives happy and on time with no paperwork glitches to mar the experience.
Starwood Animal Transport has rebranded to Starwood Pet Travel. We are still the same great company with the best team, just now with a slightly different name.
Subscribe to the Blog
Enjoy our content? Get them sent to your inbox!
Subscribe Now!
Related Posts
Relocation Can Be A Stressful Time For Pets, Too
If you think organizing your long-distance move is nerve-wracking, imagine how your pets must feel. At least you can talk to ...
Read More