How Can Pets Be Shipped?
Published on: April 26, 2022 | Author: Starwood Pet Travel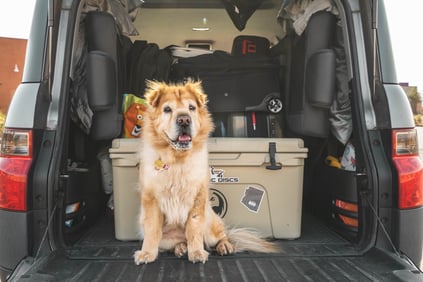 Zoos and other organizations ship all manner of living creatures around the world on a regular basis. For families, though, it's most common to ship a dog or cat, especially if you're planning a long-distance move. How does that work, anyway?
The process is the same whether you're transporting a dog or a cat. But anyone who has both types of pets knows there are definite differences between the two, and temperaments and needs can vary from one pet to another. Fortunately, professional pet shippers are pet lovers who will treat your furry family members with the kindness and individual attention you give them yourself.
Consider Using a Professional Pet Transport Service
If your pet only needs to go from one state to another, you could take them in the car with you, but the longer your drive the more stressful that can become.
If you don't have the space in your vehicle or the patience for bringing pets on a long drive, you can hire a local pet transport company to bring your pet(s) home sweet home to you.
If you are traveling domestically within the USA, your pet can go by plane or ground. Working with a company experienced in both will allow you to make the best-informed choice regarding how to ship your pet.
If you are traveling internationally, then your pet will need to fly. Depending on your destination, you may be able to make the arrangements yourself. However, some countries or airlines require using a professional pet shipper to book the flight(s) and check your pet(s) in. Even if it's not mandatory to use a pet shipper, it can save you a lot of time, stress and worry by entrusting your furry family member with people who do this everyday.
Ground Transportation
Official requirements to ship a pet within or outside the US are governed by the US Department of Agriculture. For domestic ground transportation, the rules are simple:
Every pet crossing state borders must have a valid domestic health certificate or Certificate of Veterinary Inspection (CVI) signed by a licensed veterinarian. The certificate must be issued within 30 days of travel.
Your pet must also have a valid rabies vaccination.
Ground transportation can be an excellent alternative if:
Your pet is an embargoed breed – some airlines won't take snub-nosed dogs or cats
You prefer not to have your pet fly
The distance is too far for you to drive your pet yourself
US Domestic Air Travel
In addition to USDA requirements, each airline has their own rules about shipping pets. Depending on which airline you are using, you may be able to take a small dog or cat with you in-cabin under your own ticket. Larger dogs must travel as excess baggage or cargo, in which case they will need IATA-approved travel kennels and their travel plans may be affected by weather or other challenges. A lot of US airlines are no longer accepting pets in-cabin, accompanied baggage or even as cargo, so your own options may be limited. You will need to make advanced reservations for pets and if they are allowed to travel in-cabin or as accompanied baggage with you then you will need to follow their rules & ensure you have all required paperwork.
Similarly to ground transportation, domestic airlines require a valid rabies certificate and domestic health certificate (completed by a licensed vet within 10 days prior to travel). Some airlines have additional paperwork requirements so you'll need to check with your carrier.
International Air Travel
Your pet will have to travel by air if they are headed outside the country. In addition to airline requirements mentioned above, your pet will need to comply with your destination country's import requirements. You'll need to plan ahead - like months ahead to make sure there's enough time to meet all the requirements and coordinate all the arrangements. You could choose to handle some of the simpler details yourself and let the pros deal with the final paperwork and flight scheduling.
It's important to note that some airlines or countries require you to use a professional pet shipper (like Starwood) and your pet must travel as manifest cargo. This means that you cannot book their flight yourself under your own ticket or check your pet in and you will need to hire a professional.
The specific health and paperwork requirements vary greatly depending on which country your pet is moving to. Some examples of what may be needed include:
Microchip
Rabies vaccination
Other vaccinations (Dogs - DHPP, Bordetella, Leptospirosis, CIV; Cats - FVRCP)
Rabies titer blood test
Other blood tests for dogs
Internal & external parasite treatments
Import permit
Quarantine reservation
A physical exam and international health certificate issued by a USDA-accredited vet
USDA endorsement of documents
Other customs forms
Starwood Animal Transport has rebranded to Starwood Pet Travel. We are still the same great company with the best team, just now with a slightly different name.
Subscribe to the Blog
Enjoy our content? Get them sent to your inbox!
Subscribe Now!
Related Posts
What You Need to Know About Moving Your Pet to Singapore
Singapore is a country well-known for having very strict rules about many things and importing pets is one of them. If you're ...
Read More