What You Need to Know About Moving Your Pet to Singapore
Published on: April 21, 2022 | Author: Starwood Pet Travel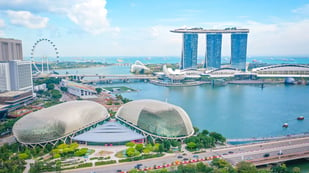 Singapore is a country well-known for having very strict rules about many things and importing pets is one of them. If you're planning a move to Singapore and wish to take your four-legged family with you, your first call should be to a professional pet transport company that is experienced in moving pets to Singapore.This is no time to even attempt do-it-yourself pet travel arrangements. The stakes are high, and the rules are not only strict but complicated and time-sensitive. Seeking professional assistance right away will save you untold frustration & stress and ensures your pet's travels go smoothly. Speak with a professional pet shipper as soon as you know you'll be relocating because this is a lengthy process.
General Pet Import Requirements from the USA to Singapore:
6-month residency in the country of export (or since birth)
ISO-compliant microchip
Two Rabies vaccinations

The primary (first) given at least 4 months prior to export
The second (booster) given after the rabies titer test, at least one month prior to export and within the validity period of the primary

Rabies titer blood test (FAVN) - completed at least one month after the primary rabies vaccination, before the booster rabies vaccination and within 6 months prior to export
Additional vaccinations - given between 2 weeks prior to export and no more than 1 year prior:

Dogs must be vaccinated for DHPP (Distemper, Hepatitis, Parainfluenza, Parvovirus)
Cats must be vaccinated for FVRCP (Feline Viral Rhinotracheitis, Calicivirus, Panleukopenia)

Import permit
Dog license (dogs only)
Quarantine reservation – the required minimum quarantine stay is 10 days
Internal (nematodes & cestodes) & external (fleas & ticks) parasite treatments 2-7 days prior to export
International health certificate completed by a USDA-Accredited veterinarian between 2-7 days prior to export
USDA endorsement of paperwork
IATA-compliant travel kennel
The complete veterinary conditions for pet imports to Singapore from Category C countries can be found on the Animal & Veterinary Service website.
Keep in mind that quarantine space is limited and does fill up quickly. If you don't plan ahead, you may not secure the quarantine date you were hoping for and will have to accept the next available arrival date for your pet.
Your pet travel experts will use the most pet-friendly airline and arrange your pet's flight schedule to be as efficient as possible. Do note that available pet-friendly flights to Singapore may be indirect and require a "comfort stop" at an airport with an onsite pet facility, like Amsterdam or Frankfurt.
Banned Breeds
Singapore will not allow the import of the following breeds of dogs and their crosses: Pit Bull (including American Pit Bull Terrier or American Pit Bull and Pit Bull Terrier, American Staffordshire Terrier, Staffordshire Bull Terrier, American Bulldog, and crosses between them and with other breeds), Neapolitan Mastiff, Tosa, Akita, Dogo Argentino, Boerboel, Fila Brasileiro, Perro de Presa Canario and their crosses.
Singapore will only allow the import of Bengal cat crosses with documentary proof that they are at least a 5th generation cross from the ancestral stock of Prionailurus bengalensis. Singapore will not allow the import of 4th generation crosses and below because they are not considered domesticated cats. Savannah cat crosses can only be imported into Singapore with documentary proof that they are at least a 5th generation cross from the ancestral stock of Leptailurus serval. Singapore will not allow 4th generation crosses and below because they are not considered domesticated cats.
Housing Restrictions For Pets
More than 80% of Singapore's residents live in apartments provided by the Housing and Development Board (HDB); most of them own their flats. This is not "public housing" as it is known in the US.
If you will be renting or buying an HDB flat, cats are not allowed. Some dogs are allowed but only from an approved breed list and there is a limit on one dog per flat.
If you will be living in a non-HDB residence, pet acceptance varies so you'll want to be clear up front. You should work directly with your home relocation company when searching for housing to make sure your pet(s) will be able to live there, too.
Dog Licensing
All dogs must be licensed (you have to apply for that before you move) and confined to your home. Leashes are required in public, and "dangerous" dogs must be muzzled. If your dog is one of those breeds you will also need to carry personal injury/damage insurance and obtain a banker's note as additional security.
No matter where you'll be living, remember that Singapore's climate is tropical – hot. This may make it tougher for your heavy-coated dog to adjust, and it will likely affect when they can comfortably exercise outdoors.
It sounds daunting, doesn't it? And yet, people do relocate to Singapore with their pets in tow, and you probably can too. Working with a professional shipper right from the start assures your pet's documentation will be in order and ensures your pet has a personal travel agent to oversee their progress. Whether your transport company provides door-to-door service or you take your pets to the airport and pick them up from quarantine yourself, you'll know your pets are in good hands.
Starwood Animal Transport has rebranded to Starwood Pet Travel. We are still the same great company with the best team, just now with a slightly different name.
Subscribe to the Blog
Enjoy our content? Get them sent to your inbox!
Subscribe Now!
Related Posts
Can I Move My Pet On My Own?
You're probably wondering (and hoping) if you can move your pet on your own. In some cases, this can be possible, but in ...
Read More