How To Ship A Dog
Published on: April 30, 2015 | Author: Starwood Pet Travel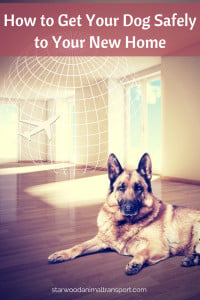 If you've never shipped your dog on an airplane, the thought can strike fear into your heart. Your dog isn't just a hiking and Frisbee companion, he's a vital part of your family. So when your plans call for a long-distance move there is no question the mighty Rex will go, too.
There are a number of things you'll need to consider when it comes to shipping a dog, whether you're relocating from Boston to San Francisco or Denver to London or Dubai. You want Rex to be safe and comfortable every step of the way.
Small dogs can sit in the cabin.
Not on the seat next to you, of course, but in their carrier underneath the seat in front of you. You can make eye contact and get in a little "pet time" during the flight. You may already be in the habit of carrying your purse-size pooch with you around town. In that case, all you'll really need is appropriate documentation – Rex's pet passport – and off you go.
You will need to make a reservation for Rex to board the plane with you. There is a fee, but more importantly, airlines limit the number of animals in the cabin and early reservation assures your mini-dog will be among them.
The downside is that Rex will be with you the entire time. So think about how far you're going – how many flights that entails and the total elapsed time. At some point along the way you'll need to allow time between flights to take Rex to the airport's pet relief area for a little R&R. And since his carrier will count as your carry-on, you won't be able to take as much with you in your other bag as you normally might. Also, some destinations will not allow pets to travel in the cabin with you, places like London, Hong Kong and Johannesburg will require you to book them as manifest cargo instead.
Every airline has somewhat different rules about pet travel.
They all require your pet to have a health certificate and proof of rabies vaccination. Not all airlines can accommodate dogs as excess baggage or cargo, or they can carry only smaller breeds due to limited cargo hold size. Some airlines are not pet-friendly, whereas others routinely take excellent care of animals. Some airlines only accept snub-nosed dogs for in-cabin travel, due to concerns about potential breathing challenges. Learn if air travel is safe for snub-nosed dogs.
When the weather is very hot or cold, all domestic airlines restrict pet travel to certain times of day or allow it only on a day-by-day basis depending on that day's temperature forecast. This can throw a wrench into your best-laid dog shipment plans, but these rules are designed to protect Rex.
Every country has dog import rules.
It's possible to ship a dog on your own, but especially if he's traveling internationally it's a good idea to work with a professional pet transport service. They can make all the arrangements to ensure Rex gets to his new destination safely and efficiently, a process that starts with the proper documentation. In addition to a health certificate and proof of rabies vaccination, you may need:
An international health certificate stamped by a USDA-approved veterinarian (your dog must undergo a physical exam).
An import permit or other documents.
Extra vaccinations, tests or examinations.
There are timing requirements for some of these documents, which can get tricky. You will also have to purchase a heavy-duty IATA-approved carrier, sized to your dog's measurements.
You could contact your destination country's embassy on your own to learn what you need in the way of paperwork and get the forms. But that can be difficult, and rule changes regarding pet travel are not always communicated down the line. If you have the wrong paperwork, Rex's travel plans could come to an abrupt halt before he gets off the ground.
Companies in the business of transporting dogs and other pets around the world are on top of every detail. They have established working relationships with the airlines, so they know the rules and how to accommodate your dog safely. If your pup will not be traveling in the cabin with you, some airlines require you to use a recognized third-party transport firm.
Reducing stress – theirs and yours.
Using a pet transport company that provides door-to-door service can save you untold time and frustration and allow you to concentrate on getting the humans in your family and your "stuff" prepped to move. Less stress for you means less stress for Rex before his big trip.
And speaking of stress, sedation is no longer allowed for pets traveling by air because the risks are greater than the potential benefits.
Ground transportation may be an option.
If your dog is an embargoed breed or you're simply not comfortable sending him on a plane and your dog is traveling within the lower 48 states, ask your pet transporter about ground transportation.
Starwood Animal Transport has rebranded to Starwood Pet Travel. We are still the same great company with the best team, just now with a slightly different name.
Subscribe to the Blog
Enjoy our content? Get them sent to your inbox!
Subscribe Now!
Related Posts
What Medications Do I Need For My Dog When Moving Abroad?
It's natural to wonder about dog medications when moving abroad. You want to be sure your pup is fully protected against ...
Read More