What Medications Do I Need For My Dog When Moving Abroad?
Published on: May 19, 2016 | Author: Starwood Pet Travel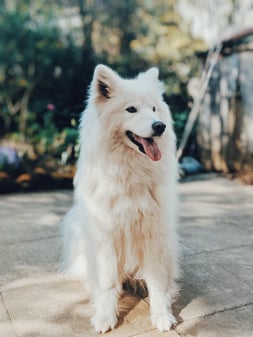 It's natural to wonder about dog medications when moving abroad. You want to be sure your pup is fully protected against diseases and pests in their new home, just as they are now. Does that mean you should stock up on supplies before you leave? No worries, chances are very good you'll be able to find what your pooch needs once you arrive.
Drug companies that manufacture pet medications sell their products virtually worldwide. Pets are ubiquitous, although they may be viewed differently and there may be different government regulations and local customs you'll need to abide by.
If your pet has a chronic health condition and takes prescription drugs, you may want to take a supply of these dog medications when moving abroad. That way you won't have to panic about choosing a new vet immediately. Of course, you'll want to do that soon for your own peace of mind. But you should give yourself enough time to meet and interview potential new vets rather than rushing into a decision.
Just like at home, vets in foreign countries often offer non-prescription medications, prescription food, and a variety of pet supplies for sale at their clinic. And depending on where you go, you're likely to find pet supply specialty stores as well. After all, pet parents in other countries love their fur babies and want to pamper them too.
Talk to your veterinarian
To learn about dog medications when moving abroad, start with a health and wellness visit here at home. That's a requirement for international pet travel, and no one knows your dog's health status better than their doctor.
If moving abroad, you'll need documentation that proves your dog is free of clinical or contagious disease. Exactly what paperwork is required depends on where you reside now and what country you're moving to. Some countries require an import permit or other vaccinations, blood tests, and other treatments.
Your dog will certainly need:
A microchip. This is their official form of identification, and the microchip number must be listed on all health-related paperwork.
Current rabies vaccination. Some countries recognize the three-year vaccine, while others do not.
Your dog may also need all or some of these:
Rabies Neutralizing Antibody Test (RNAT), a blood test that provides clinical proof your dog's rabies vaccine is working properly in their bloodstream.
Vaccinations for distemper, hepatitis, parvovirus, parainfluenza, canine influenza virus, bordetella, and/or leptospirosis.
Internal & external parasite treatments.
Blood tests for other diseases.
All these things involve timing windows that can be tricky to coordinate. And making a mistake can mean quarantine or deportation for your dog instead of a smooth journey to their new home.
It's also possible your dog will need medications in your new country that they did not need at home. For instance, in some places, dogs are not routinely vaccinated for leptospirosis. And in areas where heartworm is rare, vets often recommend annual testing instead of regular dosages of preventive drugs. Your new vet can tell you what is best to keep your dog safe and healthy in their new environment.
Tranquilizers are off the list
The American Veterinary Medical Association discourages sedation for dogs and cats traveling by air. Professional pet transport companies and airlines prohibit the use of tranquilizers. For pet parents new to international travel with their furry companions, this may seem counter-intuitive. Or even cruel. After all, you want your pup to be as calm as possible while they're in transit.
But sedatives and tranquilizers can be more harmful than good. They impair coordination, so your dog won't be able to maintain balance. They can also cause respiratory and cardiac issues when up in the air at high altitudes. So it's going to be a drug-free trip for your pooch.
With proper planning, you'll have all the information you need about dog medications when moving abroad. And you will be confident your dog is healthy and ready to start their new life.
Starwood Animal Transport has rebranded to Starwood Pet Travel. We are still the same great company with the best team, just now with a slightly different name.
Subscribe to the Blog
Enjoy our content? Get them sent to your inbox!
Subscribe Now!
Related Posts
What Cat Medications Do I Need To Bring When Moving Abroad?
If you're moving abroad, the only cat medications you'll need to bring with you are the ones your kitty takes for some chronic ...
Read More