How to Create a Play Date for Your Dog in Asia
Published on: June 7, 2018 | Author: Starwood Pet Travel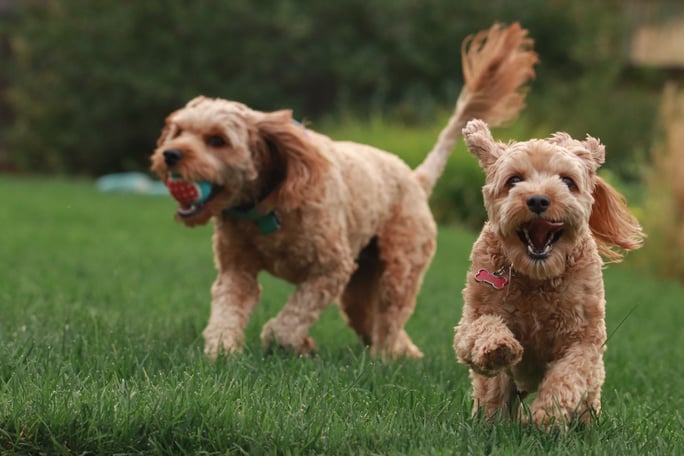 One of the biggest concerns for parents moving to a new country is how they will help their children make new friends in a foreign land. Especially if their new home is very "foreign" – say, someplace in Asia. And it's not only your human kids – you want your dog to make new friends as well. Play dates are a great way to introduce your pup (and yourself) to local dogs, people, and places.
Plan ahead
Since dogs are pack animals, most of them take naturally to group play. But a successful play date isn't the same as running amok. There are some general "rules of the road" that apply no matter where you live. The following tips will help if you plan to host a doggie play session. They are also factors you should consider before accepting an invitation elsewhere or trying out an unknown location for the first time.
Ideally, there should be one owner per dog, to ensure the best supervision.

Whether the location is your backyard or a public space, a little advanced dog-proofing will keep play and pets safe. That includes removing dangerous objects, but in a new country, it is essential you also learn about potentially poisonous plants that may grow nearby and tempt canine browsers.

Be prepared with dog essentials, at home or on the go. That includes water, a portable dish, sunscreen for tender exposed areas, and poop bags.

Do your homework to learn local pet etiquette
With all that in mind, here are some ideas to help you create a play date in Asia both you and your furry friend will enjoy.
Japan
Make some new friends and have a treat at Deco's Dog Cafe. They offer a human and canine menu and you can even host a party!
And speaking of time, if you find your new life in Japan to be overly hectic, your dog can still have the time of his life at one of the growing numbers of dog nursery schools. Yep. Drop Fido off in the AM, and he'll have a full day of playtime, potty and obedience training, naps, and treats.
Singapore
Singapore is one of Asia's most dog-friendly countries. It may be a comparatively small island, but it's big on play date opportunities for your dog. You can go, too. For example, there are three different types of dog parks, many with nearby dog-friendly cafés and bars.
Officially-designated dog runs are spaces specifically created for off-leash doggie romps. Look for these, but there are others, too:
Bishan Park Dog Run

Katong Park Dog Run

West Coast Dog Run

K9 Kulture
Singapore also features a number of dog-friendly parks, where your pooch is welcome to play, just not off-leash. East Coast Parkway and Labrador Nature Reserve are a couple of options. There are also open spaces where dogs can go when they just wanna have fun (and meet other dogs to play with). One of the most popular spots is Tanjong Beach Club.
Did you know that Singapore is home to several dog-only swimming pools? It's true. Check out this list of fun things to do with dogs, and you're bound to meet other dog lovers and their four-legged friends.
Thailand
BringFido has a great list of fun things to do with your dog in Thailand. This includes swimming, shopping, playing, and even mini golf!
Philippines
BringFido also has an assortment of dog-friendly activities in the Philippines. You can check out Ayala Alabang Village Dog Park, Rizal Park and Rizal Boulevard Seafront, and even the Lucky Chinatown Mall!
These ideas represent just a smattering of opportunities around Asia for creating canine play dates. Most of these suggestions have universal appeal, so they can be adapted to match your local resources and canine culture. It's all about meeting new people and pets. So make a date, then get out there and play! Woof!
Starwood Animal Transport has rebranded to Starwood Pet Travel. We are still the same great company with the best team, just now with a slightly different name.
Subscribe to the Blog
Enjoy our content? Get them sent to your inbox!
Subscribe Now!
Related Posts
Where to Take Your Dog For A Hike in France
What's better than a holiday trip to France? A holiday trip to France with your dog! If you and your canine companion have ...
Read More