Finding Toys and Treats Your Pet Will Love in London
Published on: May 18, 2022 | Author: Starwood Pet Travel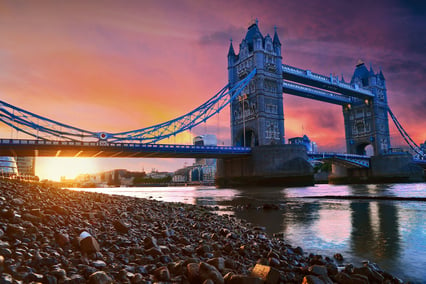 Who wouldn't love a chance to go shopping in London? Even the locals know how lucky they are, with plenty to see and buy in London. Particularly if you happen to be a doting pet parent. Read on, to learn about places you can find simply brilliant toys and treats for your furry companion the next time you're in London.
Amazing shopping in stores real and imagined
Check out PetLondon. If you can't find something that your pet loves on their website or in their central London store, it's hopeless. (And, readers, if you are not in the UK, check out the selection anyway, because they ship worldwide.)
BOW WOW London has a website replete with fun stuff, too. Not to mention a real store in Covent Garden. They also operate a "high-end salon" dog grooming service that is cage-free and lots of fun.
Another pet store and grooming salon to look into is Pet Pavilion, which has multiple locations.
Pets at Home, another e-commerce supermarkets that offer a wealth of doggy and moggy toys, treats, and everything else, has a brick-and-mortar store in Camden Road as well as multiple locations around Great Britain. Like other major pet supply outfits, they also offer bathing and other pampering services, in their Groom Room.
Iconic names
If you're moving to the UK from the United States, you may already be familiar with famous Mungo and Maud, dog and cat outfitters to Britannia and beyond. They're just the ticket if you're searching for toys and treats that are fit for royalty. (They have a few stylish goodies for pet parents, too.)
And then there's Harrods Pet Kingdom. Oh, yeah, now we're talking toys and treats from one of London's most famous venues. Fashion, accessories, bedding, you name it. And, of course, eats and treats and toys, toys, toys. They even have bags of "Pup-Corn." Seriously. You can really go wild here. (Did you know that back in "the day," Harrods actually sold wild animals such as lions and panthers?)
And that's not all. There is a pet spa on premise as well. A day of fluffing and pampering will certainly earn you a wag of the tail.
Treat your pet to a social outing
While every dog and cat appreciates being lavished with toys and treats on their home turf, some pets like to go out on the town now and then. Fortunately for them (and you), London is home to numerous pet cafes. A hot latte or high tea for you, a pet-appropriate nosh for your furry beloved, too.
Find the hottest pet toys and treats in Britain
Naturally you'll want to show your true colors as a newly-minted Briton – at least in spirit. That means you'll want to buy UK-made pet products. Here's a "top 17" list that has some great suggestions for outfitting your pet in true British style.
Lily's Kitchen is a made-in-the-UK operation that produces "proper pet food" items for adult cats and dogs as well as puppies and kittens. Their nutritious, organic products are available at more than 700 stores through the UK. You can find a "stockist" nearest you here.
Not sure what to get your dog-that-already-has-too-many-chew-toys? The Independent did a study and reported on the Best Tough Dog Toys. It's a must-read if your canine is a hard-core chomper. And since he's such a good dog, you'll want to read up on what's trending among gourmet dog treats in and around London.
But let's not neglect our favorite felines. They love toys and treats, too, and nothing says good times like a snazzy new scratcher.
The ultimate feline treat - CatFest
Hot dog (if we may paraphrase). CatFest is a festival devoted entirely to cats. If you're moving to London with your pet, you may not have a choice about timing. However, if you're planning a visit with the family feline in tow ­– or you're simply an ardent cat fancier – you will definitely want to schedule your trip to coincide with this event.
And what if you finally want to do a little shopping for yourself? Shockingly, sophisticated and pet-friendly as London may be, not every retail establishment is keen to have your pet shop by your side. No reason to growl, though. This article lists pet-friendly stores in Central London where you and your four-legged companion are equally welcome to set foot and paw inside.
Starwood Animal Transport has rebranded to Starwood Pet Travel. We are still the same great company with the best team, just now with a slightly different name.
Subscribe to the Blog
Enjoy our content? Get them sent to your inbox!
Subscribe Now!
Related Posts
Pet-Proofing Your London Flat During the Holidays…or Anytime
The year-end holiday whirlwind is finally over, and life can get back to normal. But let's reflect for a moment. A lot of pet ...
Read More