Pre-Trip Prep Tips For Moving Your Pets
Published on: July 20, 2022 | Author: Starwood Pet Travel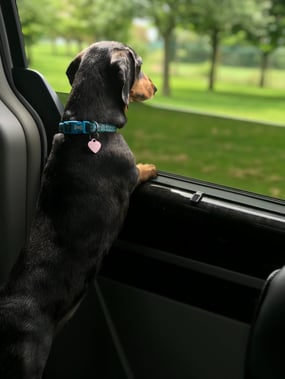 Planning a move is always a complicated project. There's a lot to think about, and everything has to come together in the right way if your move is to go smoothly. However, moving with pets adds another dimension to any move, whether you're relocating a short distance, across the country or to a far-away foreign land.

We know you love your pet and they're an integral part of your family. Advanced pre-trip preparation is critical at this time, to help keep them calm and confident. Moving your pets may not be stress-free, but with the right prep, they won't be freaking out.

Remember, it's not just the travel itself that can be problematic for pets, it's their anxiety about what's happening in general. They don't understand the concept of moving, so the most important thing you can do is make sure they are reassured that you will still be there for them, despite the current chaos.
Advanced preparation will help everyone stay calm
Here are some things to think about, whether you're moving your pets by car or by plane.
Do your research. Depending on your pet's final destination, the health requirements and paperwork will vary. These items are usually time sensitive so you'll need to make sure you are following the pet import rules to avoid any issues. Ensure your pet has a microchip and all vaccinations are up-to-date.
Talk to your vet if your pets have any current health issues that might affect their travels.
Make sure you register your pet's microchip with all of your current contact information.
Keep your pet's records easily accessible rather than packing them away. International pet travel requires a lot of paperwork, so you don't want to find out you accidentally packed away something important that should be on top of your pet's travel kennel.
If traveling by car or in-cabin, have their leash, collar and harness ready to keep them safe and secure.
Purchase a travel kennel early and get them acclimated as soon as possible. While ground transport doesn't always require an official travel kennel, it doesn't hurt to use some sort of pet harness or car carrier to keep your furry friends safe and sound. If they are traveling by air, they will require an IATA-compliant travel kennel. The best way to reduce travel anxiety is to get your pet acclimated to their travel kennel well in advance.
Take them on car rides in their travel kennel. This can help them get used to being in motion while inside the kennel so they are more prepared on the day of departure. You can even be so bold as to try going through a car wash so they can get used to new sights, sounds and smells.
Get their nails trimmed. Your cat or dog will certainly appreciate a mani-pedi prior to departure and this will also help prevent any injuries.
Get your pet groomed with a bath or haircut if needed prior to travel. This will make them more comfortable especially if you are traveling to a warmer climate. Do keep in mind that they may get soiled during their trip, so they might arrive a little stinky. It might not hurt to get them groomed after their travels as well.
Give them plenty of exercise leading up to departure so they can let out some of their energy and anxiety.
Don't over-feed or over water your pet prior to travel. Pets tend to travel better on a relatively empty stomach and you don't want them to get sick. You can provide them water and a small meal in the morning but in general pets should not eat within 4 hours prior to flight departure, to avoid an upset stomach. Do not that water will be provided for the flight. If your pet has a transit stop or boarding along the way, they will be provided food and water during that time as well.
Bonus tip: Call a pet moving expert
Enlisting the help of a professional pet transport company can do wonders for your sanity, especially if your move is more complex. If your new home requires a cross-country drive, arranging for professional ground transportation means you won't have to pack your pet and their stuff into your car along with the rest of your family and their belongings. You'll all be more comfortable, and your drive can focus on human needs for meals, lodging, rest stops or sightseeing along the way, rather than pet stops, etc.

If moving your pet involves air travel, making flight arrangements can be time-consuming, confusing and fraught with potential last-minute snags such as weather problems. The pros know which airlines are the most pet-friendly, which documentation you'll need to meet airline and destination country requirements and myriad other insider details. Allowing them to handle moving your pets is simply smarter.

Yes, you'll pay a fee for these services, but you can't put a price on peace of mind and, besides, pet moving expenses are usually tax-deductible along with your other moving costs, if relocation is due to your job. Check with your tax advisor about this.

The better prepared you are, the smoother your move will be – for you and your pets.
Starwood Animal Transport has rebranded to Starwood Pet Travel. We are still the same great company with the best team, just now with a slightly different name.
Subscribe to the Blog
Enjoy our content? Get them sent to your inbox!
Subscribe Now!
Related Posts
The Dos And Don'ts Of Pet Air Travel
Hundreds of thousands of animals travel by air each year, to and from locations all around the world. The incidence of ...
Read More