How to Find Like-Minded Pet Parents in Spain
Published on: January 26, 2018 | Author: Starwood Pet Travel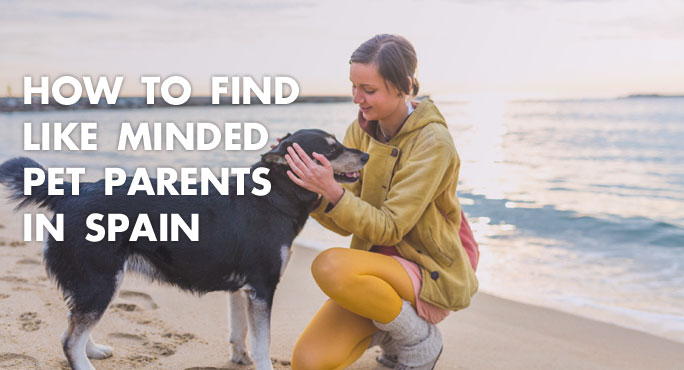 Here you are, newly moved to Spain with your pet by your side. Naturally, you and your furry sidekick want to make new friends. But where can you find congenial pets and like-minded pet parents in your new country?
Anywhere and everywhere.
The Spanish love their dogs and cats. About half of households include at least one pet, and those numbers are on the rise. Dogs lead the pet pack, currently numbering about 5.4 million. Cats aren't far behind, though. There are about 3.8 million feline pets in Spain.
If your move to Spain was a corporate relocation, start with your in-situ co-workers. They've paved the way and are no doubt willing to point you in the right direction(s), too. Besides, odds are at least some of them are pet parents themselves.
You can also check out Pets in Spain Facebook page and join the community. Pets in Spain is actually a registered non-profit on the Costa Blanca. There is plenty of conversation on their Facebook page, not to mention photos of dogs and cats.
Get out and about
Hit the beach. Lots of expats wind up on the Costa Blanca or Costa del Sol, so a walk on the beach with your pooch (and perhaps a fetch toy) should ease introductions.
Join a hiking group.
Look for dog parks near where you'll be living.
Take a dog obedience class (with your pup, of course). You can practice good doggie manners and both of you can learn some Spanish language commands.
Go shopping
Frequent pet supply stores and boutiques. Spaniards are as devoted to their pets as other nationalities, so you'll also have no trouble finding pet products and services, from the purely practical to the utterly ridiculous. Whether your dog or cat loves fashion, toys, treat, or all three, take a stroll down the appropriate aisles. You're bound to run into like-minded pet parents, so strike a conversation.
Nicely-mannered dog? Go for a stroll along your favorite shopping avenues.
Chat up expat groups
What better way to find like-minded folks? Expat groups abound, thriving online and in person. For example:
InterNations invites you to connect with like-minded expats in Spain. We feel sure that includes like-minded pet owners. If you're worried about language barriers, the InterNations website has a specific page to help you find Americans living in Spain.
CurrencyFair is an online monetary exchange, but they have useful write-ups about 29 different expat groups you might be interested in – in Barcelona, Madrid, on the Costa Blanca, Costa del Sol, and elsewhere around the country.
If you're a woman, Expatica also lists a few groups and clubs in Spain that are focused on women with kids. But who knows? Perhaps those mothers are FurMoms as well.
Take a break
Check out pet cafés. Spain isn't exactly a world leader in this craze, but there are opportunities.
Yelp and similar review sites may help you locate a pet café near you. While dog-friendly restaurants are plentiful, actual pup cafés (where you can pet and play with the residents) are not so common.
Cat cafés, on the other hand, are popular – at least in Madrid. One of the hottest is La Gatoteca, located at 28 Calle de Argumosa. An abundance of kitties roam two floors – all rescues. You can watch their antics, pet those who are willing as you enjoy your coffee, and adopt one or two of your favorites if that's on your agenda. No feeding, though. The owners are careful to regulate what their cats eat, to keep them right-sized and healthy.
Or try the Cata y Degustacion at 3 Calle Domenico Scarlatti.
Not every group is one you should aspire to join
Authorities in Brunete, Spain, got so sick of pet poop on sidewalk and in the parks, they took corrective action. Volunteers watched for and identified delinquent pet owners, then picked up the poop, boxed it up, and delivered the "lost and found" parcels back to the owners.
While this cautionary tale is hilarious, it's also a good reminder that good petiquette is as important when you're abroad as it is at home. And that starts with cleaning up after your pets. (By the way, the Brunete program was highly successful.)
You don't have to wait till you set paw on Spanish soil to search out like-minded pet parents. Many of the suggestions we've noted above are easy to undertake right now. By the time you and your furry companion arrive and get settled in your new casa, you'll already have valuable contacts and connections. And perhaps a whole pack of pet-loving friends.
Better bake some dog or cat treats and invite everyone for coffee.
Starwood Animal Transport has rebranded to Starwood Pet Travel. We are still the same great company with the best team, just now with a slightly different name.
Subscribe to the Blog
Enjoy our content? Get them sent to your inbox!
Subscribe Now!
Related Posts
3 Things Your Pet Travel Insurance Should Cover
When preparing to travel with your pet, it's easy to overlook the importance of pet travel insurance. While the likelihood of ...
Read More