Exporting A Pet
Published on: April 16, 2015 | Author: Starwood Pet Travel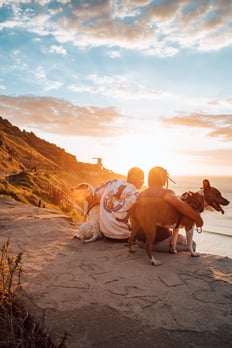 The details of exporting a pet depend on which country you are departing and where you're headed. Let's assume you're traveling from the United States, by air, since that's a common experience people have exporting their pets.
Perhaps you are moving to Dubai or Hong Kong or London to take a new job with your company of a government agency. Or maybe your family is headed to Brazil or France so your children can experience life in a foreign culture and language. Moving your family out of the country means you'll need to learn what is needed to move your pets, too – after all, they're a vital part of the family.The sooner you learn the import and export requirements, the better. Why is this so important? Your pets may need blood tests, extra vaccinations, parasite treatments, an import permit or quarantine. They will need to be physically examined. And there will be paperwork, plenty of it. Timelines to complete these things can vary tremendously. Some things must be done well in advance, others almost at the last minute.
Let your vet know right away about your planned move, so they can help you. Making a calendar with key dates on it will help you keep your pet export plan on track.
Exporting a pet is a two-part process.
There are regulations and requirements that relate to leaving the United States, and there are regulations and requirements for entering another country. These are independent activities, in that every country has different rules you may need to follow. The US Animal and Plant Health Inspection Service (APHIS), which is part of the US Department of Agriculture (USDA), is the primary agency responsible for regulating import and export of animals.
The airlines also have requirements you'll need to meet, and these vary from one carrier to another. Pets are only allowed to leave the US through certain ports, but you won't have to worry about that because your airline will automatically follow proper routing. However, if your four-legged family includes large dogs, travel plans may be complicated by the fact that smaller planes cannot accommodate larger size kennels.
And speaking of kennels, regardless where you are headed, each of your pets will have to travel in an IATA-approved carrier. It's one more detail you'll need to handle, but this one is especially important for your dog or cat's safety and comfort. Acquiring kennels early will enable your pet to become accustomed to them, which can help them feel a little less stressed.
Leaving the US is the easier part, because requirements are minimal for exporting pets. You will need to obtain an international health certificate, completed by a USDA-accredited veterinarian. That might be your own vet – ask them – or you will have to use another vet. Some countries require your pet's paperwork to be endorsed by your state's APHIS Veterinary Service office. Depending on the location of the nearest USDA office, this is typically done electronically or by mailing the paperwork to the USDA. If you choose to send it, use a service that offers tracking (like FedEx or UPS), because these are critical legal documents and your pets cannot travel without them.
If you plan to move back to the US at some point with your pets, ask now what paperwork will be required to do that. Like export, the rules for bringing your pets back depend on where you have been outside the States.
Requirements for your pets to enter a foreign country can be complex.
Along with an International Health Certificate, you may need a country-specific import permit. You can check the APHIS International Regulations website to learn the requirements for your destination country. It's also a good idea to look directly on your destination country's official government or department of agriculture website as well.
In addition to detailed paperwork, your pet will need to be microchipped, meet rabies vaccination requirements and may require vaccinations and blood testing not normally given here in the States. Some countries require quarantine for dogs and cats while others do not, as long as your pet is compliant with all import regulations.
Never assume anything. Double-check information you get to be sure it's up-to-date and accurate. Your pet's export documents serve as their identification and "passport", so they are just as important as your own passport and ID.
Better yet, get in touch with a reputable professional pet transport company experienced in working with your destination country, and let them handle the details. They can do everything, or you can rely on them for the critical paperwork and flight arrangements, and deal with the easier tasks yourself. Either way, you will save considerable time and frustration and you'll get stress-relieving peace of mind, knowing your beloved pets are in good hands.
Starwood Animal Transport has rebranded to Starwood Pet Travel. We are still the same great company with the best team, just now with a slightly different name.
Subscribe to the Blog
Enjoy our content? Get them sent to your inbox!
Subscribe Now!
Related Posts
How To Choose A Pet Shipping Company
Your pets are an integral part of your family. You love them unconditionally and would do anything for them. If you are facing ...
Read More