What To Know About Flying With An Emotional Support Animal
Published on: June 9, 2022 | Author: Starwood Pet Travel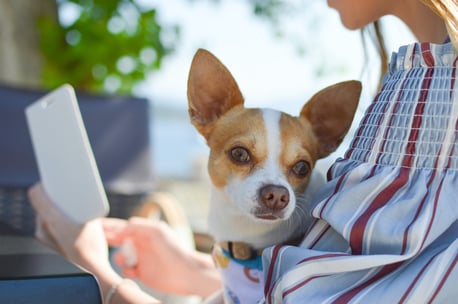 You've probably heard on the news about incidents on airlines involving emotional support animals. Perhaps you've even had a less-than-pleasant experience yourself. This is a huge topic, one that has greatly affected our industry. Airlines are incredibly frustrated, and they are taking action to protect their passengers and staff.
Here at Starwood, we work with pets every day, helping them travel comfortably and safely to all corners of the world. We're animal lovers and pet parents, too. We appreciate how a pet can provide emotional support as well as physical assistance for people with special needs.
However, no one appreciates the fact that some people are obtaining online certificates for supposed emotional support animals that are, in turn, putting passengers at risk. A few travelers have actually been attacked, and more and more passengers are complaining about allergies, barking and other noise, foul smells, and filth.
Some people are taking advantage of the system to get around having to pay for their pet to fly with them or avoid them having to fly as accompanied baggage or cargo.
Service Animals vs. Emotional Support Animals
According to the Americans with Disabilities Act (ADA), service animals are defined as "dogs that are individually trained to do work or perform tasks for people with disabilities." They are considered working animals, not pets, and have received specialized training. They must be permitted to accompany people with disabilities in all public spaces. Additionally, they are required to be under control by their handler and need to be housebroken.
Emotional support animals (ESA), however, are "any animal that provides emotional support alleviating one or more symptoms or effects of a person's disability. Emotional support animals provide companionship, relieve loneliness, and sometimes help with depression, anxiety, and certain phobias, but do not have special training to perform tasks that assist people with disabilities." These are not considered service animals and are not limited to dogs.
There is another type of service animal called a Psychiatric Service Animal, which is specially trained for people with psychiatric disabilities and perform tasks to alleviate their disability. Providing "comfort" is not considered a qualification for the dog to be a service animal.
The key difference here is that service animals are specially trained to perform a specific task or job - and they are typically well-behaved in public. Emotional support animals are considered pets that don't necessarily have any special training or good behavior in public spaces.
Airline Rules
As of December 2020, the U.S. Department of Transportation has revised its Air Carrier Access Act (ACAA), which regulates the transportation of service animals by air.
The final rule is outlined below:
A service animal is defined as a dog that is "individually trained to do work or perform tasks for the benefit of a qualified individual with a disability, including a physical, sensory, psychiatric, intellectual, or other mental disability."

Psychiatric service animals are treated and considered the same as other service animals if they are trained to do a specific task or job to help someone with a disability.

Airlines are not required to treat emotional support animals as service animals and they may be recognized as pets.

Airlines can limit service animals to dogs - not other animals.

Airlines can require passengers to complete and provide a DOT form that confirmed the animal's training and behavior as well as their good health.

Airlines can limit the number of service animals per passenger to two.

Airlines can require service animals to stay on the passenger's lap or foot space.

Airlines can require service animals to wear a harness or leash in the airport and on the aircraft.

Airlines cannot refuse a service animal based on breed or physical type.

Airlines cannot require a passenger with a disability to physically check in at the airport versus using an online check-in process. However, they can ask for the completed DOT form when the passenger arrives to the departure gate with a service animal.

Airlines can require passengers to complete and provide a DOT form that confirmed the animal's training and behavior as well as their good health.

Airlines can require the passenger with a service animal to provide their DOT form and Animal Relief Attestation up to 48 hours prior to departure.
Many airlines have updated their own rules and regulations regarding pet travel and service animal travel. Many airlines are not as lenient about emotional support animals if they are not actually trained to do a specific job and considered to be a true service animal.
For example, American Airlines will accept service animals in-cabin at no charge as long as they meet the requirements. However, "service animals in training, emotional support animals, and comfort animals may travel as pets, not as service animals. All requirements and applicable fees will apply."
British Airways has similar rules and also consider emotional support dogs as a domestic pet and must comply with the usual pet rules. They will not allow emotional support animals in the cabin.
Other Therapeutic Pet Options
The purpose of an emotional support animal is to reduce anxiety for individuals who suffer mentally under severe stress. However, many people who don't require an emotional support animal are not particularly keen on flying or the chaos that often surrounds air travel.
So a growing number of airports now offer "pet a pet" opportunities (but not on the plane). These consist of therapy dogs and the occasional cat or other animal that passengers can commune with in the terminal before they board their plane.
The largest program is at the Denver International Airport, where 100 animals make up the Canine Airport Therapy Squad (CATS). At the Los Angeles International Airport, they have a PUP (Pets Unstressing Passengers) program. There's also the "Wag Brigade" at San Francisco International.
And if you want to pet some miniature horses, you'll want to route yourself through Cincinnati/Northern Kentucky International Airport to see these cuties from Seven Oaks Farm.
Key Takeaways
It's likely that you won't have an issue traveling with your legitimate service animal as long as you have the proper documentation.
However, you may face challenges when trying to bring your emotional support animal places with you. It's important that you are not trying to skirt the rules just because you don't want your dog or cat to fly as cargo (or because you don't want to pay a fee).
As always, you need to consult with your specific airline and keep in mind your destination country's rules as well. Some airlines or countries will not allow pets or emotional support animals to travel any other way besides cargo.
Regardless, it's important to make sure your pet is healthy and meets all the health and documentation requirements to ensure their safe travels - no matter their mode of transportation.
Starwood Animal Transport has rebranded to Starwood Pet Travel. We are still the same great company with the best team, just now with a slightly different name.
Subscribe to the Blog
Enjoy our content? Get them sent to your inbox!
Subscribe Now!
Related Posts
British Airways Pet Policy
British Airways boasts of their exceptional care for animals of all kinds, a commitment they have upheld for over fifty years. ...
Read More