Bringing Your Forever Pet Home
Published on: December 22, 2022 | Author: Starwood Pet Travel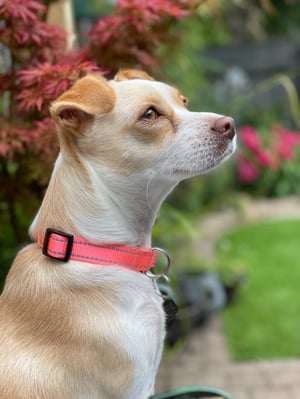 The holiday season is in full swing and during this time of year, there's an increase in dog adoptions throughout the world. At the same time, shelters brace themselves for an influx of dogs returning back to the shelter due to high rates of unpreparedness among individuals receiving the dogs. Whether the adopted pet is a gift for a loved one or a new companion for yourself, it's necessary to ensure the individual taking care of the dog is prepared for this new chapter in their life, especially during a hectic time of year. Here are a few tips to help increase the preparedness for bringing a forever pet home.
Educate Yourself on the Transportation Process
A common way to bring your newly adopted pet home is by picking them up at the shelter or a foster location. This allows you and your dog to have an immediate bonding experience. There's also a possibility that your pet may have to be flown to you depending on the location of the shelter you're adopting from. While this is a safe traveling option to bring your new furry friend home, it can be a stressful experience for both you and your dog. Since you're not in complete control while your companion is in the air, you may find yourself becoming worried about the unknowns. Educating yourself on the pet cargo section of the plane can help combat these emotions. During the duration of the flight, your pet will be kept within its kennel in a climate-controlled environment; similar to the one you experience in the cabin of a plane. Most airlines will provide you with a unique number that will allow you to track your pet throughout the duration of its flight. This number will also allow you to prepare in advance to be at the airport ready to pick your dog up prior to the plane landing, this will ensure your dog won't have to wait in a secluded area for a period of time before you arrive. If you aren't able to make the transportation arrangements yourself, you can hire a pet transport company like Starwood, to take care of everything for you!
Know What to Bring When Picking Your Pet Up
Setting a positive tone when you arrive to pick up your newly adopted dog is essential. With that being said, prepare yourself in advance by bringing a personalized tag with its name on it, a proper-sized collar, and a leash. By doing this, you're sending a message to the pet that you are its caregiver now. Another great way to acclimate your dog to its new surroundings is by bringing a few toys and the dog bed you've bought with you in the car for the car ride home, this will be especially helpful if you have a long car ride ahead of you. If the drive back home is on the longer side, be prepared to make frequent stops to allow your pet to go to the bathroom. The amount of times you need to stop is dependent on how old your dog is, puppies who haven't been fully house-trained will need to stop more frequently than an older dog who has been trained. Also, depending on the length of the trip, it may be necessary to bring a water and food bowl to properly feed your new pet.
Prepare Your Space for a Pet
Not only is it important to prepare yourself for the day when you pick up your new furry friend, but it's also necessary to prepare your home and surrounding personal space in advance. There are many factors that play into ensuring you are able to provide your pet with adequate living and playing space. If you currently live in an apartment, it could be a good idea to look into other housing options. Although it is still possible to raise a dog in a pet-friendly apartment complex, a house will provide you and your dog with a larger backyard to run and play in as well as more square footage space within the walls of the home to utilize. Before you begin your house-hunting search, do research on what house you can afford with the pet-friendly features you had in mind. Knowing your budget beforehand will allow you to narrow down your choices that are within the price range you can afford. If you already live in a home, take some time to look around and learn what might be missing that will help accommodate the needs of your pet. This can include a feeding space and an area for sleeping and play. Designating specific spots in your home for these activities will help to establish a routine for both you and your pet. In the long run, this will be beneficial when establishing discipline because it can help eliminate confusion between you and your pet.
Adopting a pet opens an exciting chapter in your life, but it can also add a tremendous amount of stress to your already-established lifestyle. To help ease your transition into becoming a dog owner, be sure to prepare yourself well in advance through research and conversations with others that have a pet.
Starwood Animal Transport has rebranded to Starwood Pet Travel. We are still the same great company with the best team, just now with a slightly different name.
Subscribe to the Blog
Enjoy our content? Get them sent to your inbox!
Subscribe Now!
Related Posts
How to Keep Your Pet Healthy in Cold Weather
If you think it's tougher to stay warm and healthy in winter, think about how your pets must feel. Now is the time to consider ...
Read More