Best Walking Trails for Your Pet In Sydney, Australia
Published on: September 21, 2017 | Author: Starwood Pet Travel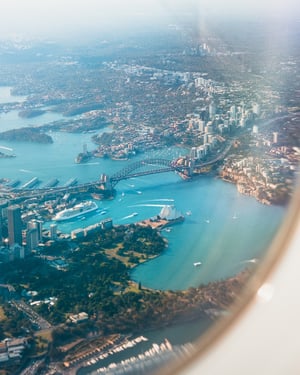 Are you moving to Sydney with your pet? You're both going to love it. Australia is something of a pet lover's paradise because there is so much to do with your furry sidekick. Cats and dogs are adored Down Under, so you'll find pets aren't treated much differently there than they are in the US.
Australian Dog Lover includes these walking trails (called tracks in Australia) among their Top 20:
Bondi to Bronte Coast Walk
Easy, 6 km path that is mostly paved and includes "many incredible vantage points and photo opps." Don't forget to take selfies of you and your pet to share with the folks back home.
Iron Cove Bay Run
Easy, 7 km loop along Sydney's harbor that's very popular with families, bicyclists, and dog walkers.
Narrabeen Lagoon Bush Trail
This trail takes you around to the Northern Beaches and around Narrabeen Lakes. It's another favorite with all types of walkers, joggers, and cyclists. There are actually five sections to the trail, so you can walk them all together or separately.
Platypus Track
How could you NOT want to check out a trail with this oh-so-Australian name? And the potential to see real platypus! OK, so your chances of actually seeing a platypus in the wild are slim – they're nocturnal and reportedly extremely shy. So for a close-up platypus viewing you'll want to visit the Sydney Aquarium. Minus your pet, sorry. Do that first, then you can picture them in place as you walk this easy 1.7 km trail.
Murri – Yanna Track
This 8 km trail is listed as intermediate difficulty. It takes you along Darling Mills Creek and through the rainforest, from Whitbred Place North Rocks to Heidi Place, West Pennant Hills.
Arboretum Loop Trail
This is an easier, shorter trail for those who want to experience the rainforest – in this case the Strickland State Forest. The arboretum includes enormous pines as well as other trees.
Bellbird Trail
Another easy walk through the Strickland rainforest, on this trail you're likely to be serenaded by Australian bellbirds.
Hunter Lookout and Great North Walk Loop
Looking for more of a workout? This 5.6 km loop trail is worth the extra effort, offering grand vistas of the valley and mountains from Hunter Lookout (the starting point), Macleans Lookout, and other well-known spots.
It's easy to find walking opportunities
Perhaps you and your pooch are especially fond of the beach. No worries, mate. Sydney is right on the South Pacific Ocean, so there are plenty of dog-friendly beaches. You can pack a Frisbee and a towel, or simply take a break to sit and watch the waves.
You can easily find any number of websites that recommend great places around Sydney where you and your pet can explore together. One site you should definitely check out is Wild Walks. The site is loaded with information you can read up on as you're planning your move to Australia. You can be so well-prepared, you and your pet will be exhausted before you ever step paw on Aussie soil.
On Wild Walks, you can sort the recommendations by length or degree of difficulty, choose among "classic" walks, or investigate their "Best Walks" lists:
Café break. Now we're getting somewhere. We're betting your adventurous pup loves to join you for all outdoor activities, including a stop for drinks or sustenance. So here's a list of dog-friendly cafés in Sydney.
Going for walks with your dog is an excellent way to make friends, especially when you're a newcomer in a strange land. You can stick to the greater Sydney region or head out to see the sights in other parts of the country. What better way to learn about the flora and fauna of your new country? Australia is enormous, so you'll never run out of new and interesting walking trails or other exciting adventures.
Starwood Animal Transport has rebranded to Starwood Pet Travel. We are still the same great company with the best team, just now with a slightly different name.
Subscribe to the Blog
Enjoy our content? Get them sent to your inbox!
Subscribe Now!
Related Posts
Social Dog Walks in Scotland
Scotland is bonnie, indeed, but you have to get out and about to really appreciate just how lovely the countryside can be. On ...
Read More