Best Brazilian Food In Miami
Published on: July 28, 2015 | Author: Starwood Pet Travel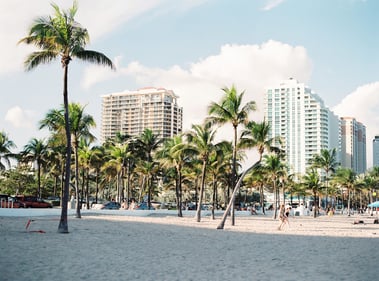 Brazil and Miami go together like, well, feijoada and caipirinhas. Or perhaps churrasco, if you're a serious carnivore. Between the growing number of Brazilians moving to Miami and the thousands of tourists flocking to the city each year from Brazil and other Latin American countries, it's no surprise that Miami is now home to many popular Brazilian restaurants.
And that's great news for all of us.
Brazil is an enormous and diverse country and the cuisine reflects that, with seafood from the northeast coast and meat from the southern pampas, prepared as only the Brazilians can (influenced by the Portuguese, of course). Whether you long for a taste of home or you're looking for new taste thrills, Miami has you covered.
Where can you find the best Brazilian food in Miami?
Fogo de Chão Brazilian Steakhouse
4.4 stars Google
#2 USA Today's 10 Best Brazilian Spots in Miami
This is an upscale "churrascaria" – a meaty Latin take on all-you-can-eat. The churrasco concept features a prix-fixe menu with a big salad bar and a multitude of beef, pork, chicken, lamb and sausage (15 different cuts at Fogo) - spiced, skewered, grilled, and sliced to order at your table. Started in Puerto Alegre, Brazil, in 1979, the chain now has several locations in Brazil and more than two dozen scattered across the US from coast to coast.
"The only place in the united states where you will get REAL Brazilian Churrasco."
"All of the cuts of meat were good and some excellent, and the service good. Drinks are pricey as is the entire experience."
"Dinner for 20 and everyone left with smiles and full. The food, service, and team at Fogo handled my small event in the wine room perfectly."
Camila's Restaurante
4.3 stars Google
#10 USA Today's 10 Best Brazilian Spots in Miami
This informal, reasonably-priced buffet is another all-you-can-eat option, but with a much broader selection of traditional Brazilian dishes. Don't miss Feijoada Saturday. The Downtown Miami location is popular with the business lunch crowd and tourists who'd rather focus on sightseeing and shopping than on a formal sit-down meal. Camila's also has a restaurant in Orlando.
"Muito eu recomendo."
"The real taste of the Brazilian food, great meal at lunch. The environment is good, and the staff is friendly. I'll return there every time that I go to Miami!"
"The best Brazilian food I have ever had here in U.S."
"Fui muito bem atendido, local muito gostoso, pessoal alegre e atencioso! Um "MUST GO" para os brasileiros em Orlando e em Miami!!"
Little Brazil Restaurant
6984 Collins Avenue, Miami Beach
4.1 stars Google
#1 USA Today's 10 Best Brazilian Spots in Miami
Lunch or dinner, indoors or out, Little Brazil offers plenty of inspired Brazilian favorites - coxinha or bolinhos de bacalhau (croquettes made from chicken or cod), grilled steaks, stroganoff, feijoada, moqueca, and lots of shrimp, featured in dishes like camarao no abacaxi and camarao com catupiry. There is a kids' menu and a family-friendly environment, and they also deliver.
"The steak I had here on my trip to Miami was absolutely fantastic. We walked in and were seated right away though the place was full. Brazilian music with added wonderfully to the atmosphere."
"We are Brazilians which live in the USA for 9 years. We came to the restaurant after reading the reviews on TripAdvisor and we were not disappointed."
Boteco
4.0 stars Google
#7 USA Today's 10 Best Brazilian Spots in Miami
This is a classic Brazilian neighborhood bar, or "boteca," – reasonably priced and complete with live samba music and a ladies' night. You can sit inside or outdoors at their lawn tables under a bamboo roof. USA Today describes Boteco as "a packed house of ex-pats mulling over the results of the latest football matches as they munch on moqueca or picanha fatiada na chapa." Most of the menu is made up of tapas-style offerings. It's a bar, so they keep the caipirinhas (made with cachaça, Brazil's signature sugarcane-based liquor) and caipiroskas (made with vodka) coming.
"I wish I lived in Miami so I could go there more often. :) Until next time!"
"Amazing Brazilian food, great caipirinhas, a small authentic and home-like feel not Americanized at all. Very welcoming and fun. The bartenders make it strong and allow you to enjoy yourself. They do get a little distracted and the bar is very small. Therefore you must just order an authentic Brazilian meal and a real caipirinha and go with it!!"
"Fish dinner with yucca fries, salad, black beans, and a pineapple/mint juice that was oh so delish."
"Nice place to hang out with your buddies. Friendly environment. Beautiful women."
Not sure what all these exotic-sounding dishes are? Why not find out tonight? Bom apetite!
Starwood Animal Transport has rebranded to Starwood Pet Travel. We are still the same great company with the best team, just now with a slightly different name.
Subscribe to the Blog
Enjoy our content? Get them sent to your inbox!
Subscribe Now!
Related Posts
6 Things That Make Miami Feel Like Home To Brazilians
Miami has been a popular destination for Brazilians for decades – primarily for tourism -- but the love affair has really ...
Read More