6 Things That Make Miami Feel Like Home To Brazilians
Published on: July 22, 2015 | Author: Starwood Pet Travel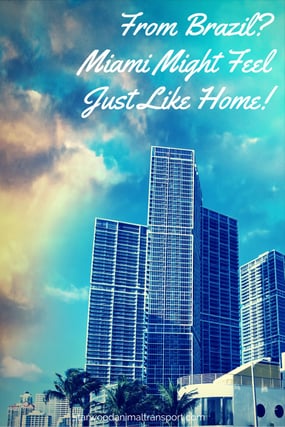 Miami has been a popular destination for Brazilians for decades – primarily for tourism -- but the love affair has really blossomed in recent years. An ever-increasing number of Brazilians are not just visiting but looking to make Miami their new home and business headquarters.
There's good reason for that. Miami offers a wealth of atmosphere and amenities and an air of sophistication that give it truly international appeal. Perhaps best of all, Miami feels a lot like home to Brazilians. At least in all the good ways.
Whereas a number of Brazilians migrated to the US in the 80s and 90s looking for better employment opportunities and an escape from escalating inflation, a good proportion of today's emigrants are wealthy movers and shakers. The impetus to move may still be financial – Brazil's economy is lackluster these days -- but it is also rooted in the desire to live where security isn't a daily worry.
Here are 6 things about Miami that are making these Brazilians feel right at home.
1. The climate.
Miami may not be Rio, but there is no shortage of warm, tropical weather and sunny, sandy beaches.
2. Desirable real estate.
Brazilians with means are increasingly looking to Miami as the place to establish their "second nationality," in part because the city offers attractive opportunities to buy or rent commercial income properties as well as personal residences. Brazilians are in the top three when it comes to foreign nationals purchasing high-end real estate.
At least a few expat Brazilians have become real estate agents and are selling properties to their newly-arriving countrymen. One transplant-agent describes Miami as "the biggest Brazilian city outside of Brazil right now."
3. Easy business continuity.
Brazilians are investing in real estate construction projects as well as homes and income properties. They are managing existing business from new Miami-based offices and starting new businesses. The result is that Brazilian banks and asset management firms are expanding into Miami, including internationally prominent firms such as Holding SA, Grupo BTG Pactual, XP Investimentos CCTVM SA and Itau.
There is even a Brazilian Chamber of Commerce.
4. A familiar lifestyle.
Brazilians can continue to live in the style to which they were accustomed back home, only with greater confidence and security. Exclusive city center areas like Brickell offer ultra-luxurious residential and shopping options. And in Miami, even the wealthiest Brazilians feel little need for bullet-proof vehicles or cadres of security guards. It's possible to not only own high-value homes and toys but to comfortably relax and enjoy them.
From retail stores to nightclubs, commercial establishments are catering specifically to Brazilians. Trendy bars are holding Carnaval-theme nights. And it's not a problem to find supermarkets that sell picanha (a cut of beef particularly popular in Brazil).
5. The Portuguese language is commonly heard and spoken.
There are Portuguese movies and TV channels. Portuguese-speaking guides for shopping trips and tourist activities. Even Disney and SeaWorld now have Portuguese-speaking greeters to assist visitors. Why? Middle-class Brazilians are flocking to Miami to shop and also to take in the nightclubs, museums and other cultural offerings.
For those Brazilian transplants who may be feeling a little homesick or who want to connect with others that speak the language and share their interests, there are now multiple "meetups" available in Miami for socializing, culture retention and other purposes:
Caipirinha Day Miami.

KiZOMBA ADDiCT.

Languages in 3D – Miami.

Miami Beach Italian, Spanish, Portuguese Connections.

Miami Brazil Meetup Group.

South Florida Portuguese Language and Brazilian Culture.

Vivendo na Florida – Miami.
6. And then there's the food.
What Brazilian wouldn't feel more at home, knowing that rather than wishing for traditional foods and flavors they could simply head to:
Boteco -- for Brazilian menu items, caipirinhas (the national cocktail of Brazil, in case you aren't from there) and live samba music,

Fogo de Ch

ã

o -- for steakhouse fare done in the Brazilian style or

Camila's Restaurant – for Brazilian food delivered in the all-you-can-eat format in several locations around Miami.
About 3 million Brazilians reside outside their native country, a third of them in the United States. Florida, especially Miami, is a prime destination. The state is now home to more than a quarter million Brazilians. And their countrymen continue to account for more than half of Miami's annual tourist population. The more Brazilians who travel and move to Miami, the more it will continue to feel like home.
Starwood Animal Transport has rebranded to Starwood Pet Travel. We are still the same great company with the best team, just now with a slightly different name.
Subscribe to the Blog
Enjoy our content? Get them sent to your inbox!
Subscribe Now!
Related Posts
Best Brazilian Food In Miami
Brazil and Miami go together like, well, feijoada and caipirinhas. Or perhaps churrasco, if you're a serious carnivore. ...
Read More