Why Miami Is Getting Younger
Published on: July 21, 2015 | Author: Starwood Pet Travel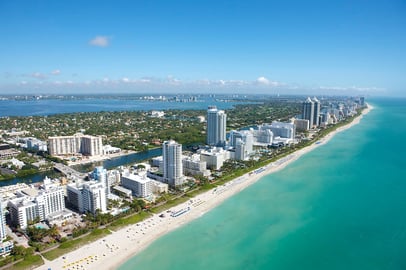 You're a young adult. You're hip. You're educated. You're thinking about moving to Miami.
You're not alone. The Magic City, as Miami is known to locals, is one of the nation's trend-setters when it comes to attracting 25- to 34-year-olds with college degrees and a desire for an ultra-urban lifestyle. A recent report published by City Observatory dubs this population segment the "young and restless" and says you're turning Miami and other cities around the country into younger, more vibrant and economically viable places to live.
What's up with Miami?
Although it has long been known as an internationally diverse and proudly cosmopolitan city, many people think of Miami (and the rest of Florida) as an older person's environment. No longer. The city has seen such a resurgence of interest from young adults that the population of "young and restless" within the greater Miami-Dade/Fort Lauderdale/Pompano Beach area increased about 25% between 2000 and 2012. That's one of the highest percentages in the country.
Core urban neighborhoods are the prime targets, showing a 118% increase in the "Y&R" demographic for the same time period. Specifically:
The central business district, known colloquially as the CBD, shot up by 193%.

The Arts & Entertainment District grew by 162%.

Brickell, with its financial district, luxurious residences and trendy restaurants and boutiques, grew by 152%.
And there's no end in sight. The City Observatory study predicts that Brickell, the CBD, Arts & Entertainment, Wynwood/Edgewater and Overtown neighborhoods will all house significantly more young, educated adults by 2019.
The big draw, of course, is lifestyle. Burdened with massive college debt, many young adults don't see themselves in the suburban housing market any time soon. Nor do they particularly want to be there. Rather than wasting time in the commute line, they'd rather be taking in concerts, trendy nightlife, great dining, the arts and all the other amenities that are right at your doorstep when you live downtown.
Urban Miami has everything else you'd expect, too – the usual collection of corporate and commercial shops and offices plus interesting museums and parks for open-space relaxing or play. And it's rated the 8th most walkable city in the US, with an overall "walk score" of 75. Brickell scored an 83, and the funky-arty Wynwood/Edgewater area scored an 81. Who needs a car? The young and restless would rather walk, or bike it, or use Miami's Metromover and Metrorail to get around.
They are happy to trade high city-center rents for all these positive attributes, not to mention eliminating costs associated with commuting and auto ownership.
Miami is hip to your urban pet, too, whether it's a dog or cat. Even the swankiest of core area neighborhoods caters to four-legged companions, with plenty of pet-friendly condos, apartments and lofts.
Economic development experts are salivating.
The young and restless are rekindling metropolitan downtowns across America. In Miami, as elsewhere, they're bringing their entrepreneurial tendencies and starting all types of businesses. They're also attracting employers back downtown, in order to be closer to prime new hires.
Centrally located business can not only compete more successfully in hiring non-commuters who have already made the move to Miami, they can recruit talented, well-educated young adults from elsewhere looking who are looking for a new urban environment to call home.
Economic development experts say there are positive long-term implications of this change. Young adults are the most mobile population segment, more likely to move from one urban environment to another during their 20s or 30s but then remain for the rest of their lives. So today's influx of Y&Rs and their overwhelming preference for urban living, bodes very well for downtown Miami's economic vitality into the future.
Starwood Animal Transport has rebranded to Starwood Pet Travel. We are still the same great company with the best team, just now with a slightly different name.
Subscribe to the Blog
Enjoy our content? Get them sent to your inbox!
Subscribe Now!
Related Posts
7 Ways to Help Your Kids Adjust to Expat Life
If your entire family is moving to another country, there are so many things to think about and take care of. It's an exciting ...
Read More