Benefits Of Using A Pet Transport Company
Published on: May 11, 2022 | Author: Starwood Pet Travel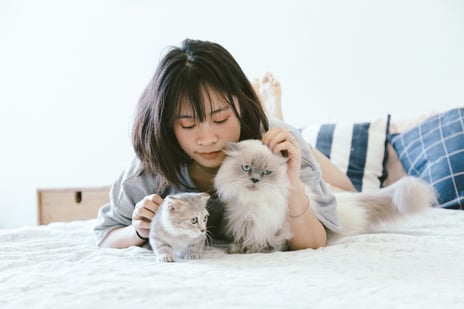 There are a lot of compelling reasons to use a pet transport company when you're relocating with your pet. Some of the benefits are tangible, and many are intangible. Yet they all add up to a better experience – for you and your pets.
Professional expertise
An established international pet transport company has experience working with airlines around the world, sending pets to and from a wide range of countries and continents. They know what they're doing. They can give you information, insider tips and advice and answer questions you had no idea you should even ask.
They can cut through the confusion and misinformation to make sure you get accurate, up-to-date facts. This is more important than you might think. Things can change and you may not even be aware of it.
A professional pet transport company can handle every detail including:
Understanding airline regulations and choosing the best carrier
Making the most efficient flight arrangements & paying all air cargo charges
Providing the proper IATA-approved travel kennel & shipping it to you in advance
Understanding and obtaining all required import and/or export documentation
Checking your pet's paperwork and ensuring they are meeting all country import requirements
Making quarantine reservations, if needed
Arranging boarding, if needed
Pickup and/or delivery transportation to and from airports, veterinarians and boarding
If you are able and willing to take on some of the responsibility yourself, you can hire a pet transport company to help with the biggest hurdles of pet travel - like booking the flight and handling all paperwork.
Less stress
Moving is one of the most stressful events in our lives. For pets, it's even more difficult because they don't understand what's happening. With so many other things on your mind right now, which of you needs added stress? A pet transport company can take part of the stress of moving off your plate.
Fewer headaches
Researching airline regulations, flight options and import requirements for your destination can be a seriously frustrating experience. Sometimes it's not difficult to find exactly what you need, but often it can feel like a treasure hunt. However, if you are not familiar or extremely detail-oriented, you might miss something important that can cause issues. A pet transport company knows the rules and regulations for shipping pets domestically and internationally, so they can guide you and ensure nothing is missed.
Huge time savings
Aside from the frustration, it is just plain time-consuming to uncover all the information you need. Then there's the time spent following up – visiting the vet (perhaps multiple times for various tests and immunizations), assembling all the health-related paperwork your pet must have, etc. In some cases, you will need to start this process months before your pet's departure date. Shouldn't you be finalizing your own move? Or packing? A pet transport company will save you time so you can spend it on other things.
Back-up
What worries you most about pet travel? Probably that your beloved dog or cat will be out of sight – and beyond your control – for an extended period of time. A pet transport company has your back. If you have questions, there's someone you can talk to who is familiar with your pet and their travel plans. While pets are in transit, you have someone who can step in if there are any unforeseen weather delays or other problems. A pet transport company can take care of boarding for your pet if there is a delay and you still have to catch your own flight.
Sometimes you have no choice
Certain airlines and foreign countries require pets to be shipped by a professional pet transportation company, so you cannot handle the arrangements yourself even if you want to. The reason professional pet shippers are required is because those responsible for importing and exporting animals understand the process is complex and must be executed properly.
The pros know what to do and they can be relied on to get everything right. Pet owners are an unknown, and if some detail is mishandled, it causes problems for everyone.
Your pet's comfort and safety is paramount. Knowing you have entrusted the critical details of their travel to a professional is a significant confidence-booster. So above all else, using a pet transport company can bring you peace of mind.
Look for members of the International Pet and Animal Transportation Association (IPATA). Membership in this professional organization demonstrates dedication to the highest standards of professionalism, knowledge and caring for what IPATA calls your "VIP (Very Important Pet").
Starwood Animal Transport has rebranded to Starwood Pet Travel. We are still the same great company with the best team, just now with a slightly different name.
Subscribe to the Blog
Enjoy our content? Get them sent to your inbox!
Subscribe Now!
Related Posts
3 Things Your Pet Travel Insurance Should Cover
When preparing to travel with your pet, it's easy to overlook the importance of pet travel insurance. While the likelihood of ...
Read More