Tips For Traveling with Your Pets During The Holidays
Published on: December 1, 2017 | Author: Starwood Pet Travel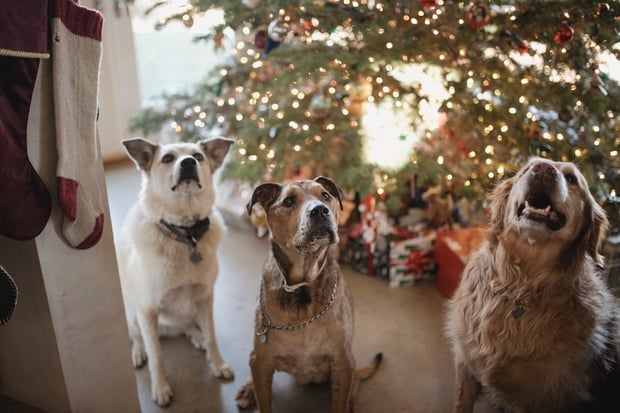 Holiday travel is a tradition, isn't it? Tis the season for get-togethers, from informal afternoon teas with fancy decorated cookies to lavish open houses and dinners. And, of course, many of us take mini-vacations to travel farther and spend more time with friends and loved ones. Since this is also the season of sharing, it's only natural that you want to bring your pets along for the trip. If you're headed over the river and through the woods to Grandma's house – or visiting friends on the other side of town – traveling by car makes the most sense. If you're making a coast-to-coast journey or plan on spending the holidays with friends that just moved overseas, air travel is in your future.
No matter your mode of conveyance, with multiple pets, you'll want to check out our article on helping them travel well together.
Consider your pets' perspective
Not to cast aspersions on your fur baby, but some pets are happier – and healthier - staying home. Elderly, chronically ill, and poorly socialized dogs and cats are all good examples. They may be fine at home, but put them into strange surroundings, with people, sounds, smells, and other animals, and it's simply too much.
It's smart to check in with your vet before traveling with your animals, especially if this is a first-time experience for either of you. This gives you a chance to ask some important questions such as:
Are my pet's vaccinations up to date?

Does my pet need any medications or need a refill? You'll need to

have an adequate supply for your trip. If you're flying outside the country, you'll need several health documents for your pets, so visiting your vet well in advance of your trip is essential.

Does my pet get anxious? How does my pet handle stress? Travel is stressful for anyone, and that goes for pets, too. You should NEVER tranquilize or sedate your pet for air travel, but you can look into other, more holistic options to keep them calm and relaxed. If this is only a temporary short trip, you may want to consider keeping your pet at home if it would be too stressful for them.
Make sure your regular veterinarian's number is stashed in your phone. It's also a good idea to identify where the nearest animal emergency clinic will be at your destination. Should something happen, time is of the essence.
That brings up the importance of double-checking your pets' ID tags and microchip. Are they still attached to your pet's collar? Is the microchip registered and scannable/readable? Do they include your current contact details? Your home number won't help if you aren't there, so make sure your mobile number is listed. If you're traveling internationally then it's likely that a microchip is mandatory anyway. While a microchip is great to connect your pet to their paperwork, if they are ever lost they won't be connected to you as their owner unless you have registered the chip. You might also want to consider registering with the Global Pet Registry in addition to your home-based service.
Practice makes purrfect
If this is your pet's first travel experience (other than those dreaded vet visits), introduce them to their travel kennels as soon as possible. It's important to make sure they're well acclimated to their kennel so they feel safe, secure and less anxious. Once they see the kennel as their home away from home, they'll be well on their way to becoming a confident traveler. And if you're taking a road trip, introduce that concept, too, by taking progressively longer drives with your pets crated up. By the time you hit the road for real, there won't be any surprises. If they'll be flying, try taking them through the car wash to introduce a different type of experience with many new sights, sounds and smells.
Use pet-friendly restraints
Pets can be badly injured or killed in accidents, just like people, so they also need in-car restraints. Dogs under about 15 pounds and cats should ride in their carrier, secured with a seatbelt. For larger dogs, a variety of harnesses are available, but do your research because they are not all the same, in safety or ease of use.
Practice holiday manners
Wherever you're going, you and your four-legged companions will be welcome guests during your visit if you're well-prepared. Be considerate of other guests and make sure you and your pet have proper holiday pet etiquette. Another thing that might secure your place in your host's heart is a special gift – especially something for pet lovers.
Don't forget your camera
How can you document this momentous experience without taking plenty of photos? You know your friends and family expect a day-by-day (or hour-by-hour) account of your progress and activities along the way. And once you get home, you'll be able to relive the fun you had traveling with your pets during the holidays.
Starwood Animal Transport has rebranded to Starwood Pet Travel. We are still the same great company with the best team, just now with a slightly different name.
Subscribe to the Blog
Enjoy our content? Get them sent to your inbox!
Subscribe Now!
Related Posts
How To Make Your Dog More Comfortable In Their Pet Travel Carrier
There are different kinds of carriers for pets, designed for different purposes. The carrier you use to bring a puppy to the ...
Read More