5 Myths About Traveling With Your Pet On A Plane
Published on: October 19, 2022 | Author: Starwood Pet Travel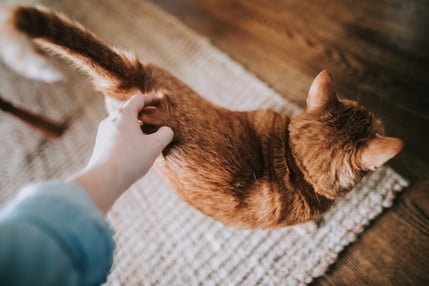 Hundreds of thousands of animals travel on a plane each year. So you would think it's easy to find factual information to help you prepare for your pet's travels. But unfortunately, myths persist. Lots of them. And when you can't tell myths from reality, planning pet travel can be very stressful.
Here at Starwood, our job is to take the stress out of pet air travel – for you and your four-legged family members. With that goal in mind, let's debunk some common myths about traveling with your pet on a plane.
Myth #1: It's unsafe for pets to travel in the plane's cargo hold
Pets travel in an area that is lit, pressurized, and temperature-controlled, just like the passenger cabin. Ventilation is good, but sometimes conditions can be difficult for snub-nosed cats and dogs because they have more difficulty breathing in any circumstances. For this reason, many airlines have special rules regarding the acceptance of snub-nosed pets.
It's true that occasionally bad things happen, but the odds are minuscule. In 2014, for example, more than two million pets traveled by air in the United States alone. Just 26 were injured, 17 died and 2 were lost. Choosing the right airline and itinerary for your pet will help keep them safe, as well as ensuring your pet is a good candidate to fly. If they have certain chronic health problems or are elderly, for instance, flying might not be in their best interest.
Talk with your vet – you'll need to do that anyway, to meet the pre-travel health requirements set forth by your destination country. Working with a professional pet transport company can also be a tremendous plus, because we are intimately familiar with airlines, routing options, etc. We can help you plan the most pet-friendly travel experience available for your destination.
Myth #2: Giving your pet a sedative before they fly will keep them calm
This is not a good idea, because the drugs reduce your pet's ability to focus and maintain balance, which can frighten them instead of relaxing them. Sedatives affect blood pressure, heart rate, and breathing, too, all of which can be dangerous when up in the air at high altitudes. For these reasons, veterinarians advise against using tranquilizers, and reputable pet shippers and airlines will not accept pets that have been sedated or tranquilized.
Myth #3: You should put food and water in your pet's travel kennel
Pets tend to travel better on a relatively empty stomach, so they are typically not fed during the flight. You must provide empty food and water dishes that attach to the inside of the kennel door, so they can be filled from the outside. You may provide a small ziplock bag of food, taped to the top of the kennel. This will be used if there are extreme flight delays or if your pet has a long layover. Pets are always provided water at check-in for their trip and the water is refilled during transit stops and upon arrival to their destination.
Myth #4: If your pet is purse-sized, you can just take them onboard
Some airlines will allow cats and small dogs to ride in the cabin with you, but this will depend on the aircraft and destination. Even if your pet is used to snuggling in your purse, they will need an IATA-approved travel carrier for plane travel. And it will have to fit under the seat in front of you. They'll have to stay in it, too, though you can reach in to pet them along the way.
Be aware that you will need to make a separate (paid) reservation for your pet. You'll want to do that as soon as possible because all airlines limit the number of pets allowed in-cabin. Another reason to check into this early? Just because your air carrier allows cabin travel doesn't mean it is allowed on every route, especially for international destinations. Don't make any assumptions.
Myth #5: Airlines all follow the same rules
Nothing could be farther from the truth. Every carrier sets its own policies, and they can be very confusing if the airline serves many destinations around the world. About the only thing that is identical from one carrier to another is the requirement that your pet needs to travel in an IATA-approved carrier, whether they are riding in the cabin or the cargo hold.
There are more myths about traveling with pets than we have space to cover here. But we want you to have all the facts. If you're planning a long-distance move with your dog or cat, give us a call. We have expert teams on the ground in the US and partners around the world, to answer questions and help make every aspect of your pet's travel plans safe and simple.
Starwood Animal Transport has rebranded to Starwood Pet Travel. We are still the same great company with the best team, just now with a slightly different name.
Subscribe to the Blog
Enjoy our content? Get them sent to your inbox!
Subscribe Now!
Related Posts
What Pet Owners Need To Know About Pet Travel
Trying to figure out what you need to know to arrange pet travel can be a daunting task. If you're moving and it's not too ...
Read More