17 Holiday Gifts For The Pet Lovers In Your Life
Published on: December 20, 2016 | Author: Starwood Pet Travel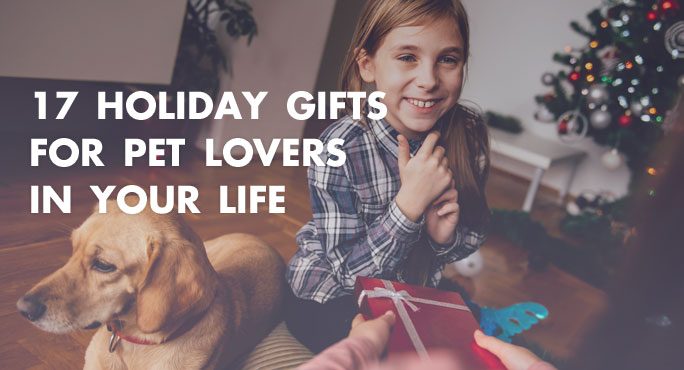 Some people on your holiday gift list might be tough to shop for, but not pet lovers! We're obsessed with pets, whether they're our own or someone else's. And the retail industry that supports our obsession is massive. So there is certainly no shortage of truly fetching holiday gift ideas, for both dogs and cats.
From the whimsical and just plain silly to the eminently practical, there's a gift for every pet lover in your life. For that matter, it's easy to find a host of gifts for their pets, too. (We'll cover that in our next blog article, so stay tuned.) You'll find something for every budget, too. You can spend a modest amount on stocking stuffers or host(ess) gifts, or invest in a gift that costs well over a hundred dollars (or pounds).
We searched high and low for great gift ideas to list here. We checked with Britain's Independent and InStyle. And with that famed American maven of social good taste, Martha Stewart. But the truth is, virtually everything you can use or look at can be transformed into a pet lover's gift. There are some jolly good ideas out there, just waiting for you, in store or online. Try these on for starters:
Holiday ornaments.
Clever signs or wall art.
Garden art.
Photo frames.
A cushy new dog or cat bed – hey, it's the holidays – why not splurge on a heated one!
Baking pans that turn out biscuits shaped like dog bones or mice – perfect for human baking as well as making homemade pet treats.
Go wild and bake a tasty batch of biscuits (for your pet lover or their pet), and present them in a pretty, reusable holiday tin.
Personal apparel, from caps and T-shirts to pajamas and you-name-it, all adorned with their favorite breed. Or personal use items, from key rings to radios to dessert plates, in the shape of a cat or dog.
Anything with punny sayings. There is no end to this sort of thing. We especially liked these cat examples – "I bloody love my cat," "Check Meowt," and "I'm feline good." But you'll find plenty of equally witty (and insightful) sayings about dogs, too.
A gift certificate for a professional photography session or a sitting with a pet artist.
A gift certificate for doggie day care or a day at the groomer's. Even the most devoted FurMom or FurDad could use a break now and then. In fact, add a gift certificate for a human spa or massage treatment, and your pet lover will really purr.
A soft, baby-style carrier they can use to keep their kitty or pint-size pooch close to their heart while on the go.
Your friend in Edinburgh loves their Scottie above all else? Why not a ceramic planter in the shape of – woof! – a Scottie.
Books – stories about pets, collections of cartoons, coffee table photo collections.
A 2017 calendar featuring their dog or cat as pet-of-the-month – every month, of course!
We particularly loved this suggestion from Martha Stewart: a "Ruff! Ruff!" ringtone and case for your dog lover's cell phone. Both tone and case can be customized for their dog's voice and visage, so Fido will always be "at hand," even when they're apart. We're betting you could substitute a kitty's meow and picture for your cat-loving friends.
And, yes, how 'bout a stocking stuffed with lint rollers – one for every room in the house plus one for the car? Perfect for every pet lover with a sense of humor.
Do you have a dear friend who loves pets but, for some reason, doesn't have one? Fill that gaping hole in their lives with a looks-real stuffed dog or cat of their favorite breed.
Whatever the gifts you choose, you'll want to use dog- or cat-themed wrapping paper for your present, too. Hmmm. Will they guess what's inside?
But wait, there's more . . .
As promised in our introduction, our next blog article will offer ideas for holiday treats for pets themselves. Yours, of course, but a gift for their pet could be the perfect treat for every pet lover in your life, too.
Starwood Animal Transport has rebranded to Starwood Pet Travel. We are still the same great company with the best team, just now with a slightly different name.
Subscribe to the Blog
Enjoy our content? Get them sent to your inbox!
Subscribe Now!
Related Posts
Trends in Pet Toys for the Holidays
All it takes is a walk down the aisles of any pet store or a quick online search to see just how popular pet toys and other ...
Read More