Say "Be Mine" with Dog Treats for Upcoming Holidays
Published on: February 2, 2018 | Author: Starwood Pet Travel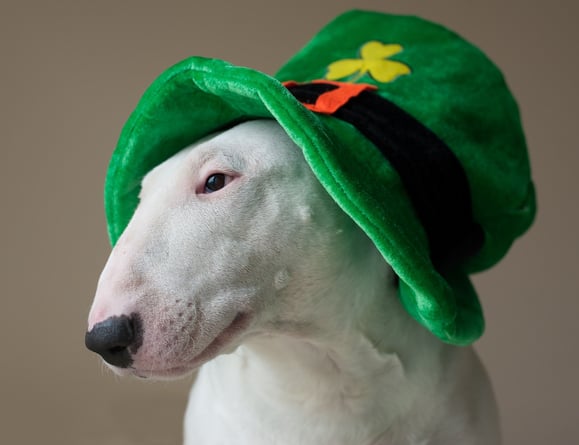 Valentine's Day has come and gone. We're sure you didn't give your beloved dog any of those fragrant, mouth-watering chocolates, no matter how much they begged. But other holidays are just around the corner, and you want them to be festive celebrations, even for your four-legged family. That means no candy, chocolate, or otherwise, at least for them. So what's a devoted pet parent to do?
Safe and fun pathways to their heart
If your pooch is a seasoned globe-trotter or you're about to make an international move, you should be aware that some foreign holidays can be harmful to pets. On the other hand, safe treats are safe anywhere.
With that in mind, you can find everything imaginable for your pet to eat, play with, or wear – and some things you would never have imagined in a million years. No matter your pup's taste, they're covered. And so are you, when it comes to choosing tail-wagging holiday treats.
Go Green for St. Patty's Day
What do the Wheaten Terrier and Kerry Blue have in common? They're Irish, to be sure, along with the Irish Wolf Hound, Irish Setter, Terrier, and Water Spaniel. Even if your own fair girl's ancestors never heard of Ireland, every dog wants to celebrate St. Patrick's Day.
This year your pooch can forego the green beer (shouldn't we all?!) and instead go green with yummy, homemade shamrock cookies! With a wag of the tail and a resounding woof to Gone To The Snow Dogs, here's an easy recipe:
3 1/2 cups organic brown rice flour

4 tablespoons coconut oil (warmed to liquid)

1 egg

1/2 cup fresh mint leaves

1/2 cup fresh parsley

1 cup chicken broth
Blend the coconut oil, greens, and 1/4 cup or more of the broth until juiced. Put the flour in a large bowl, add the juice, and mix. Add the egg and mix it in, then slowly add the rest of the broth. Roll the dough on a floured surface to about 1/4 to 1/3 inch thick. Cut them into shapes and bake them on a cookie sheet at 400o. To become crunchy they will need to bake for 15-20 minutes, depending on their thickness.
With the mint and parsley, these cookies are not only festive, but they can also serve as a (perhaps badly needed) breath freshener for your pooch, too. Keep this recipe on hand for later holidays, too – the green color is positively perfect for Earth Day and Christmas. (Or substitute blueberries for the greens and make Hanukkah dog cookies.)
Hide-and-seek Easter basket
Fill a basket of pooch-appropriate goodies, then hide it for them to find on Easter morning. What to include? That depends on your dog's age, sex, size, and personal style. Here's a puppy-size sampler:
Toys in the shape of Easter eggs, bunnies, chicks, or carrots, for chewing, squeaking, tugging, or chasing.

Gourmet dog cookies, in all those same shapes and made from healthy ingredients such as blueberries. What dog doesn't dream of treats that are high in antioxidants?

Dress them up with a pretty, pastel Easter dress (and a bonnet, too), or a pair of bunny ears and a snappy bow-tie collar.

Love those PEEPS! But you wouldn't dream of feeding your dog one of those brightly-sugared marshmallow chickens or bunnies. Hop on over to Chewy.com, though, and you'll find an entire line of PEEPS dog toys.

Every Easter basket needs a chocolate bunny, but just as with Valentine's candy, the real article is off-limits. You can fake it, though, with a bunny made from carob and peanut butter.
Passover for Pups
Religious holidays are important family affairs, so naturally, you want to extend the celebration to your four-legged family member. Dogster recommends creating a Seder plate just for your pooch that captures the true meaning of Passover. For the setting, use a bowl of water (salt-free, please) surrounded by six small plates. On them:
A bottle of Bitter Apple to represent the bitter herb.

Chopped apple, representing charoset. (Sorry, pups, but the walnuts and sweet wine in the real deal make it a "no" for you.)

A couple of Greenies to represent the green herb.

A lamb shank. (OK, a piece of lamb might be better.)

A hard-boiled egg.

An orange toy, since oranges are not dog-friendly foods.
Passover comes around just once a year, but you can show your dog some love with homemade kosher treats all year long.
Whether you prefer to buy treats and gifts for your dog or make them yourself, every holiday offers ample ways to say, "Be Mine" and be safe, too.
Starwood Animal Transport has rebranded to Starwood Pet Travel. We are still the same great company with the best team, just now with a slightly different name.
Subscribe to the Blog
Enjoy our content? Get them sent to your inbox!
Subscribe Now!
Related Posts
Relocation Can Be A Stressful Time For Pets, Too
If you think organizing your long-distance move is nerve-wracking, imagine how your pets must feel. At least you can talk to ...
Read More