Holiday Pet-iquette In England/Ireland
Published on: December 16, 2016 | Author: Starwood Pet Travel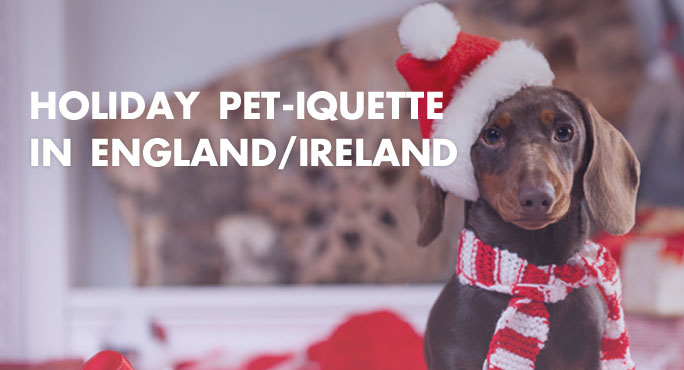 Millions of people now routinely go traveling and visiting with their pets in tow. You can find pet-friendly accommodations and other types of establishments throughout England and the rest of the UK as well as Ireland and beyond.

It's important to remember that good manners – on the part of pets as well as people – transcend international borders. And they apply year round. So whether you're off on an extended summer holiday or you're visiting friends and family during the Christmas holidays, you'll need to mind your pet-iquette.
Not every pet is a good traveler
Dogs and cats can be as different from one another as humans. So consider your pet's personal character before embarking on a holiday trip together. Most cats aren't fond of change, so Christmas chaos in an unfamiliar setting may not be your kitty's idea of a good time. Is your cat or dog likely to "greet" new surroundings by marking them as a new personal territory? This kind of behavior is entirely unacceptable no matter where you're going. It is best to plan ahead to create the best holiday travel experience for your pet.
One would think that considerations such as cleanliness and good behavior would be obvious. But, as a refresher, The Kennel Club has kindly created a list of dog pet-iquette tips for those traveling in England, Ireland, or anywhere else.
Be sure your pet is welcome
As pet parents, we adore our four-legged companions. They are truly members of our family. Naturally, we tend to believe everyone else views them the same way. Yet, that's not the case. There are actually people who don't like cats and/or dogs. And some people are allergic. You certainly don't want to be the cause of your host's health disaster. For example, there's the time a couple took their beloved Golden Retriever visiting for Christmas, only to have another guest break out in hives.
And don't assume that because your host has a pet of their own, they are anxious to add your pup or kitty to their household. One allergic woman loved her dog so much she was willing to put up with the constant sniffles. But when not one, but two, holiday guests arrived with their dogs as "plus ones," the woman wound up in the emergency room. Very bad pet-iquette, indeed.
Health concerns aside, unruly pets are always canina or felina non grata. Even other ardent pet-lovers are not anxious to have you dog or cat climbing up their pant leg, begging for snacks, or careening around the room.
So always inquire in advance if your precious pet is welcome. If so, take plenty of treats to keep your pet calm while visiting, and be sure to take an extra-special thank-you treat for your host.
Holiday pet-giving is poor pet-iquette
Children often clamor for a new puppy or kitten as a Christmas present. And some adults think giving one as a gift would be oh-so-special. However, Suzy Carley, Executive Director of Ireland's Dogs Trust, warns against the idea. She reminds people of her organization's annual Christmas message, "A dog is for life, not just for Christmas." She suggests waiting until after the holiday frenzy, and then carefully considering the best breed for your family before choosing a new pet.
Dogs Trust also warns potential dog owners to be careful where they get their new pet. In addition to Dogs Trust, rescue centers and local shelters abound, filled with cats and dogs hoping for a forever home. Otherwise, you should buy from a reputable breeder, because puppy scams are a tremendous problem in Ireland and the UK as well as the United States. "Always ask to see Mum," advises Dogs Trust. That way, you can make sure you aren't buying from an illicit puppy farm where animals are often kept in terrible conditions.
Beware the internet, too, for the same reasons. Or, if you're in Ireland, you can check to be sure the site is approved by the Irish Pet Advertising Advisory Group.
Never leave home without a microchip
While this isn't exactly a pet-iquette consideration, we know your pet's safety is paramount. Travel can confuse cats and dogs, even those with an excellent sense of direction. Should your pet get loose and become lost while you're on holiday, you're far more likely to be reunited if he has a microchip. A collar and tag with your contact information is a good idea, too.
Armed with good identification and good pet-iquette, your pet and you will be prepared to have the happiest of holidays, no matter who and where you visit. Be sure to contact us to take care of your UK pet transportation needs this holiday!
Starwood Animal Transport has rebranded to Starwood Pet Travel. We are still the same great company with the best team, just now with a slightly different name.
Subscribe to the Blog
Enjoy our content? Get them sent to your inbox!
Subscribe Now!
Related Posts
3 Things Your Pet Travel Insurance Should Cover
When preparing to travel with your pet, it's easy to overlook the importance of pet travel insurance. While the likelihood of ...
Read More