The ARK at JFK: Luxury for Pets During A Move
Published on: August 4, 2015 | Author: Starwood Pet Travel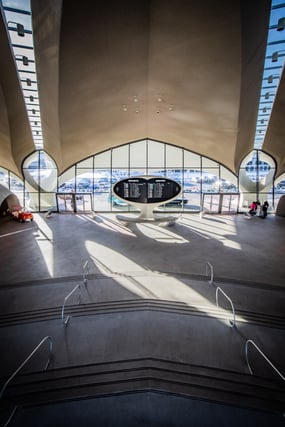 Did you see the recent news story about the "ARK" that's being constructed at John F. Kennedy International Airport? When your pets get wind of this, they are going to demand that air travel be included in their future plans. Are you planning an international move? Great news! If not, perhaps you could arrange a vacation for your pets anyway – anything that takes them through JFK.

After reading more about the ARK, you'll wish you could get the "pet treatment" on your next air adventure, too.

What is it?

The ARK is the easy and obvious nickname for the terminal, which will be officially known as the Comprehensive Aviation Animal Handling Facility. The 178,000 square foot building will replace JFK's VetPort, a 10-000 square foot kennel built in the 50s to handle animals transiting through JFK for import or export. Creatures that don't fit there are currently transported some two hours north for holding at a quarantine facility.

The ARK pulls everything together in a single location very close to the "people" part of the airport. The new terminal will cost $48 million – a price tag architects and the contractor say is high because the facility has to be sturdy and comfortable for animals, safe for everyone, flexible to accommodate a wide variety of animals and easy to clean.

The designers, operators and animal welfare organizations have all expressed hope the ARK will become the model of the future for animals traveling internationally by air.

Why?

About 70,000 animals pass through JFK each year, on their way into or out of the United States. That's not just dogs and cats, but all types of livestock and wildlife from marine animals to zoo residents. And pet travel is on the rise. Pet owners and the general public are demanding a streamlined animal transport process that is more humane and efficient. The intent of the ARK is to provide an environment that reduces the stress of travel for animals of all types.

Toward that end, the terminal will have vehicle access on one side and an aircraft pad on the other side, so planes can essentially roll up to the door to drop off pets and larger animals, rather than subjecting them to a long drive from the airport to the cargo terminal. When not inside the center or onboard a plane, animals will be transported in specially-dedicated climate-controlled vehicles.

Can you say amenities?

The ARK will feature a host of details custom-designed for those who meow, bark, neigh and moo - details that range from kindly consideration to the outrageously luxurious. That includes flat-screen TVs (we assume for the benefit of pet owners, although presumably your pet will be able to spend their stay keeping up with Days of Our Lives, too.)

On a more practical scale, the terminal will include a USDA-approved import quarantine area and a large, state-of-the-art veterinary medicine complex including a hospital and diagnostic lab. The hospital will not only serve animals in transit but offer comprehensive veterinary services to the general public.

Your dog can visit Paradise 4 Paws, a 20,000 square foot spa-like pet resort that includes grassy areas to run and play and a bone-shaped splash-and-swim pool. Your cat can hang out in the Cat Adventure Jungle, which features trees for climbing. Both dogs and cats can avail themselves of grooming services as well as boarding.

Your horses (which are required by law to stay over for three days) will appreciate the roomy stalls and ventilation system that constantly refreshes the air to keep them healthy. Horse stalls that can be repurposed for more exotic animals.

And while you are not likely to be shipping cattle as pets, you'll be happy to know that the ARK has consulted with a bovine behaviorist to create cow-pleasing walkways that guide through the facility in single-file, just the way they prefer. No play area is planned for cattle, as they typically move in and out within a few hours.

The ARK's physical structure and operational procedures are being designed and built out in consultation with the US Department of Agriculture and Cornel University's College of Veterinary Medicine.

Contractors report the project is on schedule, scheduled to open in the second quarter of 2016. It will operate around the clock.

Of course there's a catch.

There will be a fee to use the ARK. The pricing structure hasn't been released yet, but you can expect to pay about $50/night for Fluffy the Cat or Rex the Wonder Dog to enjoy the facilities. On the other hand, your pets may not even have the opportunity, if their flight schedule doesn't require a long layover at JFK.

Starwood Animal Transport has rebranded to Starwood Pet Travel. We are still the same great company with the best team, just now with a slightly different name.
Subscribe to the Blog
Enjoy our content? Get them sent to your inbox!
Subscribe Now!
Related Posts
10 Facts About Pet Air Travel
Pet air travel is a common occurrence in our modern world. From fancy show pets to beloved household companions, pets are ...
Read More