Social Dog Walking Groups in the United Kingdom
Published on: May 11, 2022 | Author: Starwood Pet Travel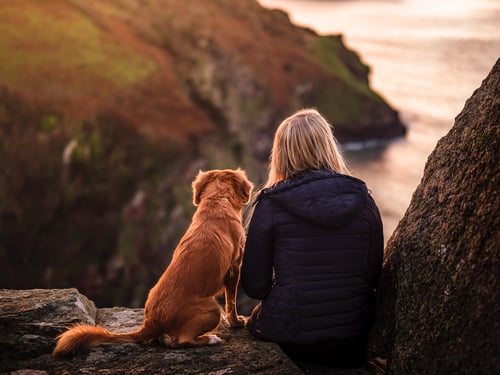 If you're looking for some friendly folks and equally friendly canines to go walk-about with you, the UK is definitely the place to be. The British love leisurely strolls and invigorating hikes, and they love dogs, too. Who invented "walkies," for heaven's sake? So, while moving to the United Kingdom may present you with several forms of culture shock, you'll easily find like-minded dog lovers.
Craving the countryside?
Beaches and moors, mountains and lochs, the United Kingdom is replete with every type of scenery and level of hiking difficulty you and your dog could ever imagine. You could find yourselves taking a wee break sitting on a section of Hadrian's Wall, or standing in awe of a Roman fort, or a castle, or standing stones that are as much as 5,000 years old. Or strolling down the street of an impossibly postcard-perfect village, in search of that perfect pint (after your walk, of course).
Are you in Wales? You might go mad for Mad Dog Walks Group. They describe themselves as "a social dog-walking group which aims to provide regular dog walks each of just a few miles, at a relaxed pace, throughout the year." Group activities take place in Snowdonia and along the Cambrian Coast. Gorgeous.
Give a Dog a Bone hosts weekly dog walking groups in Glasgow and Troon. You can find plenty of dog walking groups in Edinburgh on Meetup.
There's also a "Good Dog Walks Scotland" Facebook group with some awesome photos and ideas for places to take your dog on an adventure!
Who needs countryside when you have London!
The London Dog Walks Meetups website boasts no fewer than 64 different groups you can join. Some of the groups have a couple dozen members, others have well over a thousand (presumably not all of them attend every walk event!). You can meet for brunch, meet for dog therapy, meet other folks in your neighborhood (or one you've always wanted to learn more about). Choose groups by gender, sexual orientation, or find folks who love cycling or birds as well as their dogs.
Not to be outdone by those Londoners, urban pups and their humans in Edinburgh can meet up with the Edinburgh Walking & Socialising Group. They have over 3,000 members, but walks typically include no more than 20 – plus doggies.
You needn't be so formal
It's easy to find social dog walking groups online, but perhaps you're more of an independent sort. You and your pooch would love some company, but you're not really on the hunt for an official membership in some organization - or a formal schedule.
Ask around. If you're new to the area, there are a myriad things you'll need to learn about. So while you're requesting local advice on where to shop, the best (dog-friendly) cafés and restaurants to patronize, etc., ask about activities for you and your dog, too.
Or just look around. When you see someone walking or running with their dog, ask about good places to go or if there are any regularly scheduled walk activities nearby. Maybe the two of you can go for a dog walk, become friends, and eventually start your own walking group. Not sure how to start a group? The concept is so popular in the UK, the Guardian actually published a how-to article a few years back. You can read it here.
Starwood Animal Transport has rebranded to Starwood Pet Travel. We are still the same great company with the best team, just now with a slightly different name.
Subscribe to the Blog
Enjoy our content? Get them sent to your inbox!
Subscribe Now!
Related Posts
Social Dog Walks in Scotland
Scotland is bonnie, indeed, but you have to get out and about to really appreciate just how lovely the countryside can be. On ...
Read More