Island Hopping with Your Dog in the Caribbean
Published on: June 22, 2017 | Author: Starwood Pet Travel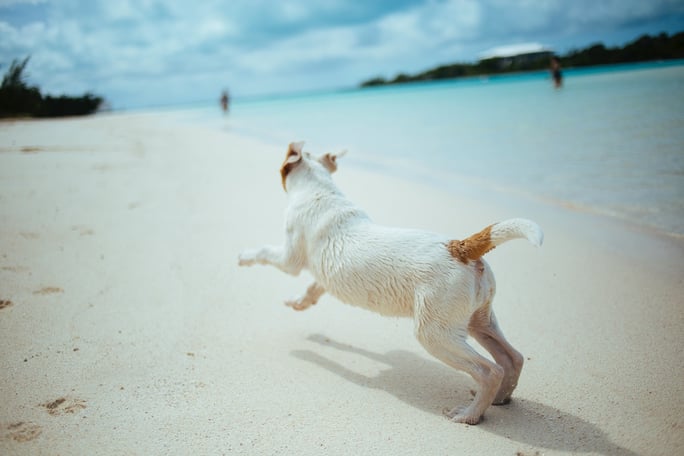 Thinking about exploring the Caribbean islands but worried about leaving your furry friend behind? Don't fret! Many people bring their dogs with them (even on vacation) in the Caribbean. Whether you want to island hop via air or sea, there are plenty of options to choose from.
Where should you go?
When considering traveling with your furry friend in the Caribbean, it's important to keep in mind that some islands are more dog-friendly than others. For example, while the French islands of Guadeloupe and Martinique have a love for dogs similar to that of Paris or the French countryside, many residents of Saint Lucia are reportedly afraid of dogs.
Additionally, it's important to research the rules and regulations of each airline as well as each country's pet import requirements before embarking on your journey. Keep in mind that smaller island destinations may have limitations on pet travel due to aircraft size. Additionally, while the warm Caribbean weather is ideal for relaxation, it's important to take steps to keep your pet cool. If you're escaping the winter cold, be aware that extreme temperatures can impact pet travel and airlines may have embargoes in place for safety purposes.
What should you take?
When traveling with your dog, you want to make sure they feel as comfortable on vacation as you do. While you may only need your passport and beach gear, don't forget to pack the essentials for your furry companion to ensure they have a fun and safe trip.
While pet food may be easily accessible in most Caribbean islands, it may not be your pet's preferred brand. On the other hand, veterinary care and supplies may be scarce, so it's wise to pack sufficient flea-and-tick as well as heartworm prevention medication for the entire duration of your trip. This is also a good time to make sure you know how (and when) to give your pet CPR.
Don't overlook the importance of registering your furry companion with the Global Pet Registry before embarking on your Caribbean adventure. While a microchip is crucial, the GPR is the only global database for dogs and cats. You'll receive a unique tag for your dog's collar, which can help anyone who finds your beloved pup report their discovery, no matter where in the world they are.
The more stops you want to make, the more paperwork you'll need
Touring the Caribbean islands with your furry friend is an exciting adventure, but it can also be complex due to the varying rules and regulations of each country. Many islands only allow pets to enter at certain ports, while others may not permit them on land at all.
To ensure a smooth journey, it's crucial to research each country's pet import requirements and obtain the necessary paperwork, including microchip information, vaccinations, proof of rabies immunization, flea and tick medication, and possibly worming. Islands are particularly concerned about imported diseases, so immunization against rabies is vital. Some countries also have their own pet import permit requirements. Gathering the right paperwork can be frustrating, but it's essential for a stress-free trip.
Starwood Animal Transport has rebranded to Starwood Pet Travel. We are still the same great company with the best team, just now with a slightly different name.
Subscribe to the Blog
Enjoy our content? Get them sent to your inbox!
Subscribe Now!
Related Posts
Things to Do in Dublin with Your Dog
Moving to a foreign country can be the adventure of a lifetime, but it's also a lot of work, with a lot of concerns - ...
Read More